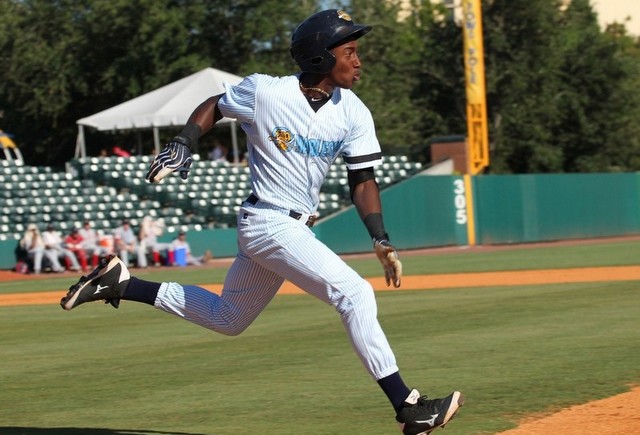 Last night, MLB.com wrapped up their preseason prospect ranking series with their annual top 100 list. Dodgers SS Corey Seager grabbed the top spot and was followed by Twins OF Byron Buxton and Nationals RHP Lucas Giolito in the top three. As always, MLB.com's scouting reports are free. They're a great resource.
The Yankees landed three players on the top 100 list: SS Jorge Mateo (No. 30), OF Aaron Judge (No. 31), and C Gary Sanchez (No. 59). Mateo was the 11th shortstop on the list, Judge was the eighth outfielder, and Sanchez was the second catcher. Three top 60 prospects is pretty darn good considering RHP Luis Severino and 1B Greg Bird graduated to MLB last year.
Mateo led professional baseball with 82 steals last year, so it's no surprise the scouting report calls him a "true top-of-the-scale runner." He's also lauded for his "wiry strength," though the power he shows in batting practice has yet to translate in games. That's not unusual for kids that young. "With his actions, range, hands and arm, he'll stay at shortstop for the long term," said the write-up.
"Depending on how much Judge balances power versus discipline, he could be a higher-average hitter with 20 or so homers per season or more of a masher who delivers 30-plus long balls," said MLB.com. Judge will work on tightening up his strike zone in Triple-A next season before getting an opportunity to assume the big league right field job long-term.
As for Sanchez, the scouting report says if he "stays behind the plate and realizes his power potential, he can be an All-Star." That's not surprising. Sanchez has always had the raw tools. He just had to work on turning those tools into baseball skills, and he's done that in recent years, especially behind the plate. Sanchez still has work to do defensively, of course.
There's a good chance Sanchez will graduate to the big leagues this summer, and Judge may do the same depending on his strike zone coverage progress in Triple-A. Interestingly, Jim Callis says Mateo has the potential to jump into the top five prospects next year. The global top five. All prospects, regardless of position. The Yankees haven't had a top five prospect since Jesus Montero.