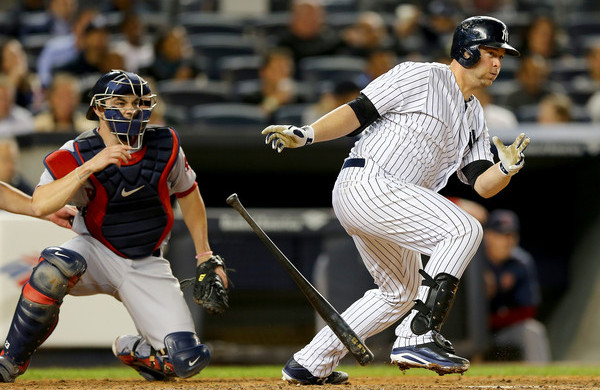 Like many of his teammates, Brian McCann had a tremendous first half last season before fading down the stretch. He hit .259/.331/.471 (117 wRC+) in the first half, but only .200/.306/.395 (91 wRC+) in the second half. The end result was a still solid .232/.320/.437 (105 wRC+) batting line.
McCann has been a Yankee for two full seasons now, and during that time he's hit .232/.303/.421 (99 wRC+) in 1,073 plate appearances. That's not great overall, but that 99 wRC+ ranks 11th among the 31 catchers with at least 600 plate appearances over the last two years, and his 49 homers are eight more anyone else. (Buster Posey is second with 41.)
The 2014 season seemed to be something of an adjustment period for McCann, who joined a new team in a new city and a new league, and had to learn a new pitching staff. It was a lot to take in. He appeared more comfortable last season, and his offensive production ticked up. Now McCann wants to take it up another notch. Here's something he told Steven Marcus over the weekend:
But McCann wasn't satisfied with his .232 batting average. "I don't like looking up there and seeing I'm hitting around .230,'' he said Friday from Orlando, Florida, where he was participating in a charity golf tournament. "I've got to get better. I'd like to hit .300 with 30 [homers]. I'm searching. That's my mindset.''
It's great McCann isn't satisfied and wants to perform better next season. That's the mindset every player should have. McCann's been a Yankee for two seasons, and during those two seasons he's been a great hitter for about four months total. The rest were just okay or flat out bad.
Improving the batting average might not be possible at this point of McCann's career, however. For starters, the vast majority of players see their batting average decline as they get older. That's natural. Reversing the aging process ain't easy, especially for a catcher. Secondly, McCann is an extreme fly ball and pull hitter. He has been for a few years now.
| | AVG | BABIP | FB% | Pull% | Hard% | Soft% |
| --- | --- | --- | --- | --- | --- | --- |
| 2012 | .230 | .234 | 41.2% | 47.5% | 32.5% | 16.9% |
| 2013 | .256 | .261 | 42.3% | 48.6% | 35.3% | 12.7% |
| 2014 | .232 | .231 | 45.1% | 44.1% | 31.0% | 15.2% |
| 2015 | .232 | .235 | 47.2% | 50.1% | 31.5% | 15.2% |
| 2012-15 | .236 | .239 | 44.1% | 47.4% | 32.4% | 15.1% |
| MLB AVG | .254 | .299 | 45.3% | 39.1% | 28.6% | 18.6% |
McCann is a .236 hitter with a .239 BABIP over his last 1,962 plate appearances. His fly ball rate has increased in each of the last three seasons and it's now higher than the league average. His pull rate has been way higher than the league average for years now. That's not necessarily a bad thing — McCann still hits the ball very hard, and when you pull the ball hard in the air, extra-base hits tend to happen. McCann's .187 ISO from 2012-15 is way higher than the .150 league average.
At the same time, hitting the ball in the air so often can be a BABIP killer. Most fly balls are easy outs. Don't believe me? The league average BABIP on fly balls was .073 in 2015. .073! Pulling the ball as a left-handed hitter means lots of shifts, and we've seen plenty of those when McCann is at the plate in recent years. It's wrong to attribute his batting average decline solely to the shift, but it is absolutely a big factor. So are the fly balls.
Outside of some good ol' ball in play luck, McCann would have to overhaul his swing and approach to improve his batting average. He'd have to cut down on all the fly balls and start using the left side of the field a little more. That's not Brian McCann. That's asking him to be something he is not. We're talking about a guy on the wrong side of 30 who is already dealing with some age-related decline. Not to mention all the wear-and-tear of catching.
I'm glad McCann is not satisfied hitting in .230s. I also hope he doesn't try to change his swing and approach. That can lead to even more problems. McCann is what he is at this point of his career, and that's the best power hitting catcher in baseball. It's not impossible for him to improve his batting average going forward, just really unlikely, and the Yankees can't afford to have McCann tinker and be something less than his absolute best.