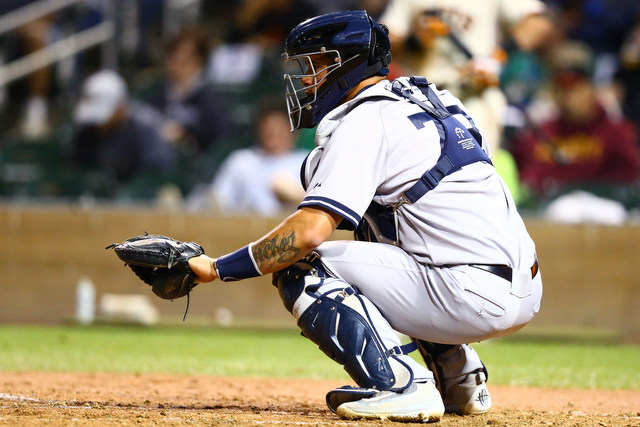 Thanks to the John Ryan Murphy trade, Gary Sanchez will come to Spring Training with a very good chance to win the Yankees' backup catcher job. Brian Cashman said he would like to "release the Kraken" a few weeks ago, indicating he wants Sanchez to be on the roster to begin his apprenticeship under Brian McCann. The job is his for the taking.
It feels like Sanchez has been around forever — he did sign back way back in 2009, after all — but he turned only 23 last month, and last season he was still 2.4 years younger than the average Double-A Eastern League player. Sanchez has always been a powerful hitter, that's his calling card, so the focus of his work the last few years has been on the defensive side of the ball.
Measuring catcher defense is difficult as it is, and it has been close to impossible at the minor league level, though last week Baseball Prospectus introduced some new stats that help us paint a picture of minor league catcher defense. Here's the primer, which is free. No subscription required. Long story short, the new stats measure pitch-framing, blocking, and throwing. All are expressed in runs saved, the standard currency of defense.
It goes without saying these new catching measures are not exact because no defensive measures are exact, especially at the minor league level. These are estimations more than anything, and for our purposes, that will work. I want to look at Sanchez's defensive progress in general. Let's dive into his year-by-year improvement.
2012: 68 games at Low-A and 48 games at High-A
| Framing Runs | Blocking Runs | Throwing Runs | FRAA | CS% |
| --- | --- | --- | --- | --- |
| not available | -0.7 | +0.0 | -0.7 | 30% |
(FRAA is Fielding Runs Above Average. It's simply framing plus blocking plus throwing.)
Heading into the 2012 season, Baseball America (subs' req'd) said the then-19-year-old Sanchez struggled to catch breaking balls, so much so that "some scouts believe he's a lost cause as a receiver." Their scouting report did say he had "plus arm strength," which has been the one defensive constant throughout Sanchez's career. The kid's always had a rocket.
The numbers say Sanchez was slightly below average blocking balls in the dirt in 2012, and his throwing was average. (The combined average caught stealing rate for the South Atlantic League and Florida State League was 28% that year.) The knock on Sanchez's throwing for most of his career was his release, not his arm strength. He took forever to get rid of the ball, and when you do that, the arm strength plays down.
At this point of his career, Sanchez was close to a bat-only prospect. He hit .290/.344/.485 (129 wRC+) with 18 homers in 116 total games that year, and holy crap, that's incredible for a 19-year-old catcher in full season ball. It was very clear Sanchez could hit. His defense lagged big time.
2013: 94 games at High-A and 23 games at Double-A
| Framing Runs | Blocking Runs | Throwing Runs | FRAA | CS% |
| --- | --- | --- | --- | --- |
| +0.0 at Double-A | -5.5 | +2.5 | -2.9 | 44% |
Apparently scouts saw some improvement in Sanchez's defense during that 2012 season. Baseball America (subs. req'd) said Sanchez had "solid athleticism and receiving skills" going into 2013, which is much better than the whole lost cause thing we read a few paragraphs ago. Baseball America again lauded Sanchez's arm but did note he was "an erratic defender prone to lapses in receiving."
The blocking numbers got much worse in 2013. Sanchez is a big guy — he's listed at 6-foot-2 and 235 lbs. on the team's official site right now, and he was a little chunky back in A-ball — and he's not the most mobile catcher, so it was understandable why he struggled to block pitches in the dirt. He did reach Double-A that year, which is where pitchers start to combine stuff with command.
The throwing was very good, however. The combined average caught stealing rate for the Florida State League and Eastern League was only 31% that year, so Sanchez was far above that. The "he can really throw but his receiving sucks" defensive profile isn't uncommon for young catchers — many of those guys end up on the mound if they can't hit, like Kenley Jansen — and Sanchez fit the profile to a T.
2014: 110 games at Double-A
| Framing Runs | Blocking Runs | Throwing Runs | FRAA | CS% |
| --- | --- | --- | --- | --- |
| +6.8 | -1.5 | +1.9 | +7.2 | 39% |
The 2014 season is when we first started to see some generally positive defensive scouting reports on Sanchez. Before the season, Baseball America (subs. req'd) said he "still needs to work on blocking balls," but his "arm has been rated as high as an 80 by some scouts." And, for the first time, he "took charge behind the plate and was handling staffs with much more authority than in years past."
We don't have much framing data for 2012 or 2013 because it isn't available for Single-A that far back, so the 2014 season is the first time we have a decent sample of framing data for Sanchez. And wow, he really performed well. I am still very skeptical of framing stats — especially for minor leaguers since there's no PitchFX (they're just estimations) — but it is obviously a valuable skill, and BP's stats suggest Sanchez was really good at it a year ago.
The blocking was still below average but better in 2014 than it was in 2013, and the throwing remained excellent. I wouldn't say Sanchez's framing improved in 2014 — we don't have any reliable numbers for 2012-13 — but it looks like his blocking ability did. Progress? Progress! At least based on this admittedly imperfect stats.
2015: 58 games at Double-A and 35 games at Triple-A
| Framing Runs | Blocking Runs | Throwing Runs | FRAA | CS% |
| --- | --- | --- | --- | --- |
| +3.0 | +0.0 | +0.0 | +3.0 | 36% |
The scouting report from Baseball America (subs. req'd) heading into last season said Sanchez's arm "remains an impressive tool" while adding he is "still working to become more adept as a receiver and a blocker." That jibes with the numbers so far. The throwing stats love him but the blocking stats haven't.
The framing numbers came back to Earth a bit last year, but again, Sanchez's blocking improved. He went from -5.5 blocking runs in 2013 to -1.5 in 2014 to +0.0 in 2015. At the same time, his throwing numbers have actually gotten worse. Sanchez's caught stealing rate remains really good — the combined average for the Eastern League and International League was a 30% caught stealing rate in 2015 — but it has been trending down, and his throwing runs total has fallen from +2.5 to +1.9 to +0.0.
Interestingly enough, Eric Longenhagen (subs. req'd) saw Sanchez in the Arizona Fall League, and said he "showed signs of fixing the glacial way he rises from his crouch when he throws down to second base by often just eliminating the middle man and throwing from his knees." Unconventional? Sure. But hey, if it works, great. I could have sworn MLB.com had video of such a throw, but apparently not. For shame. (If anyone finds it, let me know.)
After the 2015 season Baseball America (subs. req'd) said Sanchez has "an extremely strong arm" and has "spent years refining his receiving and blocking." The scouting report also said he "still has some polish to add as a receiver," which makes sense because, you know, he just turned 23. No one is a finished product at that age, especially not a catcher defensively.
Point is, Sanchez's defense seems to have come a long way from "lost cause" based on the both the scouting reports and stats. The stats are still somewhat rudimentary of course, but they continue to get better with each passing year. That they match up with what the scouts are saying — blocking needs work, arm is great, etc. — is encouraging. We're on the right track.
The Yankees value catcher defense highly — they've traded away bad glove catcher prospects like Jesus Montero and Peter O'Brien in recent years — and they've been very patient with Sanchez the last few seasons. His bat was always going to buy him time, and lately his defense appears to be improving as well, so much so the team was comfortable trading Murphy.
Sanchez figures to get his first real opportunity at the big league level this coming season, and surely the Yankees hope his glovework will improve even more under McCann, Joe Girardi, and Tony Pena. His bat will forever be his main tool. But, if he is able to settle in as even an average defensive MLB catcher, Sanchez will be an incredibly valuable asset for the Yankees.