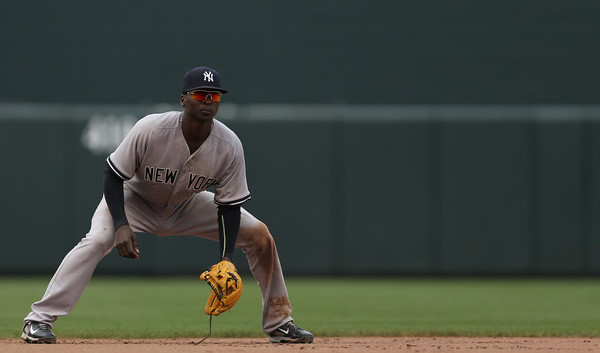 Original Post (12:00pm ET): Today is an important day on the offseason calendar. The deadline for teams and their arbitration-eligible players to file salary figures for the 2016 season is 1pm ET, which is a bit earlier than previous years, I believe. A total of 156 players are eligible for arbitration this winter, though many have agreed to a new contracts already.
The Yankees have six players up for arbitration this offseason, including some pretty important members of the team. Here are the six with their projected 2016 salaries, via MLBTR:
Dustin Ackley: $3.1M (second time through arbitration)
Aroldis Chapman: $12.9M (third)
Nathan Eovaldi: $5.7M (second)
Didi Gregorius: $2.1M (first of four as a Super Two)
Ivan Nova: $4.4M (third)
Michael Pineda: $4.6M (second)
The Yankees have not been to an arbitration hearing since beating Chien-Ming Wang during the 2007-08 offseason. Since then they've signed all of their eligible players prior to the filing deadline. I assume that will be the case again this year, though who knows. We'll find out soon enough.
The two sides can still negotiate a contract of any size even after filing salary figures. They can hammer out a new deal at any point, even after a hearing if they choose. Hearings will take place throughout February and arbitration is an ugly process. The team details the player's shortcomings in an effort to keep his salary down. Not pleasant for anyone involved. It's no mystery why everyone involved tries to avoid a hearing.
We'll keep track of the day's Yankees-related arbitration news right here, assuming nothing crazy happens. Someone could sign a multi-year extension but history suggests the Yankees won't do that. Check back for updates throughout the day. The deadline is 1pm ET, but news can and probably will trickle in throughout the afternoon.
Update (3:00pm ET): Yankees sign Pineda for $4.3M (Jeff Passan)
Pineda gets a nice $2.2M raise after pitching to a 4.37 ERA (3.34 FIP) last season. Yeah, he missed all that time following shoulder surgery from 2012-13, but he was an All-Star back in 2011 and that matters in arbitration. That said, a $4.3M salary for a starter going through arbitration for the second time is relatively small. All the lost time definitely cost Pineda some cash. He can't become a free agent until after 2017.
Update (3:26pm ET): Yankees sign Ackley for $3.2M (Chad Jennings)

Ackley made $2.6M last season, so his raise wasn't very big. He is in a bit of an interesting situation because the Mariners signed him to a five-year contract worth $7.5M out of the draft a few years back. Ackley earned $1.5M, $1.5M, and $1.7M in his three pre-arbitration years, not the league minimum, so his starting base salary in arbitration was higher than usual. He's making more than he should be given his production. But still, $3.2M is peanuts in today's MLB. Ackley is two years from free agency.
Update (3:28pm ET): Yankees will file with Chapman, Eovaldi, Gregorius, Nova (Jon Heyman)
In a bit of a surprise, the Yankees were unable to reach contract agreements with those four players prior to today's filing deadline. No word on their filing figures yet, though those should come out soon enough. The two sides can still negotiate a contract of any size, remember. Today was not a hard deadline for completing a deal.
Update (4:58pm ET): Chapman filed for $13.1M, Yankees for $9M (Jon Heyman)
First thought: Chapman should probably take the Yankees to a hearing. He made $8.05M last season. Would the arbitration panel really side with the Yankees and award him a raise of less than $1M after he saved 33 games with a 1.63 ERA (1.94 FIP) and 116 strikeouts in 66.1 innings in 2015? Seems really unlikely. The other third year arbitration-eligible closers (Kenley Jansen, Drew Storen, Mark Melancon) all received raises of at least $2.5M on Friday. I guess the Yankees think Chapman's earning potential will be dragged down by the domestic violence incident.
Update (5:01pm ET): Gregorius filed for $2.525M, Yankees for $2.3M (Jon Heyman)
A gap of $225,000 is nothing. I imagine the Yankees and Gregorius will be able to hammer out a deal soon enough, perhaps somewhere around the midpoint of the two filing figures ($2.42M). Then again, the Yankees could take the "file-and-trial" stance that is becoming popular. That is, once the salary figures are filed, the team stops negotiating and goes to a hearing. Hopefully that's not the case.
Keep in mind with Gregorius, his 2016 salary will affect his 2017-19 salaries as well. There's a carryover effect from year-to-year. It's not so much about saving $225,000 next year. That $225,000 can potentially grow into a few million bucks during Didi's four arbitration years.
Update (5:19pm ET): Eovaldi filed for $6.3M, Yankees for $4.9M (Jon Heyman)
The midpoint of the two filing figures is $5.6M, just south of MLBTR's projection. Remember, the arbitration process is very antiquated. If they do go to a hearing, Eovaldi's representatives will surely emphasize his 14-3 record in 2015, and the fact he led the league in winning percentage (.824). The system rewards wins and winning percentage, the stuff we know doesn't tell us a whole lot about the pitcher's performance.
Update (6:58pm ET): Nova filed for $4.6M, Yankees for $3.8M (Jeff Passan)
Nova, who made $3.3M last summer, filed a salary number just north of MLBTR's projection. The Yankees are a little under that, and really, an $800,000 gap is not huge. The team seems to offering a token "you picked up another year of service time, congrats" raise after Nova's poor 2015 season. Even considering MLBTR's projection, I can understand why the Yankees filed at $3.8M.