Five weeks from today, Yankees pitchers and catchers will report to Spring Training in Tampa. Not much happens that day, but it does mark the start of the new season, and that's pretty cool. I'm ready for the offseason to be over. Anyway, I have assorted thoughts to share.
1. The last free agent the Yankees signed to a big league contract? Stephen Drew, last January. (I'm not counting re-signing Garrett Jones and Chris Capuano after they were released in August.) The Yankees have not signed a single Major League free agent this offseason and it's looking more and more likely they will go the entire winter without one. Free agency turned 40 years old this offseason and, as best I can tell, the Yankees have never gone an offseason without signing a free agent to a big league deal. (Correct me if I'm wrong, someone.) The closest they've come is going an offseason with only re-signing their own free agents. Kinda crazy, no? This was the best free agent class in years — and it looks like it'll be the best for several years into the future as well — and the Yankees are on the verge of sitting it out completely. I'm not sure what to make of that.
2. On a related note, the Yankees sent season ticket holders a survey a few weeks ago that included a bunch of the usual market research type questions. There was also this question, via @StadiumInsider: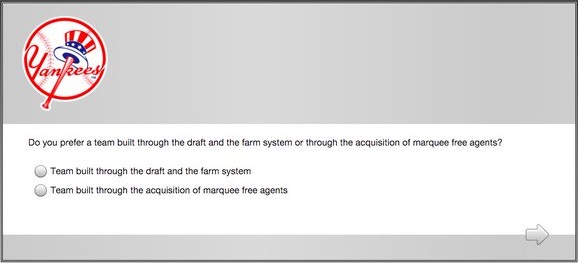 So I guess both is not an option? Because that's what the Yankees should be doing. That's what led to the late-1990s dynasty. The Yankees are in the process of building a young core through the farm system and buy low trades, and it stands to reason they will spend on free agents down the road, but making this an either/or question is weird. Ratings and attendance are down and it seems like the team is searching for fan approval for their current course of action. Of course people are going to pick the draft and farm system. It's been drilled into their heads that that's the "right" way to build a team. But the correct answer is both. The Yankees should do both.
3. I am irrationally intrigued by the Ronald Torreyes pickup. No, he didn't hit much at all last season (82 wRC+ in Triple-A), but he changed organizations three times and I can't imagine that made life easy. The guy never had a chance to get settled in one place. Torreyes is one season removed from hitting .298/.345/.376 (90 wRC+) with a 5.0% strikeout rate (!) in 519 Triple-A plate appearances as a 21-year-old. He did that while being almost six years younger than the average Pacific Coast League player in 2014. Torreyes turned 23 in September and the book on him is that he's a high energy player with elite contact skills and some versatility (he's played second, short, third, and left). He doesn't have any power — Torreyes has 22 homers in nearly 2,600 minor league plate appearances, and he's listed at 5-foot-10 and 150 lbs. on the official site, so he's a tiny little guy — but the contact skills and versatility point to a future as a utility guy. Maybe Torreyes can be the player the Yankees were hoping Eduardo Nunez would become. Probably not, but it was worth Rob Segedin to find out.
4. The more I think about it, the more I believe the Yankees will end up using that fourth bench spot as a revolving door. Assuming Starlin Castro shows he can handle third base on occasion, of course. As far as I can tell none of the minor league contract guys (Pete Kozma, Donovan Solano, Jonathan Diaz) have options remaining, but Torreyes, Greg Bird, Rob Refsnyder, Slade Heathcott, Mason Williams, and Ben Gamel all do. Mark Teixeira's a little banged up? Let's call up Bird for a few days. Four of the next five opposing starters are lefties? Let's call up Refsnyder this week. That sort of thing. That's a complicated plan but it is doable. And as we saw with the bullpen shuttle last year, a plan like this means none of those guys will get an extended opportunity to prove themselves at the MLB level, so at the end of the season the Yankees still won't know what they have. Hopefully that doesn't happen. Hopefully one of these guys steps up and seizes a bench spot.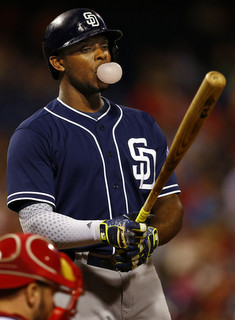 5. Predictions for some unsigned free agents: Justin Upton goes to the White Sox, Yoenis Cespedes to the Tigers, Dexter Fowler to the Angels, Chris Davis to the Orioles, Yovani Gallardo to the Orioles, Ian Kennedy to the Royals, Ian Desmond to the Padres, and Howie Kendrick to the Diamondbacks. The only one I am even 25% confident in is Davis returning to the O's. It's very rare for this many top free agents to still be on the board in mid-January. Usually there's one big name Scott Boras client left unsigned this time of year, everyone says Boras sucks and overplayed his hand, then the player gets a massive contract because Boras is the best in the business. Eventually those players will sign lucrative contracts … right? These next few weeks are going to be pretty interesting. There are an awful lot of impact players left on the market.
6. Based on the FanGraphs projections, the six worst teams in baseball are in the NL. This is not just some wild computer nerd observation either. Baseball's four massively rebuilding teams are in the NL (Braves, Phillies, Reds, Brewers) and both the Padres and Rockies are in something of a perpetual rebuild. You don't need the projections to tell you those six clubs will be very bad in 2016. The only AL team that looks like a total non-contender right now is the Athletics. Every other team at least appears to have a chance, right? In the NL, six of the 15 teams will be more or less out of it on Opening Day. Yeah, weird stuff happens all the time and one or two of those six clubs might be a surprise contender, but it seems so very unlikely. The path to the postseason looks to be much more difficult in the AL just because so many more teams figure to be in the race. Not great for the Yankees, but I guess it'll make the summer more interesting.