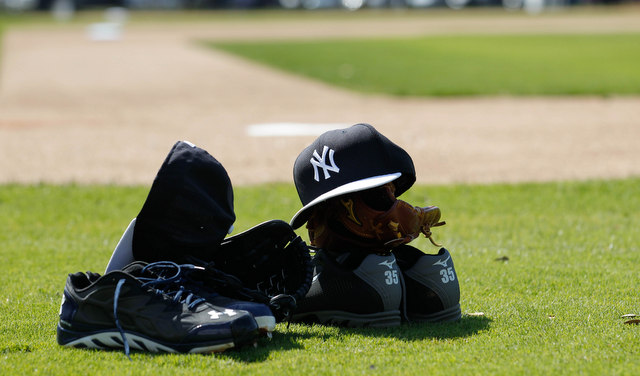 In just four weeks, Yankees pitchers and catchers will report to Spring Training in Tampa. We're finally starting to see the light at the end of the offseason tunnel. Here are some random thoughts on a random Thursday.
1. So would you rather have Justin Upton for six years and $132.75M, or Jacoby Ellsbury for seven years and $153M? Yeah, me too. Ellsbury is two years into his contract and he's hit .265/.324/.387 (97 wRC+) in a little over 1,100 plate appearances with the Yankees. The rationale behind these long-term deals is taking the high-end years up front and living with the ugly back-end, but the Yankees haven't gotten the high-end years from Ellsbury. They've gotten one solid year and one bad year. So two of those all-important front years of the contract are gone. The Yankees aren't getting them back. I'm not much of an Ellsbury fan, but I also don't think that was the real him last season. He's better than that. Either way, the team needs him to rebound and be a difference-maker going forward.
2. I mentioned this soon after the Yankees acquired Aroldis Chapman: the Yankees are about to have their fifth different primary closer in five seasons. What didn't dawn on me at the time is not only are the Yankees going to have their fifth closer in five years, they're going to have to their fifth awesome closer in five years. Look at this:
2012: Rafael Soriano
2013: Mariano Rivera
2014: David Robertson
2015: Andrew Miller
2016: Chapman
I can't imagine another team has had that much year-to-year turnover of elite players at one position. Yeah, relievers are kinda in their own little world, but when teams find a dominant closer, they tend to stick with him as long as possible. The Yankees have intentionally changed closers the last two years. They had an awesome closer, then managed to find someone better. Then they did it again. Crazy.
3. Yesterday Hal Steinbrenner reiterated he doesn't want to raise payroll any higher than it's current level, which is par for the course these days. We've been hearing that for years. Part of that is self-serving — the fact Hal keeps saying that and hasn't signing any big league free agents this offseason shows agents and opposing teams he means business, creating some negotiating leverage — and I get that, but man, no one wants to hear the owner bitch about payroll when the team has played one postseason game in three years. The Yankees aren't going to raise payroll significantly and they're almost certainly going to get under the luxury tax in the near future. Fine. Whatever. But maybe don't remind fans about it all the time? That's no way to reverse the decline in attendance and ratings.
4. Speaking of Hal, his "innocent until proven guilty" line when asked about Chapman yesterday is such a lame cop out. Here's the full quote in case you haven't seen it, via Ken Davidoff:
"I guess what I would say is, in this country, when allegations are brought against a person, that person is completely innocent until proven otherwise. Not the other way around," Steinbrenner, the Yankees' managing general partner, said at the Major League Baseball quarterly owners' meetings. "I think we should keep that in mind right now. A lot of thought was put into it, but the benefits for the organization as a player, if you just look at the baseball side of it, [there's] tremendous upside, needless to say."

…

"Look, it's a touchy subject," Steinbrenner said. "But again, I would say: The man is innocent until proven otherwise. And I understand it's a very sensitive subject, as rightfully so it should be. We'll just have to wait and see."
That doesn't get said about a generic middle reliever. Heck, the generic middle reliever doesn't even get acquired if he was involved in a situation like Chapman's. Brian Cashman admitted the Yankees pounced on Chapman because the asking price dropped following the domestic violence incident and that's gross as hell. The "innocent until proven guilty" line almost makes this seem like some kind of insignificant issue unworthy of a thoughtful response. Yuck. Make sure you check out Craig Calcaterra's take on all this.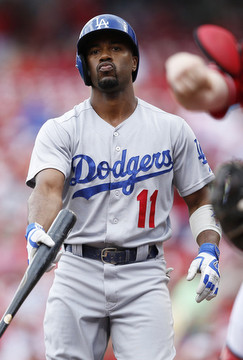 5. We've reached the point of the offseason when teams start looking for cheap free agent bargains. In recent years the Yankees have signed guys like Brian Roberts, Travis Hafner, Eric Chavez, and Raul Ibanez in late-January/early-February. History suggests the club will take a chance on a veteran player looking to hang around at some point soon. Looking over the list of free agents, the one player who stands out as a candidate for such a move is Jimmy Rollins. The Yankees tend to target former stars for these deals, guys who were true impact players back in the day, and Rollins is the only available free agent who really fits the ball. He hasn't played a position other than shortstop since 2002 but is said to be open to a utility role if he can't find a starting job somewhere. I dunno, this seems to pass the sniff test. Former star, switch-hitter, willingness to accept a reduced role … that's the kind of player the Yankees tend to target on these bargain deals. Rollins would slide right into that final bench spot and be a true backup infielder.
6. The Tigers designated infielder Jefry Marte for assignment yesterday to clear a 40-man spot for Upton. The former Mets farmhand hit .275/.341/.487 (139 wRC+) with 15 homers in 95 Triple-A games last season, then went deep four times in 90 plate appearances with Detroit in his MLB debut. Marte, 24, is a first and third baseman, though he's generally considered a below-average gloveman. But still, he's young, he has power from the right side, and plays the corner infield. He seems like a worthwhile pickup for the Yankees. Even if he doesn't land on the roster in that final bench spot, Marte has options and he's someone worth stashing in Triple-A. He certainly seems like better use of a 40-man roster spot than generic lefty Tyler Olson given the organization depth chart.
7. On paper, I think this is the best Yankees roster since 2012. It's the most exciting roster in terms of "hey look at all the young guys" since … I guess 2008? When Phil Hughes and Ian Kennedy were in the rotation and Joba Chamberlain was in the bullpen? That didn't work out so well, but that's the risk with young guys. At some point you have to let them sink or swim. The Yankees did that with Didi Gregorius last year and were rewarded. Next year they'll have a full season of Luis Severino and presumably Gary Sanchez. There's upside in the rotation, the bullpen is absurd, and even bench guys like Dustin Ackley and Aaron Hicks are more exciting than typical bench fodder. I don't know if the starters will stay healthy or if the veteran guys will hit or if the young players will be as good as expected. I do know I'm looking forward to watching this team more than I have at any point in the last three seasons.