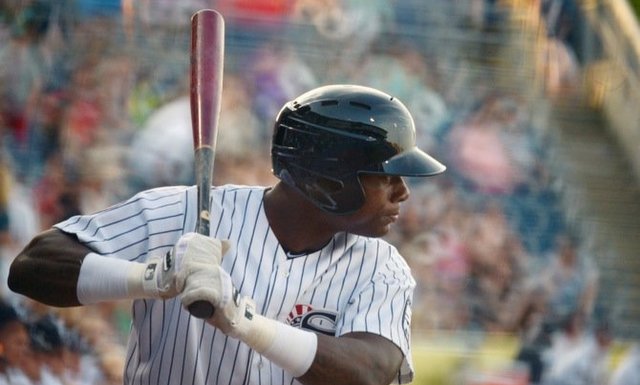 Although the Yankees have not signed any Major League free agents this offseason, they have been active on the trade market, and they graduated several high-profile prospects to the big leagues last year, so the farm system has undergone a significant facelift these last 12 months. Expect to see many new faces in my 2016 Preseason Top 30 Prospects List, which will be posted at 12pm ET tomorrow.
But first, we have to cover five Not Top 30 Prospects. These are not prospects 31-35. These are five players who I believe have a chance to jump into next year's Top 30 with a strong statistical season in 2016, and, more importantly, good progress in their development. It was tough to settle on five names this year because a bunch of those 2014-15 international signings figure to be top 30 material next year. I could have easily picked five guys from the spending spree and almost did.
Two of last year's Not Top 30 Prospects jumped into this year's Top 30, and over the years I've learned two out of five is pretty good. A few of the players in this year's Not Top 30 — the July 2014 international signees, specifically — are too well-known to be considered sleepers. That's not necessarily the case for the others. Here are my five 2016 Not Top 30 Prospects.
OF Trey Amburgey
No Yankees draftee had a better pro debut than Amburgey last season. The 21-year-old hit .335/.388/.502 (161 wRC+) with five homers and 21 steals in 62 games split between the Rookie Gulf Coast League and Short Season Staten Island affiliates after being selected in the 13th round of the 2015 draft. I wouldn't expect those numbers to be the norm, but Amburgey has bat speed and an impressive approach at the plate. His power potential is limited because he's a line drive hitter who doesn't generate a ton of loft. Amburgey has above-average speed and a strong arm, which serve him well in the outfield, where's an asset defensively. He also plays with a ton of energy. Amburgey's a classic grinder. I'm not quite sure where he will begin the 2016 season, but it could very well be with Low-A Charleston.
OF Juan DeLeon
DeLeon, 18, signed for $2M back in July 2014, when the Yankees made a mockery of baseball's international talent acquisition system. He spent his first summer in pro ball in the Dominican Summer League, where he hit .226/.344/.366 (108 wRC+) with three homers and a 29.7% strikeout rate in 53 games, but drew raves for his tools. He has elite bat speed and very good power potential, and despite that strikeout rate, he makes consistent hard contact. DeLeon is also a very good center field defender with an above-average arm, so even if he fills out his 6-foot-2, 185 lb. frame at some point and slows down, he's more than equipped to play right field. DeLeon will make the jump stateside this year, splitting the season between Extended Spring Training and one of the organization's three rookie ball affiliates.
3B Dermis Garcia
Signed for $3M as part of the 2014-15 international spending spree, Garcia, 18, has already moved off shortstop to third base because he filled out considerably over the last 18 months or so. He's listed at 6-foot-3 and 200 lbs., though that might be 10-20 lbs. light. Garcia has huge power and the bat makes a special sound when he connects. He can drive the ball out of any part of any park. His offensive approach is rudimentary, however, so he needs to sharpen his knowledge of the strike zone before he can begin to approach his offensive ceiling. Garcia is not a great athlete and there's a chance he may end up in left field or even first base down the line. He's a bat first prospect, no doubt. After hitting .159/.256/.188 (46 wRC+) with a 32.1% strikeout rate in 23 Rookie Gulf Coast League games in 2015, Garcia will return to that level this year following a stint in Extended Spring Training.
OF Jhalan Jackson
The Yankees grabbed the 22-year-old Jackson in the seventh round last year and he has some of the most raw power in the system. He put up a .266/.338/.452 (133 wRC+) batting line with five homers in 49 games with Short Season Staten Island after signing, though his 29.8% strikeout rate shows his approach is not where it needs to be. Jackson can handle breaking balls, but the power he shows in batting practice isn't going to translate over to games if he doesn't lay off more pitches out of the zone. He's a freakish athlete and a gym rat with a body that looks like it was chiseled out of marble, so it's no surprise he has good range in the outfield and a very strong arm. Jackson has an awful lot of upside. Controlling the strike zone will be his biggest challenge going forward. He figures to head to Low-A Charleston this coming season.
OF Carlos Vidal
Vidal, 20, was one of the top statistical performers in the farm system last year, putting up a .303/.389/.492 (145 wRC+) line with nine homers, 16 steals, a 15.7% strikeout rate, and a 10.3% walk rate in 60 games for the new Rookie Pulaski affiliate. He was a relatively unheralded international signing out of Colombia in 2014, and he's one of those guys who lacks a standout tool but can do a little of everything. Vidal has a contact-oriented left-handed swing but not a ton of power, which limits his offensive ceiling. He's a solid defender with a strong arm who is at his best in a corner. The Yankees love Vidal's makeup and coachability. He's likely headed to Low-A Charleston in 2016.