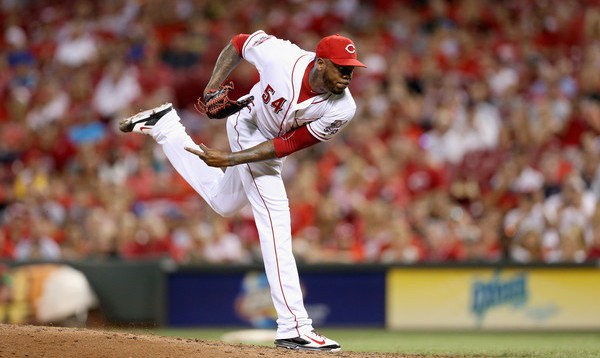 According to Jon Heyman, Aroldis Chapman's arbitration hearing is scheduled for February 19th, one week from today. He filed for a $13.1M salary last month while the Yankees countered with $9M. "If you can't make a deal, someone else makes it for you," said Brian Cashman to Brendan Kuty.
The Yankees have not been to an arbitration hearing since beating Chien-Ming Wang back during the 2007-08 offseason. At the hearing, the three-person panel hears arguments from the two sides explaining why the player deserves the salary they filed, then the panel picks one of the two salaries. Nothing in between.
It seems to me Chapman has a pretty good chance of winning the arbitration hearing. He made $8.05M last season, so the Yankees are offering less than a $1M raise following a season in which Chapman had 33 saves with a 1.63 ERA (1.94 FIP) and 116 strikeouts in 66.1 innings. Aroldis was also an All-Star for the fourth straight year.
Chapman is in his third year of arbitration eligibility and other third year eligible closers like Mark Melancon, Kenley Jansen, and Drew Storen all received raises of at least $2.5M this winter. The Yankees seem to have based their $9M filing salary on Andrew Miller's contract. Miller's an elite reliever, but he lacks Chapman's track record.
The Yankees and Chapman can still negotiate a contract of any size between now — and even after, for that matter — and the arbitration hearing. I can't imagine Chapman's camp is willing to settle for anything less than their $13.1M filing figure though. It seems like he has a very good chance to win a hearing. We'll see.
In most cases the arbitration hearing is one day and the panel's ruling is announced the following day, so we probably won't hear anything on Chapman until Saturday. Maybe Monday since that's the next business day.