Eleven questions in the mailbag this week. I've gotta say, there weren't many great questions in the inbox this week. Hopefully pitchers and catchers reporting next week will inspire everyone. Anyway, RABmailbag (at) gmail (dot) com is the place to send any mailbag questions.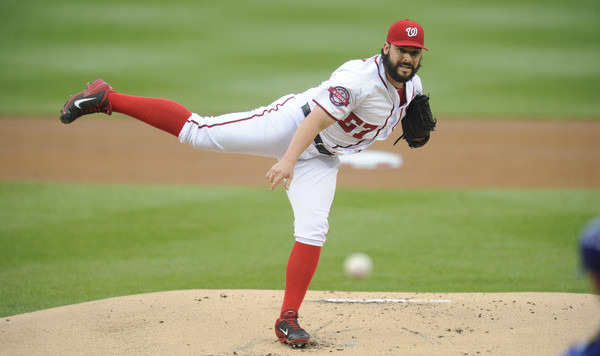 Brooks asks: What would it take for the Yankees to get Tanner Roark from the Nationals?  He seems like a great young pitcher who just doesn't have a spot with that team, plus with Lucas Giolito eventually coming up you would think they might want to move him.  Thanks!
Roark is already 29, so he's not that young. He was a late blooper who didn't reach MLB until age 26. Roark had a very good season in 2014 (2.85 ERA and 3.47 FIP) then got knocked back down to Earth a bit last year (4.38 ERA and 4.70 FIP) as the Nationals shuffled him back and forth between the rotation and bullpen.
I'd expect something closer to the 2015 version of Roark going forward, especially in Yankee Stadium and the AL East. He's neither a big ground ball (career 44.6%) nor strikeout (16.9%) guy, and he lacks a true put-away pitch. Roark is a three-pitch guy (two-seamer, slider, curve) who locates well enough. He is what he is at this point, and that's a perfectly servicable MLB pitcher.
Right now Washington has Roark penciled in as their No. 4 starter behind Max Scherzer, Stephen Strasburg, and Gio Gonzalez, so he's fairly high on their depth chart. The Nationals could use another starter, a depth outfielder, and bullpen help. Unless they're going to take something like Ben Gamel and one of the Triple-A relievers, I don't see a match. The Yankees shouldn't give up Brett Gardner or Andrew Miller to get a guy like Roark, who I see as a lesser version of Adam Warren.
Dan asks: In 2018, when Harper is a FA, what kind of opt-out do you think he's going to get? I wouldn't be comfortable dealing out a $400-500m contract with it being after 2 years (unless the contract was backloaded by a lot). I think I'd be comfortable doing it after year 5, when he'd be 31 years old. You'd think for half a billion dollars, he'd be up for sticking around.
Jason Heyward's contract with the Cubs includes two opt-outs, but with a catch. He can opt-out after the third year, and if he doesn't, he can opt-out after the fourth year as long as he reaches a certain number of plate appearances. I have to think Bryce Harper is getting at least ten guaranteed years when he hits free agency, and Scott Boras will surely push for multiple opt-outs. Maybe after years three and five?
These days teams are giving opt-outs to almost everyone, not just the elite free agents — Scott Kazmir and Wei-Yin Chen got opt-outs, for example — so they're a normal part of the free agent landscape now. To get Harper in three years you're either going to have to include an opt-out(s) or pay an absurd premium to buy away that right to go back out onto the market. At this point I have a hard time thinking Harper and Boras will take a deal without an opt-out. That's the cost of doing business nowadays.
Barry asks: Hi Mike, after reading about the Gurriels trying to establish residency in a different country, I started wondering what it would take for a US born player to become eligible as an international player and avoid the draft? Say someone like Bryce Harper realizes how good he is at around the age of 15, could he theoretically establish residency elsewhere or would he need to renounce his citizenship for that to work?
The player would have to renounced their U.S. citizenship. Shortstop Lucius Fox was born in the Bahamas, moved to the United States as a kid and went to high school in Florida, then last year he moved back to the Bahamas so he'd be an international free agent and not draft-eligible. (The Giants gave him a $6.5M bonus.) Fox had Bahamanian citizenship, so this was a special case, not a loophole any player can use. Trust me, if there was a relatively easy way for guys to avoid the draft and become international free agents, Boras and other agents would have figured it out already.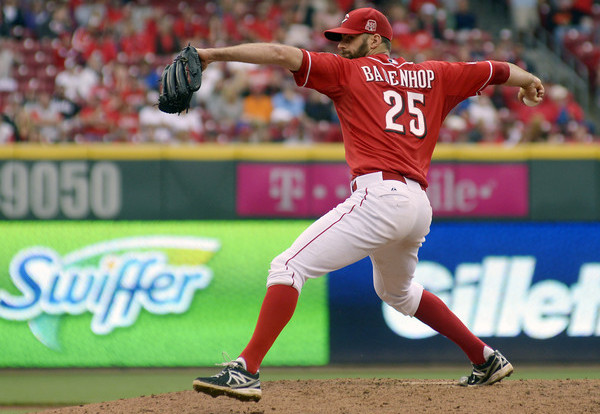 dfed87 asks: The Yankees have a deadly back end of the bullpen, but I think the way the pitching is constructed, they need more pitchers so they don't get over worked like they were last season. Wouldn't Burke Badenhop or Ryan Webb make sense for the Yankees? They aren't the sexiest names, but both are ground ball pitchers who limit walks, and they shouldn't be expensive. Webb could probably even be had for a minor league contract.
A year or two ago I would have said yes to both, and while I'd bring in almost anyone on a minor league contract, I don't see Badenhop or Webb as clear middle innings upgrades at this point. Badenhop lost some velocity last year and his ground ball rate plummeted from 61.0% to 46.7%, which is no good when your career strikeout rate is 16.1% (12.6% in 2015).
Webb is very similar to prime Badenhop. He gets a lot of grounders (59.2% in 2015) and limits walks (5.9%), but doesn't miss bats (15.2 K%), and lefties have historically hit him pretty hard. If the Yankees want to bring one or both guys in for depth, sure. I wouldn't guarantee them a big league roster spot though. They've got to compete for a job in camp. I'm ready to see what these young prospect relievers can do.
John asks: I'm a Comcast subscriber living in NJ and I'm starting to panic about not having a way to watch my team. Is there any new news about a deal? I know MLB has changed the app. Will I be able to watch games from there without a blackout restriction? Any info would be appreciated. Thanks.
I have nothing to pass along, sorry. If I ever come across any updates on the YES-Comcast dispute, they'll be posted right here at RAB. You'll be able to steam Yankees games in-market on MLB.tv this season, but you need to subscribe to YES through your cable provider, so that's not a work-around for the Comcast situation. Hopefully the two sides get this resolved and soon. I wouldn't wish no Yankees on my worst enemy.
Liam asks: Hey Mike, what do you think the Yankee will do about Tanaka's opt out after 2017? Hiro will be coming off his age 28 season, and barring any disastrous injuries, he could probably beat the 3/67 remaining on his current contract. With the Yankees seemingly not committing any big money over the next couple years, do you think they will push to re-sign Ma-Kun?
As I've been saying since he signed the contract, Masahiro Tanaka will opt-out as long as he's healthy. Ian Kennedy got five years and $70M this offseason. What's 28-year-old Tanaka going to get on the open market if he's healthy? Lots more than the $67M he'd be walking away from, that's for sure. It's a no-brainer. As long as his arm is sound — and it might not be in two years — opting out is an easy call.
Right now I'll say the Yankees will walk away from Tanaka if he opts out. Obviously these next two years will bring important information the Yankees will use to make their final decision, but right now I think they'll walk away. They will have gotten his age 25-28 seasons and would be in position to redirect the money elsewhere. The Yankees have given out two huge opt-out related contracts in recent years (Alex Rodriguez and CC Sabathia) and were burned both times. (Don't forget they signed A.J. Burnett after he opted out of his Blue Jays contract!) I can't imagine they're eager to go something like that again.
Ed asks: How can the Yankees best use their financial might without affecting the MLB Payroll and luxury cap?
They're doing it already. They spent huge internationally two years ago, they've added two new minor league affiliates in recent years (the second GCL team and Pulaski), they've renovated and upgraded the minor league complex in Tampa, and they've beefed up their pro and amateur scouting departments. The facilities at Yankee Stadium are state of the art — video equipment, workout equipment, etc. — so they're doing what they can behind the scenes. I'm not sure what else the team could do, realistically. The Yankees have indeed pumped a ton of cash into the farm and player development systems the last few seasons while the MLB payroll had held steady.
Eric asks: Under what circumstances, if any, do we see James Kaprielian make a big league start this year? Another way of looking at this question would be to ask what is the major league depth chart at starter? Ie where are we after Nova at 6 right now?
After Ivan Nova the Yankees have Bryan Mitchell, Luis Cessa, Anthony Swarzak, Tyler Cloyd, and Chad Green as rotation depth in some order. I know that doesn't sound great, but very few clubs have legit MLB caliber starters in the 7-11 slots of their rotation depth chart. I don't think the Yankees will rush Kaprielian if there's a need at the MLB level but I do think we could see him this year. He could end up doing something like six starts in High-A, ten starts in Double-A, four starts in Triple-A, then the big leagues if necessary. If Kaprielian does that in the minors and succeeds, I think we'll see him in September. Surely the team will be able to find a way to squeeze him onto the roster.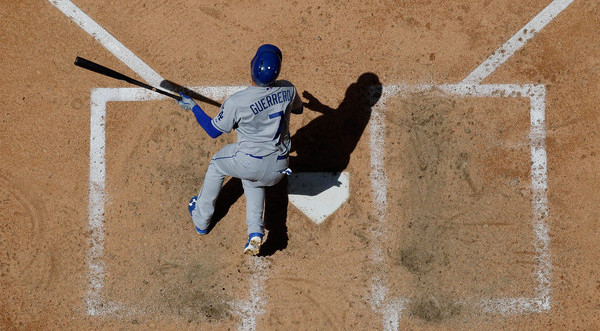 Alex asks: Any interest in Alex Guerrero?
Only if he comes super cheap. The Dodgers would have to take little in return and pay him down to a $1M a year player. Something along those lines. Guerrero's really bad. He hit .233/.261/.434 (89 wRC+) last year, but it was a 303 wRC+ in April and a 60 wRC+ (and a .238 OBP) the rest of the way. Guerrero has been a productive big leaguer for basically 28 plate appearances in his career, all last April. He's a disaster defensively who can't play anywhere at even a below-average rate, and he's owed $15M over the next two years. (Guerrero can opt-out of his contract if traded, but he's not walking away from $15M at this point.) The Dodgers are trying to trade him, but who's going to take him on? Eventually they'll just release him and eat the contract. Give Guerrero a minor league deal then. No way would I give up anything of value for him.
Simon asks: Is there a list of recent prospects the Yankees traded that became perennial all-stars?
No, because there aren't any. The last was … Mike Lowell? I guess Tyler Clippard and Mark Melancon. Both went to two All-Star Games, though that doesn't qualify as perennial. I'm not going to be heartbroken over trading two great relievers when the Yankees produced David Robertson and Dellin Betances in recent years. Austin Jackson and Ian Kennedy became good players, not perennial All-Stars.
The best prospect turned MLB player the Yankees let go in recent years is Jose Quintana, who wasn't traded. He was allowed to leave as a minor league free agent. I don't think Quintana would have developed into what he has become away from White Sox pitching coach/cutter guru Don Cooper, but the Yankees clearly mis-evaluated him. They let Quintana walk to keep guys like Kevin Whelan and Brandon Laird and Melky Mesa on the 40-man roster. Hindsight is 20-20, but yeah, the Yankees goofed there. The Yankees haven't traded many prospects they truly regret the last 15 years or so. I'm not missing anyone obvious, am I?
Ryan asks: If Sanchez makes the team, what do you think the workload will be like for McCann? I see him being behind the plate for maybe 110 games and then some games at 1st and DH.
I don't think Brian McCann's workload will change at all. It might have had the Yankees held onto John Ryan Murphy, who showed last year he's an MLB caliber player perhaps capable of handling more playing time. The Yankees don't know exactly what they have in Gary Sanchez yet and they're not going to figure that out in Spring Training or the first few weeks of the regular season. It takes time. McCann started 119 games behind the plate last year and that's right in line with his career average (117.5). I think he'll start another 115-120 games behind the plate again, leaving 42-47 for Sanchez. The 2017 season is when Sanchez could start stealing more starts from McCann.