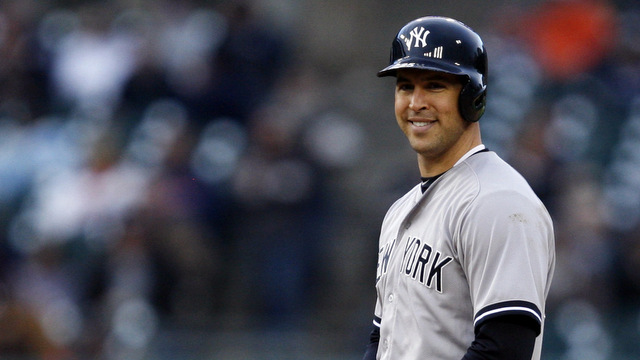 Hands down, one of the most memorable moments of the RAB era was the Yankees swooping in to sign Mark Teixeira at the very last minute back in December 2008. It was a foregone conclusion he would end up with the Red Sox. The two sides had been connected for weeks and they were progressing towards a deal, then BAM, he was a Yankee. It was incredible.
That was more than seven years ago now. Teixeira is entering the final season of his eight-year, $180M contract, and by and large that contract has been a success. Yeah, there have been some injuries, but he's hit .253/.349/.493 (125 wRC+) with 191 homers and 19.3 fWAR in seven seasons, plus he helped the Yankees win a World Series title. Teixeira's time in pinstripes should be looked upon fondly.
Earlier today Teixeira reported to what might be his final Spring Training with the Yankees. He told reporters he not only hopes to play until he's 40, but he'd also like to remain with the Yankees beyond this season. From George King:
"I would love to play until I am 40,'' said Teixeira, who will turn 36 early next month. "If you asked me that when I was coming off wrist surgery, I was pretty honest with you guys, I felt like crap the entire year, 2014. I didn't know what the future held for me. I have completely turned that around. My body feels good. Why not play until I am 40? Being the kind of hitter I am, I could be a DH the last few years of my career. I would love to play that long.''

…

"Absolutely. That's the easiest question you can ask me,'' Teixeira said when asked about remaining a Yankee. "I would love to stay here, but we will see what happens. It's a little weird: The seven years have gone by in an instant. It's amazing how quickly it's gone by. For me to be in a productive position and help our team win maybe in my last year is all you can ask for.''
Up until about three weeks ago, it was safe to assume the Yankees would let Teixeira leave as a free agent after the season, even if he had a monster walk year. Greg Bird was ready to step in at first base and the team has been skewing young whenever possible. It was an obvious move. Teixeira will turn 36 in April. Replacing the guy in his late-30s with the guy in his early-20s is a no-brainer.
Bird's shoulder surgery has thrown a big wrench into that plan. Even if the doctors say he's fully healthy come next offseason, it could take Bird some time to shake off the rust and get back into baseball mashing shape. It wouldn't be unreasonable for the Yankees to have Bird open the 2017 season in Triple-A so he can focus on getting back to normal in an environment where results don't matter. (Also, 65 days in the minors would delay Bird's free agency and "buy back" the year of team control they're losing to injury.)
It's way to early to say whether bringing Teixeira back in 2017 would be a smart move. There's an entire season to play out first. When times comes to make a decision about Teixeira's future — not only whether the Yankees should re-sign him, but whether he is worth a qualifying offer — the Yankees will have a ton more information, particularly about Bird's rehab.
Teixeira was a monster before that fluke shin injury ended his season in 2015. He hit .255/.357/.548 (143 wRC+) with 31 homers in only 111 games. If Teixeira comes anywhere close to repeating that kind of performance in 2016, it's hard to see how the Yankees don't make him the qualifying offer.