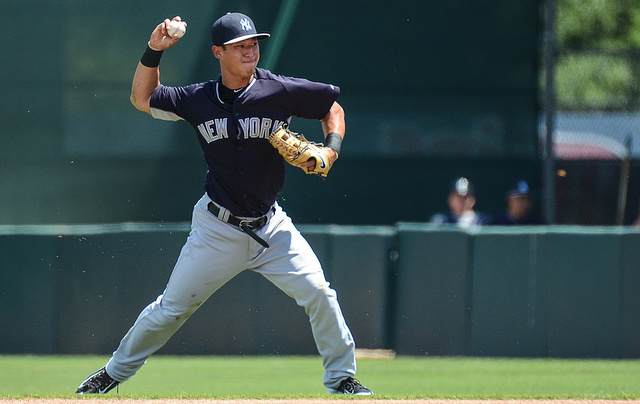 Spring Training is now fully underway. Position players reported yesterday and today is the first official full squad workout. The Yankees will play their first Grapefruit League game one week from yesterday. There is still a lot of preparation to do before then of course, but real live baseball is coming soon. Games are less than a week away.
Yesterday afternoon the Yankees held their staff meeting to discuss the position players and figure out their plan for Spring Training. Much of it is straight forward — Mark Teixeira is going to play first base, Jacoby Ellsbury is going to be the center fielder, blah blah blah — but some of it is up in the air. The Yankees have to figure out how exactly they'll move forward with Starlin Castro at third base, for example.
Also on yesterday's agenda: Rob Refsnyder. The Yankees deemed Refsnyder good enough to start the wildcard game last year but not good enough to be their everyday second baseman going forward, hence the Castro trade. Over the winter Brian Cashman said the team is not planning to try Refsnyder at third base, but Joe Girardi circled back yesterday and said at the very least, the Yankees would discuss the possibility.
"He'll probably be talked about as much as anyone in that meeting," said the manager to Chad Jennings. "It's a young man who did a pretty decent job last year when we called him up and he played at the end of the year. So Castro is going to be, in a sense, projected your everyday second baseman. How do you present opportunities to players you feel could help us in some way? And those are the things we have to talk about."
By now we all know the scouting report on Refnsyder. He can hit, and while his glove at second base has improved through hard work, it's still below-average. Baseball America (subs. req'd) said Refsnyder is "unlikely to be an average defender, but has worked enough to make himself playable at (second)" back in December. MLB.com said he is "not a smooth defender and likely won't ever be more than adequate" earlier this week. That's tough.
Second base is a difficult position and it's difficult in a way that's different than third base. At second you need more range and to be able to pivot on the double play. The throw is much shorter though, giving the defender a little more time. Third base is a pure reaction position because the ball gets on the defender so quick, plus there's the long throw. Being able to play second doesn't mean you can play third, and vice versa.
Based on the scouting reports, there is little reason to think Refsnyder can play third base on a regular basis. He has a second baseman's arm and his infield actions are pretty unnatural. That doesn't figure to play well at a position with much less reaction time. Put it this way: if the Yankees believed Refsnyder could play third base, he probably would have tried it in the minors already. I mean, they had Pete O'Brien try third base in the minors. They'll try almost anything down there.
The scouting reports and anecdotal evidence make it seem like Refsnyder and third base would be a bad mix, but, given the team's roster construction and depth chart, doesn't it make sense to at least try it? This is Spring Training. It's the perfect time to do it. Refsnyder could take the position quickly because it's so reaction based and he won't have time to think. It would come down to his athleticism. Who knows. Weird stuff has happened before.
Refsnyder said he's open to playing third base — "Shoot, I'm up for anything … I'm not going to rule anything out. I'm optimistic and kind of open for anything. Kind of go from there," he said to Jennings — which is no surprise. He wants to make himself more valuable and find a way to stick in the big leagues. It's unlikely to happen at second base with Castro around. There's a bit more an opening at third base.
Since the Castro trade Refsnyder's name has popped up in trade rumors — trade speculation more than rumors, I'd say — and that's understandable. He's a blocked prospect. The Yankees could trade him to fill another need and move on. I don't think they should do so until they give him a chance to play third base though. As a right-hander hitter who can hit and fill-in at second base and right field, Refsnyder would be awfully useful if he could learn to play third as well. The Yankees traded Tyler Clippard without trying him in relief. They don't want to trade Refsnyder without trying him at third. Know what I mean?
I'd be lying to you if I said I thought Refsnyder could play third base adequately. He doesn't need to be great there though, just good enough to play the position once a week or once every ten days. It's unclear if he can even do that. As it stands right now though, Refsnyder has no utility to the Yankees without an injury. There's nowhere to play him. His bat can be an asset, we saw that down the stretch last year, but they have to find a way to get him on the field. Third base might not work — it might be a total disaster — but it is worth a try.