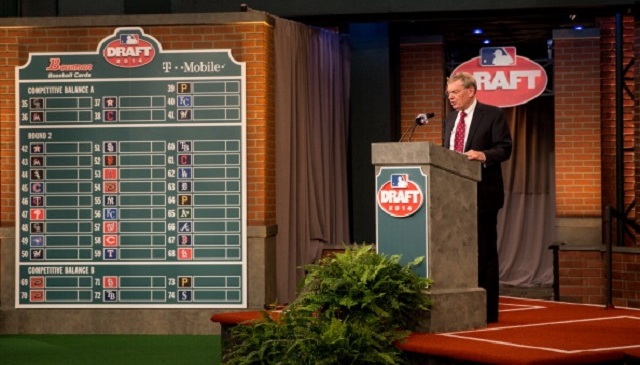 According to Hudson Belinsky, the Yankees will have a $5,768,400 bonus pool for the 2016 draft and a $2,177,100 bonus pool for the 2016-17 international signing period. That gives them a $7,945,500 pool to sign amateur players this year, sixth smallest in baseball. Only the Cubs, Royals, Giants, Rangers, and Nationals have less to spend.
The Yankees did not gain or lose any draft picks via free agency this offseason, and there's no reason to expect them to sign one of the remaining qualified free agents (Yovani Gallardo, Dexter Fowler, Ian Desmond). They're currently slated to pick 19th overall, though they'll move up to 18th if the Orioles finish their deal with Gallardo.
As a reminder, the draft pool covers the top ten rounds. Each pick in the top ten rounds is assigned a slot value, and if you pay one pick below slot, you're free to spend the savings elsewhere. Every pick after the tenth round has a $100,000 slot value, and anything over that counts against the pool. The Yankees have exceeded their draft pool ever so slightly the last few years. Enough to get hit with a small tax but not enough to forfeit future picks. No team has forfeited future picks yet.
The international bonus pool is largely irrelevant because the Yankees are still stuck with a $300,000 bonus cap stemming from their 2014-15 international spending spree. New York is pretty darn good at finding under-the-radar Latin American prospects — Luis Severino ($225,000), Jorge Mateo ($250,000), and Domingo Acevedo ($7,500) all signed for under $300,000 — but that bonus cap stinks. It takes them out of the running for the best players.
The Yankees will be able to resume spending as they please next year, during the 2017-18 international signing period, assuming the upcoming Collective Bargaining Agreement doesn't drastically change things. An international draft could be coming. The international signing period opens July 2nd this year, as it does every year.