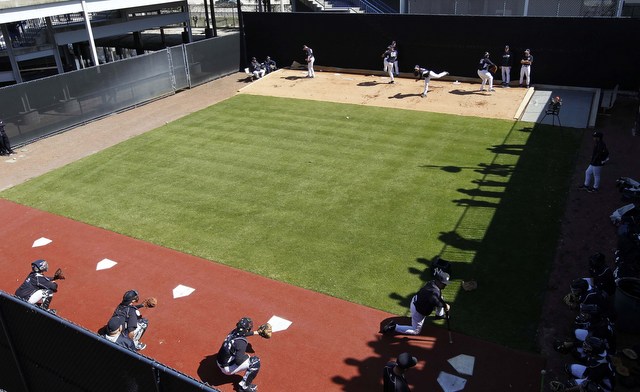 In bolstering their pitching staff this year, the Yankees opted to continue their recent trend of bullpen dominance. From Mariano Rivera to Rafael Soriano, David Robertson, and Andrew Miller, the Yankees have had the ninth inning on lockdown for years. Robertson, Dellin Betances, and others have helped secure the earlier innings over the past few seasons as well. Going into 2016, Betances and Miller will be joined–dubiously–by Aroldis Chapman to form a veritable Fluffy in the late innings. There's little doubt that the Yankees' relief corps will be elite in 2016 and just like 2014 and 2015, it'll be expected to anchor the Yankees' pitching staff. That proposition isn't all that bad when considering the talent in the bullpen and Joe Girardi's generally awesome management thereof. However, there is a chance for the Yankees' great relievers to be overworked due to the potential lack of innings from their starters.
The 2016 ZiPS Projections–which Mike discussed here–do not think highly of the Yankees' starters' workload. They predict that no Yankee pitcher will reach 160 innings and that 2/5 of the Yankee rotation–CC Sabathia and Michael Pineda–will be under 130 IP. This is obviously a concern, though not a new one. In 2015, the Yankees ranked 12th in innings by starting pitchers and were also 12th in innings pitched per start. It is worth noting, however, the the Yankees' starters were 5th in fWAR in 2015 despite the lack of innings. Talent, it appears, is not necessarily the problem, but there's still a problem.
Each of the Yankees' starters carries some level of concern. Four of them–Sabathia, Pineda, Masahiro Tanaka, and Nathan Eovaldi–missed time with injuries last year and the other one–Luis Severino–is going into his first full season as a starter in the Majors. With all that said, it'd make sense for the Yankees to look to bolster their rotation with a trade or free agent acquisition. But, at this point, those options don't seem likely. The organization doesn't have a ton to offer in a trade and any potentially impactful starting pitcher is long-gone off the market. Additionally, most of the rotation has enough upside–Sabathia being the exception here–that it's worth gambling on.
Regardless of that gamble, regardless of underlying talent of much of the rotation, the pressure will be on for the starters to add length to their games this year. The addition of Chapman does help push Betances and Miller back an inning each, but this isn't a video game; those guys can't pitch 7-8-9 every single game. Going deep into games is certainly rare these days, and the Yankees and Royals showed last year that you can ride a bullpen to the playoffs (and deep into it). Still, the Yankees need to get more length from their starters. No one's expecting them to toss 7 innings and hand the ball to someone every fifth day, but upping the average innings by a starter to six would be a good start.