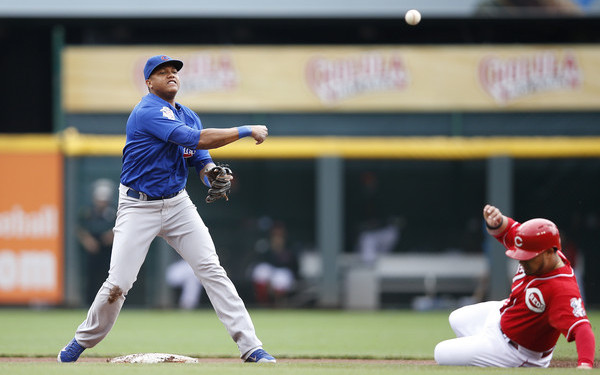 The Yankees are not shy about moving players to new positions and letting them learn on the fly. Two years ago they acquired shortstop Stephen Drew at the trade deadline and immediately moved him to second base, a position he'd never played before. They also acquired Martin Prado at the deadline that year and shifted him to right field, where he had two innings worth of MLB experience.
At the trade deadline last year, the Yankees attempted to acquire then Cubs shortstop Starlin Castro with the intention of moving him to second base. "We have been on Castro for a while, not just this winter. We tried to get him at the deadline," said Brian Cashman after trading for Castro in December. A deal didn't happen in July, then a few weeks later the Cubs moved Starlin to second base themselves. "We felt in our evaluations that he could be a pretty interesting player at second. When the Cubs made the switch we got confirmation of that," added Cashman.
The Yankees intend to use Castro primarily at second base this coming season, and surely he'll see some time at short when Didi Gregorius needs a day to rest, but that's not all. The team is also hoping to use Starlin at third base, a position he has not played since rookie ball almost a decade ago. That was only a handful of games too. Unlike Prado and Drew in 2014, Castro has the benefit of Spring Training. The Yankees can have him work at the hot corner in meaningless games this spring, and they intend to do just that.
"It's too early to tell (if he can handle third), so we'll take the time in Spring Training," said Cashman last week. "If (he) can swing over and play some third for us and spell Chase (Headley), that's a huge benefit for roster flexibility, but if he can't, we're not going to force it … If it's something he's not comfortable with we're certainly not going to force that either. But we'll certainly find out when we get to know him a little better and see how he looks."
It goes without saying you never really know how a player will handle a new position until he actually plays it, but there are some reasons to think Castro will be able to hold his own at the hot corner. Remember, the Yankees aren't basing the decision to try Castro at third on blind faith. Their scouting reports suggest he has the athleticism and defensive tools for third base. Here are three quick reasons why it might work.
He'll Be On The Left Side Of The Infield
First and foremost, Starlin is familiar with the left side of the infield, which is a pretty big deal. Moving from short to second is much tougher than it seems because you're on the other side of the infield. In an interview with the YES Network (video link) a few weeks ago Castro said everything felt "backwards" when he first moved to second. All the angles are different on the other side of the second base bag. At third base, Castro will at least be on the familiar side of the infield. That's a plus and could help ease the transition.
He Has Plenty of Arm Strength & Range
Arm strength is very important at third base and Starlin has a plenty enough arm for the position. Arm strength was always one of his best tools back during his prospect days, and as recently as last season he was doing stuff like this:
So yeah, Castro was making on-line throws from his knees from the shortstop hole as recently as last July, so his arm is still crazy strong. If you can make that throw, you can make the vast majority of the throws from third base.
The various defensive stats have hated Starlin's work at shortstop over the years — he was worth -30 DRS and -13.6 UZR from 2010-15 at short — but looking at the individual defensive components, Castro had good range and was adept at turning the double play. He was simply error prone.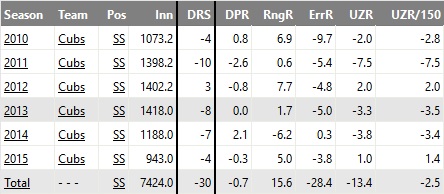 There's no specific reason 2013 is highlighted. I just happened to have my cursor on that line when I made the screen grab and I didn't feel like making another one. My bad.
Anyway, let's look at the components of UZR. Castro's double play runs (DPR) has hovered right around average throughout his career while his range runs (RngR) has typically been well north of average. Error runs (ErrR) has been quick a bit below average, however. That's the problem. Castro's been average or better at turning the double play and ranging to make plays. The errors, that third component of UZR, have been his undoing.
Watch enough baseball and you'll know errors can happen in many different ways. They even happen on good plays. How many times have you seen an infielder range far to get a ground ball only to bobble the transfer or have it clank off his glove, then get charged with an error? More times than I care to count. Fielders get charged with an error despite getting to a batted ball most other players couldn't dream of getting to every single day in MLB.
Thanks to the magic of Baseball Reference, here is a breakdown of Castro's errors at shortstop over the years:
Errors
Year
Age
Total
Catching
Fielding
Throwing
2010
20
27
0
16
11
2011
21
29
2
11
16
2012
22
27
2
17
8
2013
23
22
2
12
8
2014
24
15
0
8
7
2015
25
18
0
12
6
6 Seasons
138
6
76
56
The majority of Castro's errors have been regular ol' fielding errors, and that is especially true since 2012. He's missed six catches in six seasons — that's catches on pop-ups — and Starlin has made single digit throwing errors in each of the last four seasons. That's normal. Even all-world shortstop Andrelton Simmons has averaged six throwing errors in his three full MLB seasons.
Most of Castro's errors are fielding errors, which are booted ground balls and things of that nature. Everyone boots a ground ball now and then, that's baseball, but also rangy guys like Castro tend to get dinged with errors when they're unable to complete a difficult play. Official scoring is weird like that. That isn't to say Castro's defense is great. We're just adding context. His arm is good, his range is good, and he turns the double play adequately, but he's error prone. A strong arm and good range — range indicates good reflexes and first step quickness — projects well for his future at third base.
He Adjusted To Second Quickly
I can not stress this enough: Major League Baseball is very hard. Television is great, I love the slow-mo replays and various camera angles, but you really need to be at the ballpark to fully appreciate just how quickly the game moves. It's incredible. All this fancy StatCast stuff tells us the average batted ball travels approximately 88 mph. That's really fast!
Last year the Cubs shifted Castro to second base in the middle of the season and he had to learn the position on the fly. The game was moving as stupid fast as always and he had to figure it out as he went. Ridiculous. And you know what? He did it! Starlin's first few games at second were shaky but that's to be expected. By time October rolled around, he looked pretty comfortable at second.
Castro was able to make the adjustment to second base pretty quickly. Remember when the Yankees moved Kelly Johnson to third base a few years ago? He never picked it up. He was a career second baseman who looked totally lost on the other side of the infield. Castro moved to the other side of the bag and settled in within a matter of weeks. That speaks to his baseball aptitude and instincts. He picked up second quickly and that bodes well for the move to third.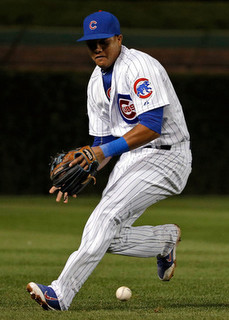 "One of the exciting upsides to the Castro acquisition would be that he played shortstop. He was athletic enough to play shortstop," said Cashman during a recent YES Network interview (video link). "That's the left side of the infield. He's got the arm, he's got the athleticism, that a transition to third should be in the cards. It doesn't guarantee it, but we saw him play second and play second so well down the stretch there with the Cubs … We will definitely take a look at him at third."
Here is the maybe most important aspect of Castro's transition to third: he doesn't have to be great. He only needs to be adequate. Even below-average is acceptable since he's only going to play the position what, once a week? Once every ten days? That's the plan. Chase Headley is the starting third baseman. Castro just needs to give him a rest once in a while. If Headley gets hurt … well that's a bridge the Yankees will cross when the time comes. They only need Starlin to hold his own at third. That's all. Anything else is a bonus.
Castro's ability to play third base will have major impact on roster construction. The Yankees don't have another obvious backup third baseman — Gregorius has ten career innings at third base and Dustin Ackley doesn't have the arm for the left side of the infield — so if Starlin can't play third, the team will have to carry someone like Pete Kozma or Donovan Solano to back up Headley. That's not ideal. Castro being able to play third creates a lot of roster flexibility, and his acclimation to the position this spring will be a not insignificant storyline.