Welcome to Retro Week. Baseball news is slow this time of the offseason, so we're going to look back at the good ol' days this week. Since this is the 20th anniversary of the 1996 Yankees, we're going to focus on them. Hope you enjoy.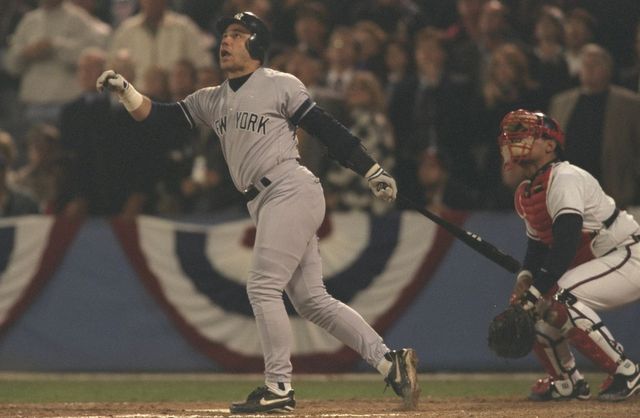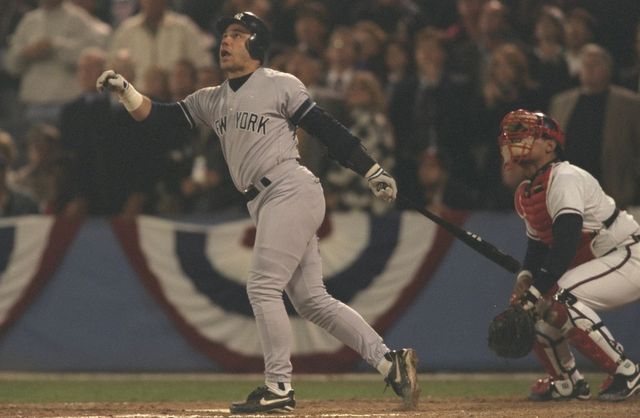 The date is October 22nd, 1996. The Yankees are down two games to none in the World Series. The Braves had just marched into Yankee Stadium and outscored the home team 16-1 in Games One and Two. They had 19-year-old Andruw Jones, 24-year-old Chipper Jones, and a rotation led by future Hall of Famers Greg Maddux, Tom Glavine, and John Smoltz. The series was shifting to Atlanta for three games.
And yet, despite having all that stacked against them, the Yankees were about to begin a dynasty. A home run by Bernie Williams, six gutty innings from David Cone, and stellar bullpen work gave the Yankees a much-needed win in Game Three. But, in Game Four, the Yankees were down 4-0 after two innings, 5-0 after three innings, and 6-0 after five innings. It was bad. Real bad.
The Yankees rallied though. The first four batters of the sixth inning reached base to push across three runs and halve the deficit. An error by Jermaine Dye in right field helped spur the rally. With his team holding a 6-3 lead after seven innings, Braves manager Bobby Cox could smell the blood in the water. His Braves were six outs from a commanding three games to one lead in the World Series. Cox went to closer Mark Wohlers for the six-out save.
"I don't think the (decision) was that difficult," said Cox after the game. "He was so well-rested, he could go two easy and still be able to come back (in Game Five). I'd have been stupid if I wouldn't have done that."
One of the biggest and most important rallies in Yankees history — that's not hyperbole, right? — started with what amounted to a swinging bunt. Charlie Hayes greeted Wohlers with a first pitch infield single to start the eighth inning. That ball hugged the third base line and stayed fair. Darryl Strawberry, who was playing right field because Paul O'Neill was nursing a hamstring issue, sliced a single to left field to put runners on first and second with no outs.
The Yankees were in business. They also caught a huge break. Mariano Duncan pulled a tailor made double play ball to shortstop Rafael Belliard, who bobbled the grounder and was only able to get the force out at second. Instead of having a runner at third with two outs, the Yankees had runners at corners with one out. The tying run was still at the plate, and up came Jim Leyritz.
These days almost every team has a few relievers who can throw 95-96 mph, maybe even 98-99. Back then it wasn't nearly as common. Wohlers lived in the 95-99 mph range and he was one of the hardest throwers in baseball. He didn't pitch to a 2.60 ERA (167 ERA+) with 190 strikeouts in 142 innings from 1995-96 by accident. Wohlers threw serious heat, and Leyritz had his heat timed.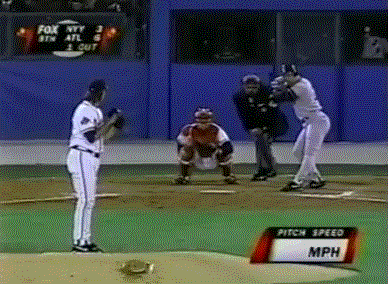 The first pitch was a 98 mph fastball that Leyritz just missed. He fouled it straight back, the universal sign the hitter had the pitch timed, but simply failed square it up. Leyritz knew the scouting report and was newly into the game — it was his first at-bat after entering the game in the sixth, after Tino Martinez pinch-hit for Joe Girardi — so his bat was quick as it was going to get.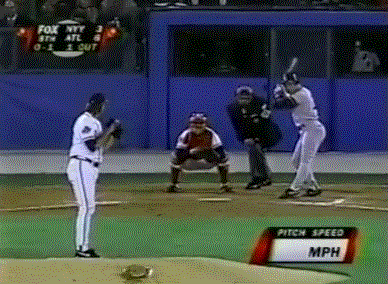 Leyritz had just missed the first pitch fastball and both Wohlers and catcher Eddie Perez knew it. Rather than try their luck again, they went to the slider, and Wohlers missed high. It would not be the first time he missed high with a breaking ball in the at-bat. The count was even at one ball and one strike. I remember wanting to puke and thinking this might be the Yankees' last best chance to tie the game and get back into the series.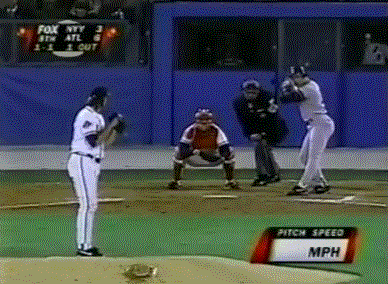 Another high slider. Wohlers was arguably the best fastball pitcher in the league at the time, yet with a backup catcher who had an 86 OPS+ during regular season at the plate representing the tying run in the World Series, he threw back-to-back sliders to fall behind in the count 2-1. Perez was on board too. Wohlers did not shake him off. Arguably the best fastball pitcher in the game seemed afraid to throw his fastball.
"I think Wohlers is going to the breaking ball too much," said FOX announcer Tim McCarver, who was the starting catcher for two World Series winning teams during his playing days. "This situation right here — this is a (game on the line) situation — if you get beat, you get beat on your best pitch. Not your third best pitch."
Wohlers went back to his No. 1 pitch after falling behind in the count, and Leyritz again fouled it off. He swung like he was cheating fastball, which he was. Leyritz later admitted he was looking fastball the entire at-bat. Had Wohlers thrown either of those two sliders in the zone earlier in the at-bat, Leyritz likely would have taken it for a called strike. He was sitting dead red.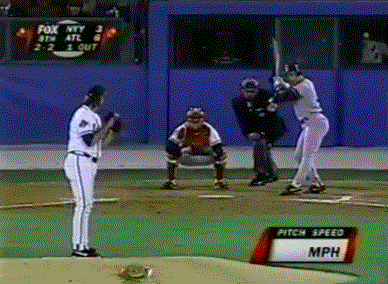 Back to the slider in the two-strike count. This slider was much better than the first two though. It was down and on the outer half. A true strikeout pitch. Leyritz was way out in front but still able to pull it foul to stay alive. He was in protect mode with two strikes. He had to gear up for the high-90s gas but also respect the slider because Wohlers had thrown him two already.
"I called a fastball, but Wohlers said no," Perez would later say to Joel Sherman, recalling the sixth pitch of the at-bat. "And I was good with that. I really wanted a slider, too, but a good slider. I wanted the slider down and away. Wohlers wanted to throw the slider because he thought he was going to throw a better slider."
So, for the fourth time in a six-pitch at-bat, Wohlers threw Leyritz a slider. It was not a good slider like Perez wanted. It was not down and away. It up and out over the plate like the first two, except this one hung up long enough for Leyritz to recognize the spin and square it up. The result was a highlight I will never get tired of watching.
"I was looking heater all the way, and he hung a slider. I adjusted," said Leyritz to reporters after the game. "I was very surprised. Maybe because I fouled two pitches straight back he thought I was right on his fastball. I definitely wasn't looking slider. I was sitting on a fastball but the pitch hung."
The three-run home run, which only barely cleared the left field wall at the old Atlanta-Fulton County Stadium, tied Game Four at 6-6. The Yankees battled all the way back thanks to some good luck — Dye's error in the sixth, Belliard's bobble on the potential double play — and thanks to Wohlers staying away from his best pitch in a crucial situation. The Yankees would go on to win Game Four in ten innings and knot the series up at two games apiece.
"It was a tough ballgame. The loss should be put on my shoulders. I blew it. I get paid a lot of money to shut them down and I didn't do it," Wohlers said to reporters later than night. "This doesn't surprise me because we're playing a quality team. It's a frustrating loss, but I've had a few of them in my career. We'll put this behind us as quickly as possible."
More than a few times over the years I've found myself wondering how things would have turned out had Wohlers not hung that slider and Leyritz not tied the game. Would the Yankees have still won the World Series? Would they still have gone on to win four titles in five years? The Yankees were knocked out of the postseason in soul-crushing fashion in 1995. How would George Steinbrenner have reacted to losing the 1996 World Series too?
I have a hard time believing things would have turned out so well for the Yankees from 1996-2000 had Leyritz not hit that home run. That homer tied the game, helped tie the series, and help start a dynasty. It was, unquestionably, one of the biggest hits in franchise history given everything on the line. It completely changed the course of not one, but two franchises. The Braves were on the verge of a dynasty at that point. Then suddenly, with one swing, the Yankees were poised to dominate baseball.