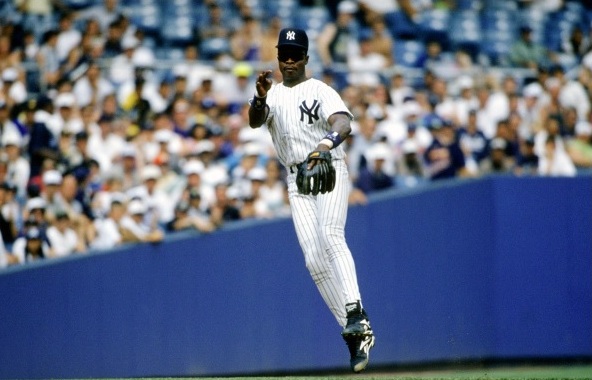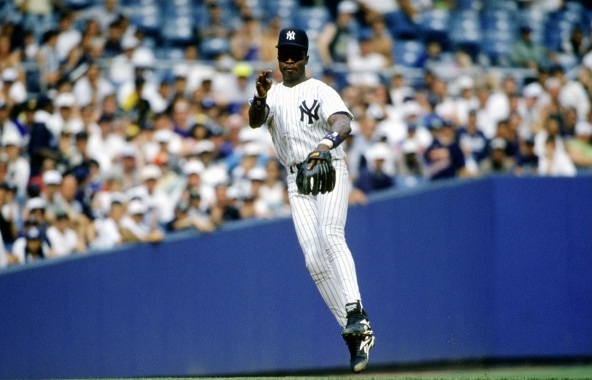 The Yankees had an awful lot bad shortstops from 1986-95. A total of 23 different players played at least one game at short during that time — seven played at least 100 games at shortstop — and they combined to hit .242/.299/.317 in nearly 6,000 plate appearances. That's roughly 25% below league average. Only the Mariners (26%) and Pirates (28%) received worst production from shortstop from 1986-95.
Heading into the 1996 season, the Yankees had two options at shortstop: the incumbent Tony Fernandez and a young rookie named Derek Jeter. "What we're looking to do is give Jeter a chance to play shortstop," said GM Bob Watson to Jack Curry before Spring Training. "(But) we don't know if the kid can play yet." New manager Joe Torre also indicated the plan was to play Jeter at short during his introductory press conference before backing off in the spring.
Jeter, then 22, hit .250 in 15 big league games in 1995, his MLB debut. Baseball America ranked him as the No. 6 prospect in baseball prior to that 1996 season. Fernandez, meanwhile, hit .245/.322/.346 (75 OPS+) in 1995 and was 33 years old. The Yankees had sketched out a plan where Jeter played shortstop, Fernandez slid over to second base, and the newly signed Mariano Duncan served as a utility player.
"As far as I know, there's no competition. Maybe you know more than I do. About the only thing I know is they want to go with (Jeter)," said Fernandez to Curry. "Obviously, they don't feel like I can play (shortstop) every day. If you were in my position in the last year of your contract, what would you do? I want to play every day."
Fernandez did not outright request a trade that spring, but he did say enough to suggest that if he wasn't the starting shortstop, he'd rather play for another team. "Right now, in my mind, I can still play every day. If I don't play here, I'd like to play someplace else. I don't want to cause any trouble," he said. Watson was having none of that. He wanted Fernandez around as insurance at shortstop.
The Yankees did want Jeter to win the shortstop job in Spring Training. That was clear. They weren't going to give it to him though. Fernandez was the established big leaguer and the rookie had to wrestle the job from him. "I'm comfortable with Duncan playing second base," said Torre to Curry in Spring Training, further hedging against Jeter. "But it takes away another pawn from me because of his ability to play everywhere."
The shortstop decision was made for the Yankees in Spring Training. On March 24th, near the end of camp, Fernandez fractured his right elbow diving for a ball. It was the same elbow Fernandez fractured on the Bill Madlock play in 1987. Doctors said the 1987 fracture did not heal properly, so Fernandez's elbow was "soft," leading to the 1996 fracture on the dive. The expectation was he'd miss the season.
"This is a major thing. It's Tony Fernandez. He's a regular player," said Torre after the injury. Ironically, Fernandez suffered the injury after Jeter botched a potential inning-ending double play when his flip to second was wide of the bag. "Nobody knows what the future holds. We can't say that if we didn't turn the double play, it wouldn't have happened," said Fernandez afterwards.
With Fernandez out and Pat Kelly set to start the season on the DL, the Yankees were looking at a double play combination of Jeter and Duncan to start the season. Watson did not sit tight though. He did his GM thing and looked around for infield help, and at one point the club was considering trading the unproven Mariano Rivera to the Mariners for Felix Fermin. That didn't happen, thankfully.
Jeter had an underwhelming Grapefruit League showing but got the job anyway. The Yankees had no other options. He was at short, Duncan was at second, and the rookie Andy Fox made the club as the utility infielder. Jeter rewarded the Yankees right away. He hit a home run on Opening Day …
… and made several spectacular defensive plays as well. Jeter went 3-for-3 with a walk the next day. After the first two weeks of the regular season, he was hitting .355 with a .524 OBP and more walks (nine) than strikeouts (five). It was only two weeks, but the Yankees had concerns about handing the shortstop job over to Jeter with no clear backup plan. Derek erased any doubts rather quickly.
Jeter hit .314/.370/.430 (101 OPS+) with ten homers and 14 steals during that 1996 season, earning him AL Rookie of the Year honors unanimously. He helped them win the 1996 World Series by hitting .361/.409/.459 in the club's 15 postseason games that October. The shortstop job was unquestionably Jeter's by the end of the season, and he kept that job for nearly two decades.
Fernandez never did return to the Yankees during that 1996 season. There was some thought he could be ready by September, but it didn't happen. Fernandez was not thrilled there was talk Jeter would take over as shortstop going into the 1996 season, and now, with Jeter excelling at the position, his time in New York was over. Fernandez became a free agent after the season and signed with the Indians.
The Yankees got what they wanted. They wanted Jeter to be their starting shortstop in 1996. Jeter felt ready — "I think I'm ready. I've waited my whole life to play for the Yankees," he said to Curry — but the team did want to have a backup plan just in case things didn't work out. Fernandez was that backup plan. Once he fractured his elbow in Spring Training, the Yankees did not have a safety net at short. As it turned out, they wouldn't need one for nearly 20 years.