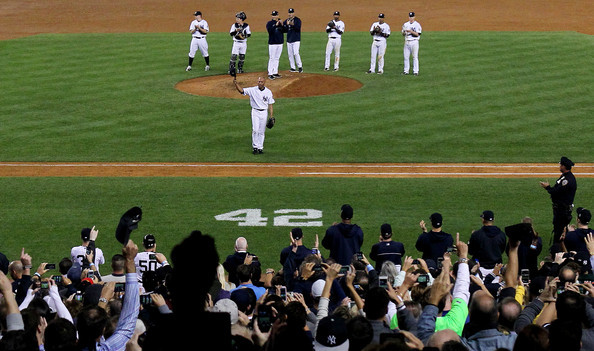 Earlier today the Yankees announced a whole bunch of the 2016 calendar news. First and foremost, individual game tickets will go on sale online beginning Monday, February 22nd at 10am ET. You can walk up to the Yankee Stadium ticket booth and begin buying tickets the following day, February 23rd.
Now that you know when you can buy tickets to get in the door, here's the big news: the Yankees are dedicating a plaque in Mariano Rivera's honor this coming season. No. 42 is already retired in Rivera's (and Jackie Robinson's) honor, but now he's getting a plaque too. Pretty cool. The Rivera plaque ceremony will take place on Sunday, August 14th. That's a 1pm ET game against the Rays.
The Yankees also announced they will have a special ceremony honoring the 20th anniversary of the 1996 Yankees on August 13th, the day before Mo's ceremony. We celebrated the 1996 Yankees all last week during Retro Week. Old Timers' Day is scheduled for Sunday, June 12th. The 1996 club is getting their own special day, as they should. No plans for that ceremony have been announced yet.
And finally, the Yankees also announced their full 2016 promotional schedule. You can see it here. The highlights: bat day for the unmarketable Alex Rodriguez on May 14th, Didi Gregorius bobblehead on August 7th, and a Dellin Betances bobblehead on September 10th.  I want them all.