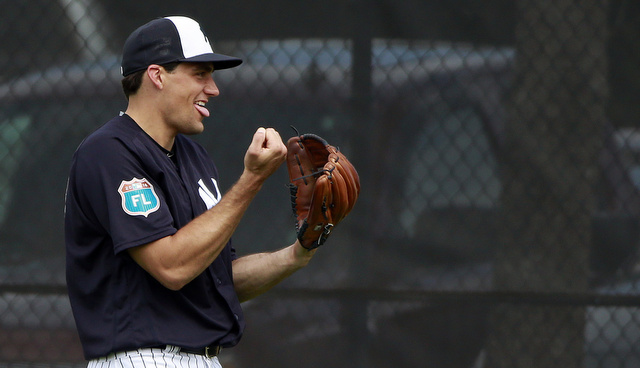 The Yankees saw two versions of Nathan Eovaldi last season. They saw the frustrating, hit prone version with good stuff and bad results. Then they saw the guy with swing and miss stuff and the ability to dominate a lineup. The difference was the splitter and the numbers do not lie: Eovaldi had a 4.95 ERA (3.95 FIP) with a 15.8% strikeout rate without the splitter and a 3.46 ERA (2.90 FIP) with a 20.2% strikeout rate with it.
Elbow inflammation ended Eovaldi's season in early-September last year, though he healed up and was ready to go as a reliever had the Yankees advanced to the ALDS. (He didn't have time to stretch out to start.) Eovaldi has been throwing 98-99 mph in his two Grapefruit League starts, so the elbow's healthy. Now the Yankees can look forward to having a full season of the good version of Eovaldi, the guy with an out-pitch splitter. Here are three questions I have for 2016.
Can He Pitch Deeper Into Games?
Pitching coach Larry Rothschild had Eovaldi start the season with a true forkball so he could get used to having his fingers so far apart on the baseball. After a while he shortened him up to the splitter grip, which is when he took off. With the forkball grip, Nate averaged 3.78 pitches per plate appearance. With the splitter grip, he averaged … 4.06 pitches per plate appearance. The split didn't make him more efficient.
Right now, it's more than fair to say Eovaldi is a five and fly pitcher. He made 27 starts last year and he completed six full innings only eleven times. Nasty Nate was a drain on the bullpen. He was able to give some more length after learning the splitter, but not much more. That's the next item on the development checklist. Learn how to pitch deep into games and become a 200-inning horse.
How does that happen? Eovaldi's walk and overall strike rates are fine, so he's not a guy who nibbles. He's just a guy who gives up a lot of foul balls, and I'm not sure how to correct that. Change in pitch selection? Again, Eovaldi's first pitch strike rate was good, so he has no trouble getting ahead in the count. He has to figure out how to finish hitters off in a timely fashion. This is something for Eovaldi and Rothschild to figure out. I'm just the messenger, you guys.
Is He Going To Use His Curveball?
When he reported to Spring Training, Eovaldi said he intends to work on his curveball in camp, though we haven't really seen it yet. (Only two starts though.) I'm not sure working on a fourth pitch is worth the effort, but hey, if it's something he can improve, great. The curve could be the key to getting some quicker outs and pitching deeper into games.
Eovaldi has two good pitches already in his fastball and splitter, and his slider is effective now that it's his third pitch and not his second pitch. Spring Training is the time to mess around, though I feel like any time spent on the curveball would be better spent on the slider. The curve has been that bad all throughout his career, dating back to high school. Meh, I guess there's no harm in trying. Maybe Rothschild can figure something else. Four-pitch Eovaldi would be something. I'd be happy with three good pitches Eovaldi.
Can He Keep The Ball In The Park Again?
Last summer Eovaldi allowed only ten homers in 154.1 innings, which is nutso. He allowed one more homer than Luis Severino in 92 more innings. Eovaldi had a 0.58 HR/9 and a 7.8 HR/FB% last year, which seems totally unsustainable in Yankee Stadium, except his career rates are 0.63 HR/9 and 7.1 HR/FB%. His home/road split was non-existent too:
Home: 0.57 HR/9 and 8.1 HR/FB%
Road: 0.59 HR/9 and 7.5 HR/FB%
Eovaldi's ground ball rate was well-above-average last year (52.2%) but not insanely so. He's not Dallas Keuchel or anything like that. (Keuchel in 2015: 61.7 GB%, 0.66 HR/9, 13.6 HR/FB%.) It's weird. For all the hits he can give up, hitters rarely square Eovaldi up and hit the ball in the air with authority. His career homer numbers are fantastic, and we're talking about a guy with over 600 career innings.
Would it be a surprise if Eovaldi's home rate jumped this season simply because of Yankee Stadium? Of course not. A windy night could turn two lazy fly ball outs into two cheap short porch homers. Clearly though, Eovaldi has some kind of homer suppressing skill. Maybe it's just the pure velocity; hitters can't get around on Eovaldi's fastball quick enough to really square him up. After all, most rallies against him look like this: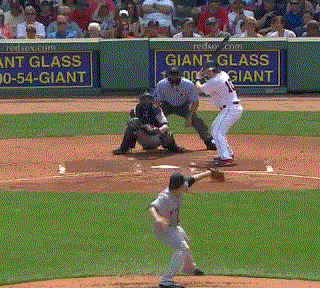 Single after single, grounder with eyes after grounder with eyes. It almost seems like hitters get just enough of the pitch to find a hole, but not enough to do major damage. Even while pitching his home games in Yankee Stadium, Eovaldi held opponents to a .093 ISO last summer. Here is the full list of pitchers who held hitters to a sub-.100 ISO in 2015 (min. 150 IP):
Jake Arrieta – .086
Zack Greinke – .089
Clayton Kershaw – .089
Tyson Ross – .092
Nathan Eovaldi – .093
Gerrit Cole – .097
Dallas Keuchel – .097
Sonny Gray – .099
That is some company, eh? Keep doing that, Nate. This pitching thing will work out for you.
* * *
The Yankees have all sorts of injury questions in their rotation, so Eovaldi is one of their healthier starters by default. Masahiro Tanaka has the partial ligament tear in his elbow, CC Sabathia's knee is bone-on-bone, and Michael Pineda's shoulder was cut open not too long ago. Eovaldi is almost a decade removed from Tommy John surgery, and since then he's only had a little inflammation here and there.
Eovaldi just turned 26 years old and he's two years away from free agency. This is a big year for him. It's the year to establish himself as a big time pitcher, someone who can use his splitter to get above-average results and throw a lot of innings. The Yankees go to great lengths to give their starters extra rest, so they're doing their part. Now it's time to see if the splitter really is the cure-all it seemed to be.