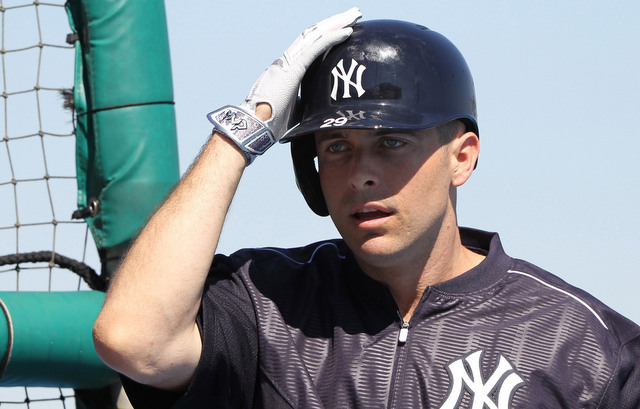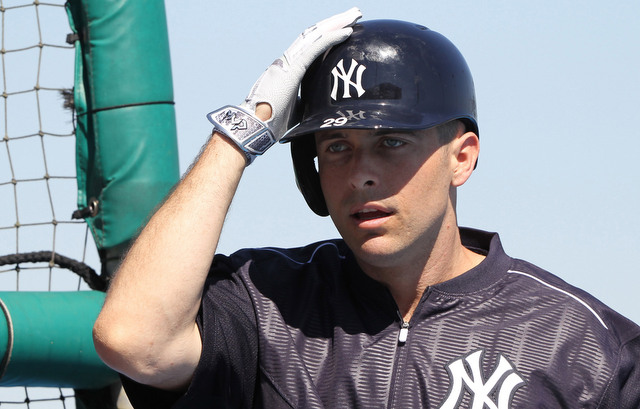 Since the end of last season, Joe Girardi and the Yankees have said they need to give their regulars more rest going forward so they remain productive all season. Last year's second half offensive collapse was not something anyone wants to go through again. More rest is the key — or at least the Yankees think it's the key — which means the bench will be vital in 2016.
The Yankees currently have two open bench spots: the backup catcher and the backup third baseman. The other two spots will be occupied by fourth outfielder Aaron Hicks and utility man Dustin Ackley. Both are former tippy top prospects — prior to the 2010 season, Ackley ranked 11th and Hicks ranked 19th on Baseball America's top 100 list — who fell out of favor with their former teams, so the Yankees scooped them up while their stock was down. Where do they fit this season? Let's preview.
The Super Utility Guy
I am irrationally excited about Ackley heading into the season. I know I shouldn't be, but dammit, I have that bug. Ackley tweaked some things at the plate after coming over last year and he's hitting rockets all over the field this spring. (Ackley struck out for the first time yesterday, in his 32nd plate appearance.) The raw hitting ability is there, we saw it late last season, and Ackley being good now would be wonderful for Mariners trolling purposes.
In all seriousness, the Yankees acquired Ackley because at worst, he was an upgrade over Garrett Jones, and at best, he's an everyday player with first round talent. His arm prevents him from playing the left side of the infield, but Ackley will back up at first and second bases, and also serve as the fifth outfielder. He's also a left-handed hitter with the propensity to pull the ball in the air. I mean, look:
2013: 32.2% pull / 27.0% fly balls
2014: 37.4% pull / 36.6% fly balls
2015: 43.5% pull / 40.3% fly balls
That is exactly the kind of batted ball profile and trend that will play in Yankee Stadium. Like I said, I'm irrationally excited to see what Ackley can do this season. The problem: when is he going to play? He plays positions that are pretty well occupied.
For Ackley to get playing time, he's either going to have to force the issue with his bat, or hope the Yankees are true to their word when it comes to giving the veteran players more rest. Spots could always open via injury, but no one wants that. It seems like the best case scenario for Ackley is one game at first base and one game at second base a week. His only outfield time figures to come in blowouts or in emergencies. Not great, but what can you do?
Bench players can be hit or miss because they don't play regularly and for the most part they work in small sample sizes. Unpredictable things happen under those circumstances. If nothing else, Ackley offers the illusion of upside — he just turned 28 and he is former top prospect — and is a versatile left-handed bat. If he's nothing more than the 24th man on the roster, so be it. I think there's the potential for more.
The New Fourth Outfielder
The Yankees had a great fourth outfielder last season. Chris Young annihilated lefties, held his own against righties, and played rock solid defense. He was awesome. It was also kind of tough to expect similar performance going forward. Last season was Young's best offensive year overall since 2009 and his best year against lefties ever. The Yankees didn't want to bet two years and $13M he would do it again. The Red Sox did.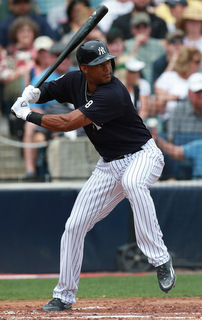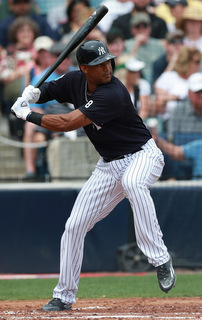 Instead, the Yankees acquired Hicks from the Twins in exchange for John Ryan Murphy. Hicks is only 26, he has four years of team control remaining, he's a switch-hitter, and he's an outstanding defender with a cannon arm. That is a pretty desirable player, wouldn't you say? Hicks has yet to gain consistency at the MLB level — Minnesota did him no favors by skipping him right over Triple-A — which is why he was available. The Twins got tired of waiting.
There are indications Hicks is close to breaking out. He added a leg kick last season and improved his selectivity; PitchFX data shows he swung at way more pitches in the zone without substantially increasing the number of swings he took on pitches out of the zone. Hicks is a switch-hitter who has been better from the right side of the plate, and now he's moving into ballpark that rewards left-handed hitters.
The Yankees are planning to play Hicks and play him often. As you know, the plan is to give the veteran players a little more rest this season, and that includes the starting outfielders. "I think Hicks has a chance to help those guys in spelling them and keeping them healthy and strong," said Girardi at the Winter Meetings. Because he can switch-hit, Girardi doesn't have to worry about platoon matchups when playing Hicks. Because he can play all three outfield spots, Girardi also can keep his regulars in their normal positions.
Last season Young batted 356 times and appeared in 140 games — he started 77 games — so the playing time will be there, especially since the plan is to rest the other outfielders a little more often. I could totally see a scenario in which Brett Gardner and Jacoby Ellsbury start four out of every five games in the outfield, and Carlos Beltran starts three out of every five games in the outfield. Something like this:
Day One: LF Gardner, CF Ellsbury, RF Beltran (Hicks on bench)
Day Two: LF Gardner, CF Ellsbury, RF Hicks (Beltran on bench)
Day Three: LF Hicks, CF Ellsbury, RF Beltran (Gardner on bench)
Day Four: LF Gardner, CF Hicks, RF Beltran (Ellsbury on bench)
Day Five: LF Gardner, CF Ellsbury, RF Hicks (Beltran at DH)
That make sense? Gardner, Ellsbury, and Hicks would be starting four out of every five games in the outfield, and Beltran would be starting three out of every five games in the outfield plus one more at DH. The Yankees would effectively have four regular outfielders. Hicks would be getting as much playing time as the veterans.
It's not quite that simple, of course. At some point someone is going to get hot and it'll be tough for Girardi to take that player out of the lineup. It's going to happen a bunch of times across a 162-game season. That rotation seems like a great idea until, say, Gardner is on a 15-for-30 hot streak and the Yankees have lost four of five because they've scored eight runs total, know what I mean? You know that's going to happen at some point.
The Yankees want to develop Hicks into an everyday player and that's not going to happen without at-bats. They want to rest the regulars and they want to play Hicks. This seems like it will be simple enough. Will it work? We'll see. Hicks needs to build on the strides he made offensively last season and continue to play excellent defense, because even when he doesn't start, he's going to come off the bench to replace Beltran in the late innings.