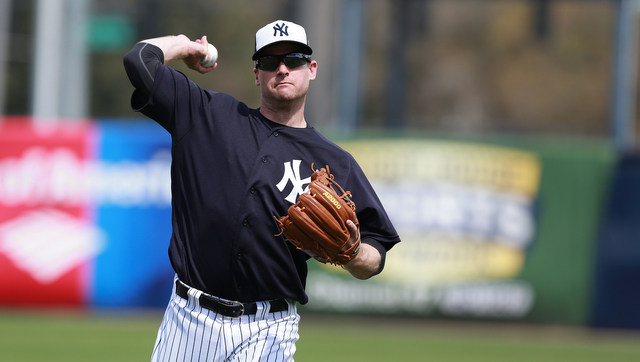 Here's a weird, random fact: the Yankees have had four different Opening Day third basemen in the last four years. It was Alex Rodriguez in 2012, Jayson Nix in 2013, Kelly Johnson in 2014, and Chase Headley in 2015. This year Headley will become the first player to start consecutive Opening Days at the hot corner for New York since A-Rod started three straight from 2010-12.
The Yankees re-signed Headley last offseason because Rodriguez can't play third base anymore. The Yankees didn't even wait to find out if he could in Spring Trianing. He was coming off his suspension last winter and had another hip surgery in his recent past, plus he was pushing 40, so the Yankees needed someone else at third. They brought back Headley because he had been one of the better third baseman in the game over the previous few years. From 2012-14:
Miguel Cabrera — 19.0 fWAR
Adrian Beltre — 17.2
Josh Donaldson — 15.6
David Wright — 15.3
Chase Headley — 15.3
If you prefer bWAR, it's the same five names, only with Miggy and Beltre flipped. If you want to limit it to 2013-14 only to remove Headley's career 2012 season, he's still top ten among all third basemen. Headley played rather well after coming over at the 2014 trade deadline and he seemed to fit exactly what the Yankees needed, namely a switch-hitting bat and good defense.
Last season Headley fell short on both sides of the ball, offensively and defensively. He hit .259/.324/.369 (91 wRC+) with eleven homers overall, making it his worst offensive season as a full-time player. Headley also committed a career-high 23 errors — his previous career high was 13 — and seemed to develop the yips, which turned routine throws into adventures. Needless to say, the Yankees are hoping for a big bounce back from their third baseman in 2016.
Can He Throw?
Headley's ten fielding errors were a career high last season, but the throws were far more worrisome. It wasn't just the errors, it was the number of poor throws overall, many of which Mark Teixeira saved at first base with his scooping ability. The throws weren't just off-line either. Headley looked very tentative: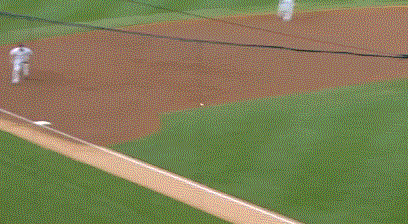 That is a third baseman lacking confidence. This all came out of nowhere too. Headley has been one of the best defensive third basemen in the game throughout his career and he was fantastic in the field with the Yankees after the trade two years. You're lying if you say you saw this coming.
"More than anything, it's just footwork. Footwork related stuff," said Headley to Jack Curry (video link) recently when asked about his defensive work with third base/infield coach Joe Espada this spring. "Trying to keep my feet going … Just trying to clean that up a little bit and that'll help some of the throwing issues I have last year."
Headley hasn't had any defensive miscues this spring, though we are talking about only 21 total chances in 55 innings, which is not enough to say whether he's back on track in the field. Especially since not all of those 55 innings have been broadcast somewhere for us to see. I guess no errors in 21 chances is better than a few errors, but it doesn't help us much going forward.
Looking at Headley's career, last season was the outlier. He's been a very good defender throughout his career and he suddenly forgot how to throw in 2015. The goal this season isn't to take a bad defender and make him good. The goal is to take a previously good defender and get him back on track after a down season. Defense is like everything else in baseball. Players have slumps and bad years.
There is definitely a mental side to this — Headley admitted to losing confidence in the field last year — and that can be tough to overcome. And if Headley can't get over his throwing issues, that's a big problem because the Yankees don't have a true third base alternative. (Sorry, I don't think 36 spring innings mean Rob Refsnyder's ready to play the position regularly at the MLB level.) Like it or not, the Yankees need Headley.
If the throwing issues persistent, it won't be the result of a lack of effort. Headley has been putting in extra work since last summer to sort this out, and Curry said Headley and Espada are out on a back field working on his defense pretty much every day this spring. I have no idea if he can get his throwing in order. There's no way to put a number on this. All you can do is hope 2015 was truly an aberration and Headley will go back to being the player he was prior to 2015.
Is He Going to Hit?
Twenty third basemen qualified for the batting title last season, and among those 20, Headley ranked 15th in AVG (.259), 12th in OBP (.324), 19th in SLG (.369), 18th in ISO (.110), and 19th in wRC+ (91). He was among the worst offensive regulars at the position a year ago. The lack of power was a big part of it too. Here is his ISO over the years (Headley became a regular in 2009):

Source: FanGraphs — Chase Headley
No one in their right mind expected Headley to repeat his career 2012 season after re-signing with the Yankees. But something close to his 2013-14 performance (108 wRC+) was reasonable. Earlier in his career Headley's lack of power could be blamed on Petco Park, at least in theory. From 2009-11, those pre-peak years, he had a .101 ISO at home and a .133 ISO on the road, so the split wasn't huge.
Headley now calls Yankee Stadium his home park, and Yankee Stadium is a great place to hit for power, especially if you're left-handed. Headley hit six of his eleven homers in the Bronx last season, and five of the six came as a left-handed hitter. Overall though, he was actually a better hitter on the road (98 wRC+) than at home (84 wRC+), which is pretty weird. Maybe that's a reason to expect a rebound offensively. It's tough for a hitter to be average-ish on the road and bad at home in Yankee Stadium two years in a row.
The power is what it is, especially since Headley has never been a great power hitter and he's now over 30. More interesting to me are his strikeout and walk rates. Last season he had his lowest walk rate (7.9%) since becoming a regular, but also his second lowest strikeout rate (21.0%). (His previous low was 20.6% in 2010.) The PitchFX data shows Headley is not chasing more pitches or anything like that. He's just making more contact nowadays.

Headley's swing rate on pitches out of the zone (O-Swing%) was actually a career low last season, so no, the career-low walk rate was not the result of chasing more pitches. His contact rate, both overall (Contact%) and on pitches in the zone (Z-Contact%) were the highest they've been in years, so he was putting the ball in play more often. When you put the ball in play, you don't walk or strike out as much.
The problem was the quality of Headley's contact wasn't great last summer. His 27.8% hard contact rate exactly matched the league average in 2015, but it was down from the 35.6% hard contact rate he posted from 2012-14. The real problem: Headley's soft contact rate was 17.4%, which is still better than the league average (18.6%), but was way up from is 12.6% soft contact rate from 2012-14. (He had a 35.3% hard contact rate and a 12.2% soft contact rate from 2013-14, if you want to remove his career year.)
As with his throwing and defense, 2015 was an outlier for Headley offensively compared to his recent seasons. Maybe it was an adjustment year? A year ago at this time we were all talking about Brian McCann possibly rebounding after his adjustment period. Yeah, Headley spent some time with the Yankees in 2014, but not that much time. Who knows. You can't rule anything out when trying to figure out how a player will perform going forward.
* * *
My guess is Headley rebounds with the glove but not so much with the bat this year. Perhaps he can get back to being a league average-ish hitter. I'm not sure will happen without the power though. I can't say I'm supremely confident, but I do feel pretty good about Headley bouncing back on defense. He's worked hard at it, he looks okay in camp, and his track record is pretty long. Like I said, this is a good defender who had a bad year, not a true talent bad defender. I think the glovework will be there, and the Yankees are going to need it to be there, because they don't have any great alternatives.