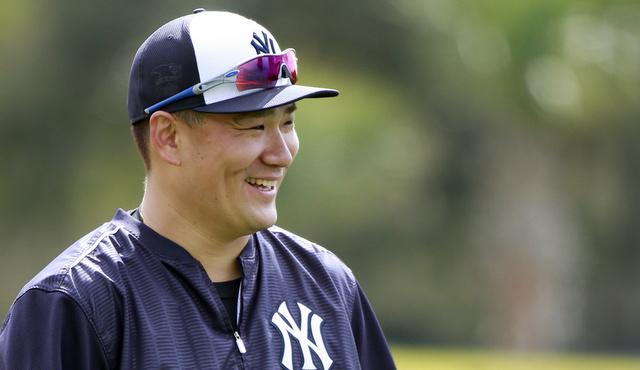 During this afternoon's game broadcast on YES, Joe Girardi confirmed Masahiro Tanaka will indeed start Opening Day this coming Monday. He's been lined up to start Opening Day all spring, so this isn't a surprise. The Yankees dragged out the announcement for whatever reason. It will be Tanaka's second straight Opening Day start.
The rotation behind Tanaka will be Michael Pineda, Nathan Eovaldi, and Luis Severino in that order, Girardi confirmed. The Yankees will pick between CC Sabathia and Ivan Nova for the fifth starter's spot. Apparently that decision has not yet been made. Either that or the players have not been informed and the team is not ready to make the announcement.
Girardi also said both Luis Cessa and Austin Romine will make the Opening Day roster. The writing has been on the wall for Romine since Gary Sanchez was optioned to minor league camp last week. He's had the inside track to be Brian McCann's backup for a while now. Romine has had a nice camp, and because he is out of options with a prior outright assignment, he could have elected free agent if he did not make the team.
Cessa, 23, came over from the Tigers this past offseason in the Justin Wilson trade. He allowed three runs on eight hits and two walks in ten innings this spring, and all three runs came in one of his five Grapefruit League outings. Cessa struck out ten. He's a starter by trade and can give the team multiple innings. Interestingly, Girardi said Cessa made the team even before Bryan Mitchell went down with his broken toe.
In other roster news, Johnny Barbato told reporters in Tampa this morning he has been told he will make the team as well. The 23-year-old came over from the Padres in last year's Shawn Kelley trade. He surrendered one run in 10.1 innings this spring, with 12 strikeouts and one one walk. Neither Barbato nor Cessa has pitched in the big leagues before, so the Yankees will have two true rookies in their Opening Day bullpen.
Earlier this week we learned Ronald Torreyes has indeed made the team as the backup infielder, beating out Pete Kozma. Here's the roster at the moment:
| CATCHERS (2) | INFIELDERS (6) | OUTFIELDERS (4) | STARTERS (5) | RELIEVERS (7) | MISC. (4) |
| --- | --- | --- | --- | --- | --- |
| McCann | Ackley | Beltran | Tanaka | Barbato | Chapman (sus.) |
| Romine | Castro | Ellsbury | Pineda | Betances | Bird (DL) |
| | Gregorius | Gardner | Eovaldi | Cessa | Mitchell (DL) |
| DH (1) | Headley | Hicks | Severino | Shreve | Williams (DL) |
| Rodriguez | Teixeira | | CC or Nova | CC or Nova | |
| | Torreyes | | | Miller? | |
| | | | | ??? | |
Andrew Miller is a question right now because he suffered a chip fracture yesterday when he took a line drive to the wrist. He intends to pitch through his wrist fracture, though we'll see what happens later today, after he visits a specialist. It might not be a playable injury. Hopefully it is.
Mitchell's injury created an open bullpen spot, which is that last ??? in the table under relievers. Kirby Yates and Anthony Swarzak are the only bullpeners still in big league camp and not on the Opening Day roster. Yates has out-pitched Swarzak this spring, so we'll see if that's enough to land him on the team. The Yankees could always bring someone back from minor league camp as well.