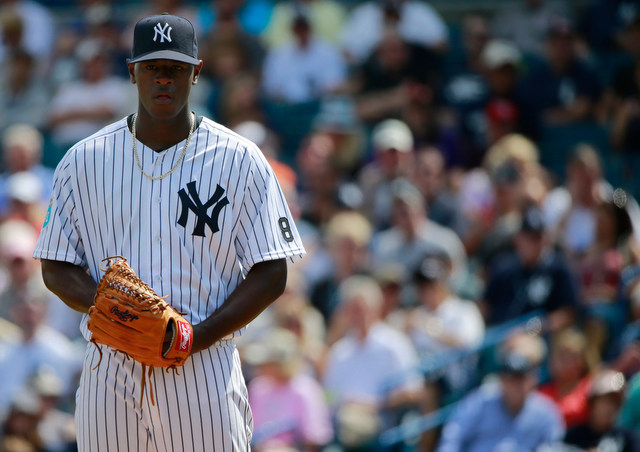 Heading into the trade deadline last season, it was pretty clear the Yankees needed some rotation help. CC Sabathia and Ivan Nova were struggling, Michael Pineda had just come down with a forearm issue, and Adam Warren was not stretched out after moving to the bullpen. Masahiro Tanaka and Nathan Eovaldi carried the load there for a while, and they needed help.
The Yankees tried to trade for a starter. They were connected to all sorts of pitchers prior to the deadline. Rentals, long-term buys, you name it. Nothing came at a price they liked. So, rather than trade for a starter — ten (!) starting pitchers were traded in the days leading up to the deadline: David Price, J.A. Happ, Mat Latos, Alex Wood, Mike Fiers, Mike Leake, Cole Hamels, Johnny Cueto, Scott Kazmir, Dan Haren — the Yankees dipped into their farm system and called up top pitching prospect Luis Severino.
Severino, who turned only 22 last month, came up and made eleven mostly spectacular starts, giving the Yankees 62.1 innings of 2.89 ERA (4.37 FIP) ball. Outside of Price and possibly Hamels, none of those traded starters could have given the Yankees as much impact as Severino. He was excellent, so much so that it was fair to ask whether he deserved to start the wildcard game. (Ultimately it didn't matter who started because the offense did nothing.)
Coming into the 2016 season, Severino is not just the exciting young pitcher who represents the future of the rotation. He's an important member of the team. The Yankees will need Severino to pitch well this summer in order to return to the postseason, and while that can be a lot to ask of a young starter, those were the exact circumstances he faced last year. Severino's goals for the season are help the team win and continue to take steps towards the front of the rotation. I have two questions for 2016.
How Can He Improve?
Severino was really good in his limited look last season but there is definitely room for improvement. There always is. I already wrote about his need to get his slider down in the zone, and that's a big one to me. Severino has really good stuff — he used three pitches (fastball, slider, changeup) regularly last year — and now he just needs to work on his location a bit. That's not at all uncommon for pitchers his age.
The long ball was a bit of a problem last summer as well, and while Yankee Stadium is to blame for some of that, Severino shoulders some of responsibility too. Five of the nine homers he allowed came in two-strike counts, when hitters are supposed to be on the defensive, not squaring up hittable pitches. This goes back to Severino's need to locate better down in the zone. Once he does that, some more balls should stay in the park.
Left-handed hitters also gave Severino some trouble, though you wouldn't know it looking at the raw numbers. Righties had a .303 wOBA against him and lefties had a .314 wOBA. The difference is in the strikeout and walk rates. Severino had a 27.6% strikeout rate and a 6.9% walk rate against righties, and that's awesome. Against lefties it was only a 17.3% strikeout rate and a 10.1% walk rate. That's not so good. I'm not too worried about the strikeout rate, but I would like to see Severino cut down on the free passes against batters of the opposite hand.
We're nitpicking at this point, which is a good sign. That means Severino has no obvious, glaring flaws that need correcting. His stuff is firm, he misses bats, and he gets ground balls (50.9%). He just needs to fine tune some things, like his slider location, his walk rate against lefties, and keeping the ball out of the middle of the plate in two-strike counts. These are normal things a 22-year-old must work on. Now he has to actually do it. Making adjustments is easier said than done.
How Many Innings Will He Throw?
The Yankees say Severino has no restrictions this year and there's no reason to believe them. Severino is the crown jewel of their quasi-rebuild and they're not going to put their just turned 22-year-old stud pitcher in danger by overworking him. "I'm not going to put a number out there. It can take on a life on it's own," said Brian Cashman last month, which more or less confirms there is some number they're targeting.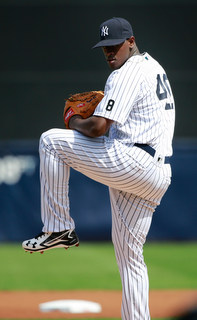 Keeping Severino's workload target a secret is the best possible thing the Yankees can do. Workload limits can become a distraction in a hurry. We saw the Joba Rules in 2007. They were unavoidable. There was also the Stephen Strasburg shutdown — people are still talking about that — and even last fall Matt Harvey's innings were talked about non-stop. The Yankees have a number. There's no reason to put it out there.
Last season Severino threw a career high 161.2 innings, up from 113 innings in 2015, so we're talking about a 48.2 innings jump from year to year. The Verducci Effect, the theory that an increase of 30+ innings is dangerous, has been disproven many times over the years, but I can't imagine too many teams are willing to push a young pitcher 50+ more innings one year to the next. Severino's innings increase last year is the upper bound of what seems comfortable, if that makes sense.
Those 161.2 innings last year put Severino in position to throw something like 185-190 innings this year. Only seven pitchers have thrown 200+ innings in their age 22 season this century: Mark Buehrle, Mark Prior, Carlos Zambrano, Matt Cain, Felix Hernandez, Clayton Kershaw, and Madison Bumgarner. Prior got hurt the very next year and was never the same again. The other six proved to be workhorses who chucked 200+ innings year after year.
That means nothing as far as Severino is concerned. It doesn't mean he has a six in seven chance of becoming a horse. Every pitcher is different. I listed those seven pitchers just to show how rare it is for a pitcher this young to throw that many innings. Severino's in position to throw 200+ innings in 2016. My guess is he falls short by design. The Yankees like to give their other starters extra rest whenever possible and there's no reason to think Severino is different. He might even get more rest than everyone else. He's simply too valuable to the franchise.
* * *
The Yankees need Severino to pitch well and pitch often this season to help get them back to the postseason. At the same time, he is still a 22-year-old kid and his development is far from complete. He has things to learn and he has to physically build himself up to withstand the grind of a 34-start season. There will be growing pains along the way because there are always growing pains. The Yankees and Severino hope those growing pains are just a bump in the road on the way stardom in 2016.