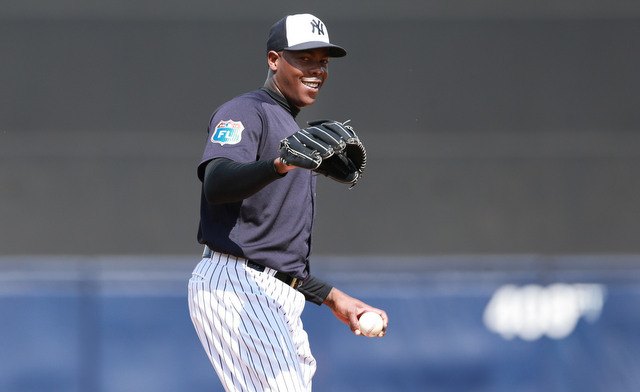 The Yankees made a controversial trade this past offseason. It wasn't controversial from a talent standpoint. In fact, this might the only trade during the RAB era in which everyone agrees the Yankees made out like bandits in terms of the talent exchanged. That never happens. Usually more than few folks are happy to say New York got fleeced. Not this time.
The trade: prospects Eric Jagielo, Rookie Davis, Caleb Cotham, and Tony Renda to the Reds for closer Aroldis Chapman. It's a four-for-one swap that is essentially a two-for-one swap because Jagielo and Davis were the only actual prospects involved, though neither appeared on any of the top 100 lists published this spring. Cotham is a 28-year-old rookie and Renda went unpicked in December's Rule 5 Draft.
The Yankees were able to acquire Chapman on the cheap because of a domestic dispute incident at his Miami home in October. Chapman had been traded to the Dodgers at the Winter Meetings — the two sides agreed to the deal — but Los Angeles walked away once the details of the incident came to light. Chapman allegedly choked and pushed his girlfriend, and he admitted to firing eight shots from a handgun in his garage.
The trade came with instant backlash. Brian Cashman admitted the Yankees made the deal because the Reds lowered their asking price after reports of the incident surfaced, so the team used a domestic violence investigation to benefit on the field, which is gross as hell. I hope they never ever ever do it again. Several women's rights groups protested the trade and New York City Council Speaker Melissa Mark-Viverito said the team should be boycotted.
People were (and still are, really) mad and it's not difficult to understand why. Chapman was not arrested, but the allegations were ugly, and the possibility of a suspension loomed. Ultimately, no criminal charges were filed against Chapman and MLB suspended him 30 games under their new domestic violence policy. He agreed not to appeal the ban, likely because MLB threatened a longer suspension, which could have delayed his free agency.
Now that the investigations are complete and the suspension has been levied, Chapman and the Yankees can move forward and focus on baseball. They'll have to come up with a plan to make sure he's ready as soon as the suspension ends, though that shouldn't be a huge deal. Chapman can pitch in Extended Spring Training games in the meantime. It's not like he's a hitter who needs to get his rhythm or a starter who has to get stretched out.
The addition of Chapman adds another elite reliever to a bullpen that already had two of them in Dellin Betances and Andrew Miller. In fact, Betances, Chapman, and Miller rank first, sixth, and ninth in projected 2016 WAR among relievers according to ZiPS, respectively. Three top nine relievers is pretty awesome, especially since it could easily end up being three top five relievers. These guys are that good. Anyway, here's some more on Chapman.
Chapman Is Insanely Good
There seem to be a lot of people trying to minimize Chapman's impact for whatever reason. The Yankees went 66-3 when leading after six innings last summer and that's really good. It's a .957 winning percentage when the league average was .882. It's also totally irrelevant. Last year is last year. This is a new year. The odds of the Yankees repeating a .950+ winning percentage when leading after seven this summer are substantially higher with Chapman on board.
Last season Chapman had a 1.63 ERA (1.94 FIP) with a 41.7% strikeout rate in 66.1 innings and it was only his third best season in the last four years. Chapman is replacing Justin Wilson in Joe Girardi's end-game trio and Wilson was very good last season. The Yankees don't get to the postseason without him. Here is Chapman vs. Wilson:

Chapman was a lot better than Wilson last season and he projects to be a lot better than him this season. You needn't look at the projection systems to understand Chapman is an upgrade. He's a significant addition to the bullpen. That isn't the say Wilson wasn't good last year or won't be good this year. It's just that any objective measure tells you Chapman will be better.
There is a lot more to Chapman than his high-octane fastball. He's got a good slider and a sneaky good changeup — hitters swung and missed 56.8% (!) of the time against his changeup last year — and his long stride makes his triple digit fastball play up. Chapman is a true freak of nature. Baseball has never seen anything like this guy before. It's going to be a treat to watch him on the field this summer.
Another New Closer
Girardi announced Chapman will indeed close this season — Miller will close during the suspension, because duh — which isn't surprising. Chapman has done nothing but close the last four years while Betances has proven invaluable as a fireman and Miller continues to express a willingness to pitch in any role. There's no wrong answer here. Any of the three could close and would be awesome at it.
So, with Chapman set to close this year, the Yankees are about to have their fifth different closer in the last five years. Hard to believe after nearly two decades of Mariano Rivera, ain't it? Check out the list:
2012: Rafael Soriano (while Mo was hurt)
2013: Rivera
2014: David Robertson
2015: Miller
2016: Chapman
That's not just five different closers in five years, it's five awesome closers in five years. Robertson probably had the worst season of a Yankees closer from 2012-15 and he had a 3.08 ERA (2.68 FIP). Most teams would kill to have a closer that good. That was New York's worst closer in a very, very long time.
The crazy thing is this is almost all by design. Rivera's injury was a dumb fluke, but otherwise going from Mo to Robertson to Miller to Chapman was all planned. It's not like the Yankees had someone stink as closer and lose his job to someone else, which happens all around the league each year. Chapman will be the team's fifth closer in five years and in no way is that a bad thing.
One & Done
All indications are Chapman will be a Yankee for one year and one year only. He will qualify for free agency after the season and the team doesn't spend money these days, at least not on long-term deals. Chapman will have a chance to break Jonathan Papelbon's record contract for a reliever (four years, $50M) next winter. I can't imagine the Yankees will go there, especially not with one big money reliever already on the books.
The Yankees will be able to make Chapman the qualifying offer after the season and I think the only way they don't tender the qualifying offer is catastrophic injury. A blown elbow or shoulder, something that will sideline him the entire 2017 season. That sort of thing. Even with a down year, I think the Yankees would be willing to roll the dice with a qualifying offer. Worst case scenario is they get Chapman back on a one-year contract in 2017. The big salary doesn't scare them, it's the multiple years.
So, barring injury, this trade will likely net the Yankees one year of Chapman (well, 132 games of Chapman) plus a supplemental first round draft pick after the season. That's a pretty great return considering they gave up two good but not great prospects and no one off their big league roster. The Yankees took a massive PR hit with this trade. Hopefully Chapman's on-field performance makes it all worth it.