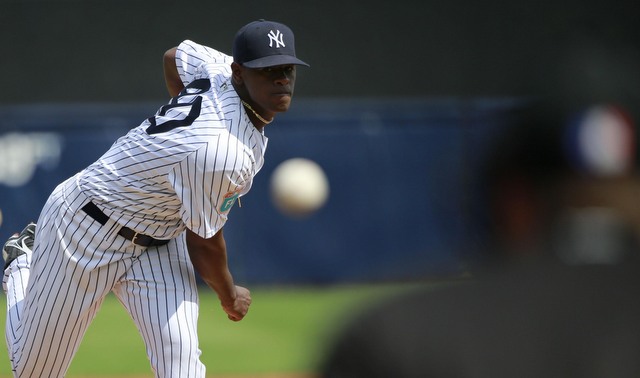 The Yankees played and won their first Grapefruit League game of 2016 yesterday, erasing a 7-0 deficit before rallying for the walk-off win on a dropped fly ball. If YES was ever going to put a Spring Training game on Yankee Classics, this would be the one. It was the best game none of us will remember. Anyway, I have some thoughts on the yesterday's game, plus some other stuff.
1. Luis Severino from the windup yesterday: six balls, ten strikes. Severino from the stretch: 12 balls, nine strikes. His location was noticeably poor from the stretch — he was missing his spots by quite a bit, they weren't pitches just off the edge of the plate — and the grand slam he gave up was one of those "well here's a fastball down the middle because that's the only way I can throw a strike right now" pitches. Severino's walk rate from the stretch (9.2%) was not substantially higher than his walk rate from the windup (8.2%) last year, so this isn't something that is carrying over from last season. It was just an issue yesterday. It happens. Severino said he'll work on pitching from the stretch going forward — "I have to worry about it, because I have to work. I have to locate down and work on my pitches," he said to Chad Jennings — and that's all there is to it at this point. This was only the first spring game, after all. If Severino still can't locate from the stretch come the first week of April, it'll be a much bigger issue. I ain't worried. Too bad the five runs in 1.2 innings all but ensures his ERA will be ugly all spring. Tough to knock that down in a month.
2. As pointed out by our Sung-Min Kim on Twitter, it appears Aaron Judge has added a leg kick this year. Here's a side-by-side comparison of 2015 Judge and 2016 Judge, with the 2016 model on the right: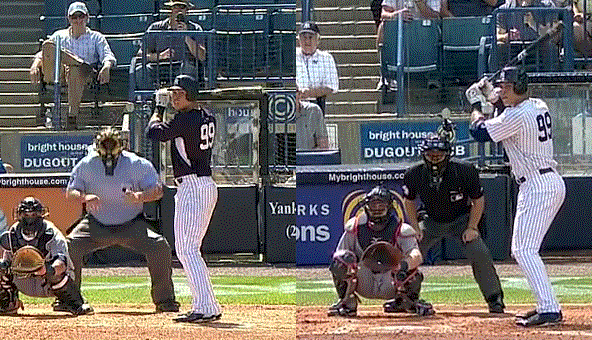 No, Judge didn't grow a few inches over the winter. The outfield camera is zoomed in a bit more this year. Anyway, leg kicks are timing mechanisms, and this could definitely be something designed to help Judge stay back better on offspeed pitches away, the pitches he struggled against last season. Judge used the leg kick all day yesterday, for every pitch of every at-bat, so this is a thing now. Let's see if it lasts all Spring Training or if he abandons it at some point because he's not comfortable. Judge is heading back to Triple-A anyway, so it'll give him a chance to continue to work on the leg kick. Intrigue!
Update: Commenter bernbabybern noticed it appears Judge is standing a little closer to the plate as well. The scouting reports say Judge is quite good at handling the inside pitch despite his long arms, so moving him a little closer could help get those outside pitches without sacrificing much of his ability to turn on stuff inside.
3. We got the entire Jorge Mateo experience yesterday afternoon, eh? That ninth inning triple was something else. (Here's the unembeddable video.) First of all, the pitch was clobbered. Mateo nearly hit it out of the park and it probably would have cleared the wall had the wind not been swirling. The speed? Oh man that speed. Mateo tripled on a ball to left field despite jogging to first base because he thought it was a homer. He didn't start running — like really running — until he rounded first. And he still tripled. To left field. Crazy. Such an exciting play. On the other hand, Mateo struck out on three pitches in his first at-bat, swinging and missing twice, including on a pitch a foot off the plate for strike three. The loud tools were on full display, as was the general lack of refinement to his game. Mateo is only 20 years old. Of course parts of his game are still raw. But gosh, so much talent. The kid is special.
4. This is like the fourth straight Spring Training in which Austin Romine is trying to win a big league job, and since he's out of minor league options and can elect free agency if outrighted, it figures to be his last opportunity with the Yankees. He went 2-for-3 yesterday and hit two balls on the nose — one was right at the third baseman for an out — so at least he's off to a nice start. Romine needs all the help he can get to win the backup catcher's job — "Hit. I need to hit consistently. That's plain and simple," said Romine to Jennings when asked what he needs to do this spring — and realistically, his very best still might not be enough to land an Opening Day roster spot. If nothing else, Romine wants to have a strong camp so other teams around the league take notice in case things don't work out with the Yankees. Sending Gary Sanchez down to Triple-A for five weeks to delay his free agency is such a painfully obvious move that I'm pretty sure the Yankees will do it. How could they not? That means Romine's primary competition for a roster spot this spring is not Sanchez. It's Carlos Corporan.
4. Last offseason the Yankees shipped Shawn Kelley to the Padres for righty reliever Johnny Barbato, who had a 3.19 ERA (3.45 FIP) with a 24.8% strikeout rate and 9.2% walk rate in 67.2 innings at Double-A and Triple-A in 2015. The Yankees added him to the 40-man roster in November to protect him from the Rule 5 Draft, so he's in his first big league camp this year. Here's the first pitch he threw in yesterday's game: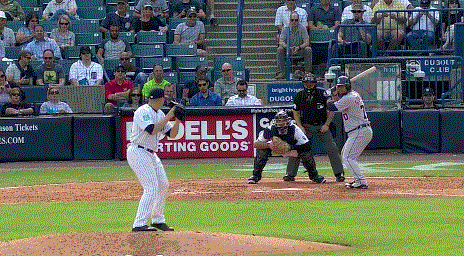 That's a nice looking curveball. He got some swings and misses on similar benders yesterday too. The curve has always been Barbato's calling card, dating all the way back to when he was a high schooler in Miami prior to the 2010 draft. He also has a low-to-mid-90s heater and showed a little 88-90 mph cutter/slider thing yesterday. Barbato's on the 40-man roster now and he'll inevitably be part of the bullpen shuttle this summer. He struck out two in 1.1 innings yesterday, so it was a nice first impression for a kid who, at the very least, wants to make sure the big league staff remembers his name when Spring Training ends.
6. Non-Spring Training thought: Salvador Perez's new contract extension is pretty interesting. Under the terms of his previous deal, he was owed $2M this year with dirt cheap club options for 2017 ($3.75M), 2018 ($5M), and 2019 ($6M). The new extension guarantees the three option years, gives him a raise in 2018 and 2019, and will pay him $13M in both 2020 and 2021. It's essentially a five-year contract with $36M in new money. The Royals didn't have to do this. They already controlled Perez through 2019 and could have easily told him to honor the original contract. Instead, the team reworked the deal because Perez is a core player and they want to keep him happy. I wonder if other grossly underpaid players who agreed to extensions earlier in their careers will follow suit and push for new deals now. Jose Altuve (owed $20.5M through 2019), Paul Goldschmidt ($40.35M through 2019), and Chris Sale ($47.15M through 2019) jump to mind. The MLBPA is probably happy Perez got the Royals to rework his very below-market extension. I imagine some owners are not too thrilled with the Royals for setting this precedent though. (The only young Yankee signed to cheap long-term deal is Starlin Castro. He's owed $37M through 2019 with a club option for 2020.)