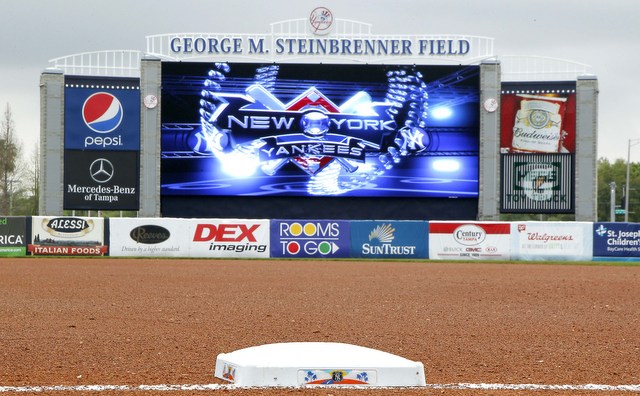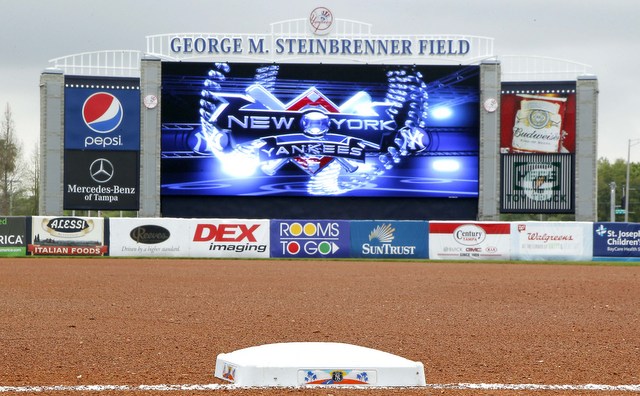 Today is the final day of the Grapefruit League season for the Yankees. They'll play a pair of split squad games this afternoon, then shuttle off to Miami for two exhibition games at Marlins Park on Friday and Saturday. After that, it's back to New York for an off-day Sunday and Opening Day Monday. Hooray for that. Here are some thoughts.
1. Well, I was planning to start this by saying the Yankees made it through Spring Training healthy, but then Andrew Miller had to go and take a line drive to the wrist yesterday. The CT scan showed a chip fracture, whatever that means, so no, the Yankees didn't make it though camp healthy. Alas. (Also, Bryan Mitchell managed to sprain his toe covering first base yesterday. We're still waiting to hear the MRI results.) Aside from Miller, the biggest injury the Yankees suffered this spring was Jacoby Ellsbury taking that pitch to the wrist a few weeks ago, and he managed to escape without any major damage. The team is mostly healthy. That's good news. The Yankees will go into the regular season at something very close to full strength, and the longer they're at full strength, the better their chances to win the division. It looks like the AL East race will be pretty tight this year. It could very easily come down to which team stays the healthiest.
2. Joe Girardi may announce the rest of the roster later today. That was the original plan, but Girardi said Ivan Nova's strong start yesterday may force the team to think a little longer. The Miller injury may change things too. We'll see. Anyway, Austin Romine will be the backup catcher — the Yankees triggered Carlos Corporan's opt-out clause yesterday by emailing the other 29 teams about his availability — so the only open spots are in the bullpen. I still think Johnny Barbato and Kirby Yates will get them, though I've been wrong about this literally every step of the way, so what do I know. Either way, the point is Barbato and Yates are still in the mix for bullpen spots this late in camp, and I did not expect that coming into the spring. I mean, I knew it was always possible, but they were behind pretty much everyone else on the depth chart in my opinion. They pitched well this spring and no one else did, so here they are. Pretty crazy how that works out. Bullpens, man. (Barbato pretty much confirmed he's made the team on Twitter last night, by the way.)
3. Whenever Girardi announces his regular season rotation, I expect it to line up like so: Masahiro Tanaka, Michael Pineda, CC Sabathia, Nathan Eovaldi, Luis Severino. Same as last year, except with Severino instead of Adam Warren. Tanaka and Pineda are lined up to start the first two games of the season, so that's the easy part. I think Sabathia will start the third game because the Yankees would rather let him face the Astros, who have a balanced lineup with some lefties, than the Tigers, who are so very righty heavy. Don't get me wrong, Houston has some big righty bats themselves, but they also have some important lefties in Colby Rasmus, Luis Valbuena, and Jason Castro. Detroit's best only lefty hitter is Anthony Gose. Righties crushed Sabathia last season (.370 wOBA!), so I assume the Yankees will want to limit his exposure to them whenever possible. Make sense? Eovaldi and Severino then fall into place as the fourth and fifth starters. (Eovaldi pitches tomorrow, Severino Saturday.)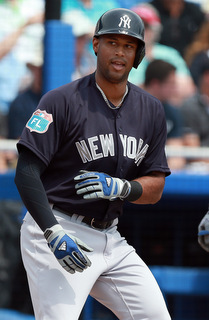 4. Speaking of the Astros, Girardi's going to have to figure out what to do with his lineup against Dallas Keuchel on Opening Day. He sat Ellsbury and played Chris Young against Keuchel in the wildcard game last fall. Would he sit Ellsbury in favor of Aaron Hicks on Opening Day? Would he sit Brett Gardner or Carlos Beltran instead? Hicks had great numbers against southpaws last season (139 wRC+), so it makes sense to play him, but Opening Day has kind of a special connotation. Sitting an established veteran like Ellsbury or Gardner on Opening Day could be seen as disrespectful. It sounds silly, but stuff like that happens. I would be in favor of sitting Ellsbury for Hicks against Keuchel, especially if Ellsbury's wrist is still sore. The Yankees have an off-day Tuesday, so if he sits Monday, he'll have three straight off-days to rest the wrist. My hunch is the starting outfield plays Monday with Hicks on the bench.
5. Now that we know Ronald Torreyes has beaten out Pete Kozma, the bench to open the season will be Romine, Hicks, Torreyes, and Dustin Ackley. That bench is … young and kinda has upside? How about that. And it's only a matter of time until Gary Sanchez replaces Romine too. I don't think there's anything wrong with carrying veteran players on the bench like the Yankees have done over the years, but wow, the Yankees have a nice collection of young and interesting reserves this season. That's pretty fun. The Yankees have only so much flexibility with the starting lineup because of big contracts and all that, but there are no such concerns on the bench, so they've gone young. Times have definitely changed, huh? I never thought I'd see a bench full of 20-somethings whose best years figure to be ahead of them. Now watch them sign Rene Rivera to be the backup catcher.
6. Our season predictions at CBS will be posted at some point later today, but I'll spoil them here. (Update: Here's the link.) I have the Blue Jays, Royals, Astros, Mets, Cubs, and Dodgers winning the divisions, with the Yankees, Rangers, Nationals, and Cardinals as my wildcard teams. I went Mets over Astros Rangers for my World Series pick but wish I would have changed it to Mets over Blue Jays before the damn thing was put together. Too late for that. I think Toronto's going to out-hit any pitching problems they have this year, and the Mets are built to dominate a short postseason series. I went boring with my MVP and Cy Young picks (Mike Trout/Chris Sale and Bryce Harper/Clayton Kershaw) but did pick Hicks as my surprise player in the AL. I buy him being on the verge of a breakout, and I think he'll end up with close to 500 plate appearances in 2016. So anyway, those are my picks. Point and laugh as you see fit.