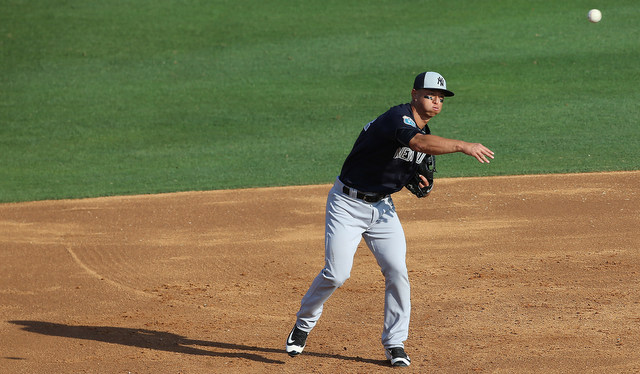 The Yankees have optioned infielder Rob Refsnyder to Triple-A Scranton, the team announced today. He seemed to have the inside track for the final bench spot for most of the spring, but some recent defensive problems — Refsnyder took ground balls to the face in back-to-back games this weekend — and a sneaky lack of production at the plate (.649 OPS) pushed him off the Opening Day roster.
With Refsnyder out, the competition for the final bench spot comes down to Pete Kozma and Ronald Torreyes. Kozma's the known quantity. He's been around for a few years and is firmly established as a no-hit/all-glove utility man. Kozma is the new version of Brendan Ryan, basically. Torreyes has some offensive skills, specifically his contact ability, and he can play all over the infield well enough. My money's on Kozma getting the job.
I'll be interested to see whether the Yankees continue to give Refsnyder time at third base in Triple-A. There's no reason not to, right? He looked fine at the hot corner earlier this spring, though that was mostly because he was making routine plays. Refsnyder has looked worse and worse in the field as the spring has progressed. It's become clear he's not a big league caliber third baseman at this point.
For now, Refsnyder's only real path to meaningful playing time with the Yankees is injury. If either Starlin Castro or Didi Gregorius get hurt, Refsnyder would be the obvious candidate to come up and play second base in the interim. We'll see. I'm not sure where Refsnyder fits long-term and that has been the case since the Castro trade. A utility role is his best (only?) chance to stay with the Yankees going forward.