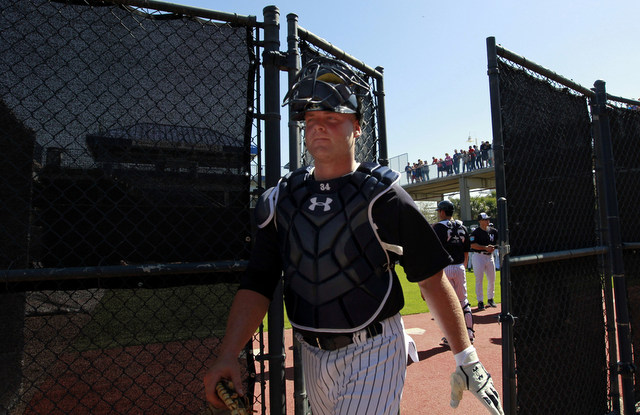 Earlier this week the crew at FanGraphs started their annual Positional Power Rankings series. In a nutshell, they rank all 30 teams by position using a combination of projection systems. Love or hate projections, the posts are always super informative, and it's the best place to look over each team's depth chart at a position in one convenient place.
The Yankees ranked third at the catcher position in the Positional Power Rankings. The Buster Posey led Giants were predictably in the top spot, then the Dodgers and the projection friendly Yasmani Grandal were No. 2. The Yankees were No. 3 because of Brian McCann, and I thought Jeff Sullivan's write-up was interesting:
I think there's this vague sense that McCann has been a disappointment in New York, so maybe seeing the Yankees so high in the rankings is an important reminder. McCann, predictably, gets his batting average absolutely slaughtered by his ground balls, because there's no way he's going to run out a grounder he pulls into the shift, but he still draws walks and he still mashes a baseball every now and again. Throw in defensive ability that hasn't completely deteriorated, and McCann looks like a plus. However frustrating it is to watch a guy hit into the shift over and over, one shouldn't overlook everything McCann is still able to do for his team. He's not toast.
That seems pretty accurate, no? McCann has been very productive in pinstripes and I still kinda get the sense folks feel he could be doing more. After all, he hit .256/.336/.461 (122 wRC+) in his final season with the Braves. In his two years with the Yankees, he's been a .232/.303/.421 (99 wRC+) hitter despite moving from spacious Turner Field to homer happy Yankee Stadium.
McCann turned 32 last month and he's approaching the age when most catchers begin to turn to pumpkins. He's been freakishly durable throughout his career — McCann has started 100+ games behind the plate in eight of the last nine years — so he's been able to avoid the injuries usually associated with the position. At the same time, that's an awful lot of wear and tear. McCann's been a big league starter since he was 21 years old. He's caught nearly 11,000 innings in the show.
By now we all know what McCann is about offensively. He takes aim for the short porch and tries to pull the ball to right field, even when he's on the road. His strikeout rate (16.2% from 2014-15) is sneaky good, he'll take his walks, he's prone to lazy fly balls, and yeah, he pulls grounders into the shift. McCann's been doing that for a while. He's hit .232 with a .236 BABIP the last two years. He hit .242 with a .249 BABIP the previous two years. This is who he is. A low average, high power hitter.
McCann, somewhat surprisingly, has turned into a lefty masher with the Yankees. He hit .292/.324/.526 (138 wRC+) against southpaws in 2014 and .241/.331/.422 (108 wRC+) in 2015. That's new. Lefties ate McCann up his last few years in Atlanta. Do it once and I'm inclined to say it's a one year blip. Do it two years in a row and there's something to it. McCann's no longer a guy who can be automatically neutralized by a lefty specialist.
At this point I kinda feel I know what to expect from McCann at the plate. He's going to hit around .230, walk enough to put his OBP a bit north of .300, and slug 20-something homers. That sound right? The potential for age-related (and catcher-related) decline can not be ignored at this point. Otherwise I'm pretty sure we know what to expect from McCann offensively. The questions have more to do with the other aspects of the game.
So, About That Pitch-Framing
Anecdotally, McCann seemed to struggle blocking balls in the dirt last season, at least moreso than he did in 2014, but the numbers don't bear that out. In fact, Baseball Prospectus' new catching metrics say McCann was baseball's best at blocking balls last year at +0.6 runs saved. How about that? I never would have guessed.
One part of McCann's defensive game that did decline, at least according to the numbers, was his pitch-framing. He's long been considered one of the best framers in the game and the numbers backed it up throughout his career. Last year though, his pitch-framing took a big step back according to both StatCorner and Baseball Prospectus:
StatCorner, 2013: +9.9 runs
StatCorner, 2014: +11.4
StatCorner, 2015: -2.5
Baseball Prospectus, 2013: +10.2
Baseball Prospectus, 2014: +9.7
Baseball Prospectus, 2015: -3.9
That's a pretty big drop, huh? I don't full buy into the pitch-framing numbers — it's obviously a valuable skill, though I'm not convinced we're measuring it accurately yet — the same way I don't fully buy into any defensive numbers. I like to use defensive stats directionally, and the numbers say McCann went from being a far-above-average framer to below-average last summer.
This might not be the result of a decline in McCann's skills, however. Jeff Sullivan seemed to find evidence umpires are rebelling against framing, so to speak. Several top framers like McCann, Jonathan Lucroy, Hank Conger, and Rene Rivera all saw their framing numbers dip big time from 2014 to 2015. Umpires are aware of pitch-framing, and it's almost as if they made sure catchers with reputations for being good framers didn't get those extra strikes last year.
Pitch-framing can be difficult to observe — the entire point is to be as quiet and discrete as possible, you don't want the umpire to see the glove move too much — and I didn't notice any sort of decline in McCann's receiving ability. What do I know though. The number say his framing was not as good as it was in the past. Is it a one year blip? Are the umpires sticking it to catchers around the league? Did McCann actually decline? We'll inch closer to an answer in 2016.
Is It Time To Lighten His Workload?
Like I said earlier, McCann is 32 years old and he's caught a ton of innings in his career. Here are the innings caught leaderboards over the last few seasons:
2011-15
1. Yadier Molina — 5,508
2. Miguel Montero — 5,343
3. Russell Martin — 5,075.1
4. Kurt Suzuki — 5,008
5. Brian McCann — 4,815.1
2006-15
1. Yadier Molina — 10,723.1
2. Russell Martin — 10,574.2
3. Brian McCann — 10,302.1
4. A.J. Pierzynski — 10,229
5. Kurt Suzuki — 8,993.2
John Ryan Murphy played about as well as you could reasonably expect a backup catcher to play last season, and McCann still caught 72% of the team's innings. His 1,042.1 innings were sixth most in MLB. That's a function of wanting McCann in the lineup as much as possible because of the offense he provides.
McCann has three years at $17M per season left on his contract, and at some point the Yankees have to begin scaling back his workload to prevent him from completely cratering at the plate. Not every catcher stays productive into their mid-to-late-30s like Jorge Posada. Very few do, in fact.
"You try to keep it around somewhere between 100 and 120 games. 120 is pushing it a little bit. You know, he wants to play every day, and sometimes I've got to tell him, 'You're going to take a day here,'" said Joe Girardi at the Winter Meetings when asked about McCann's workload. "But I think you see how he's doing … I know his bat is important to us and I have to keep him healthy."
The Yankees will have a new backup catcher this summer regardless of who wins the job this spring, and I'm not sure Girardi will be as comfortable with his new backup as he was with Murphy. It can take a while for a young player to earn trust, especially at a position as important as catcher. Does that mean McCann will continue to carry a heavy workload?
This might not be the year to scale back McCann's workload behind the plate. He could end up catching those 120-ish games again as the Yankees break in Gary Sanchez, who is their next long-term catcher even if he doesn't win the backup job this spring. Girardi has talked about resting all of his veteran players more often this year and I assume that includes McCann. That he plays such an important position makes it difficult.
McCann is vitally important to the Yankees, which creates a Catch-22. Girardi wants to play McCann as much as possible because the Yankees are better when he's in the lineup. He also must be cognizant of his age and the wear and tear of catching — Joe's an ex-catcher, he knows what's up — and give McCann regular rest to keep him fresh all summer. It's a difficult balancing act.