The homestand continues this week with a three-game series against the Athletics. This is the first time the A's have visited the Bronx in April since 2009. The Yankees are getting a bunch of home series against West Coast teams out of the way early, huh?
What Have They Done Lately?
Coming into the season, the Athletics were the one AL team that I thought had no chance to contend. They've gone 6-7 and have been outscored by six runs in the super early going. Oakland just wrapped up a six-game homestand, and they lost the first four games before rallying to win the last two. Yesterday was an off-day as they flew East.
Offense & Defense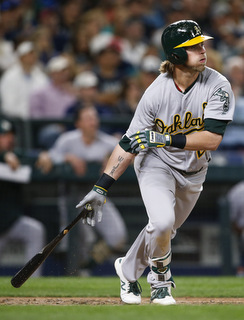 Runs have been very hard to come by so far this season. The A's are averaging only 2.85 runs per game with a team 77 wRC+, so they've been really struggling offensively. In fact, they've scored three or fewer runs in nine of their 13 games. Good gravy. Manager Bob Melvin has two injured players: IF Eric Sogard (knee) and OF Sam Fuld (shoulder). They're both going to be out a while.
As always, the A's have a lineup that is very heavy on platoons. The only constants are OF Josh Reddick (134 wRC+), 3B Danny Valencia (89 wRC+), and SS Marcus Semien (155 wRC+). Reddick and Valencia hit third and fourth, and after starting the season as the No. 9 hitter, Semien has seen some time in the two-hole of late. OF Billy Burns (96 wRC+) and OF Coco Crisp (61 wRC+) are sharing time in center field and at the leadoff spot.
UTIL Chris Coghlan (32 wRC+) has been sharing time at second base with IF Jed Lowrie (51 wRC+) and in left field with OF Khris Davis (21 wRC+). 1B Yonder Alonso (-21 wRC+) and 1B/OF Mark Canha (6 wRC+) are platooning at first, then you have DH Billy Butler (22 wRC+) soaking up at-bats. That was such a weird signing. Backup C Josh Phegley (154 wRC+) starts against lefties, so we probably won't see him this series since CC Sabathia is not scheduled to start.
The A's have an awful lot of underperforming players in the early going — again, they're averaging 2.85 runs per game! — and I sure hope they don't break out this series. Defensively, Melvin's team is shaky pretty much everywhere but right field, where Reddick is a true stud with a rocket arm. Here is their runs saved projection visualization, via Sean Dolinar: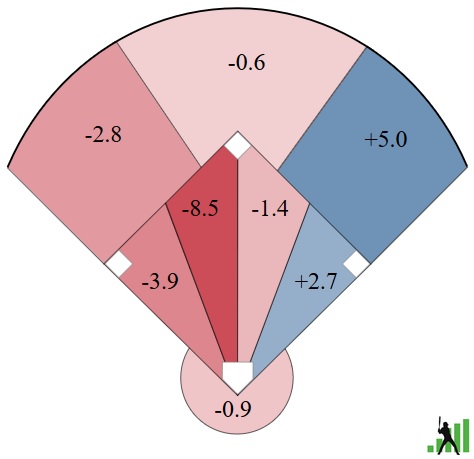 It's weird, years ago the A's were ahead of everyone when it came to the obsession with defense. They were the first team that was willing to accept a bad bat as long as it came with a good glove at positions that were traditionally offense-heavy, like left field and first base. These seem to have abandoned that. Weird.
Pitching Matchups
Tuesday (7pm ET): RHP Michael Pineda (vs. OAK) vs. LHP Eric Surkamp (vs. NYY)
Remember back when the Yankees seemed to get shut down by every finesse lefty they had never seen before? That was a long time ago. Surkamp, 28, was once a pretty good prospect with the Giants, but injuries have derailed him the last few years. He has 66 total big league innings under his belt, including nine innings in two starts this year. Surkamp has allowed four runs on nine hits and five walks while striking out only three in those nine innings. He's gotten a grounder on only 28.6% of balls in play too. Not a whole lot of data to look at. Surkamp, in typical crafty lefty fashion, works with an 88-91 mph four-seamer and a mid-80s cutter. An upper-70s curve is his main non-fastball, though he's also thrown some low-80s changeups this year as well. Surkamp is in the rotation because fifth starter Felix Doubront blew out his elbow earlier this month and needed Tommy John surgery, and also because Henderson Alvarez is still working his way back from shoulder surgery.
Wednesday (7pm ET): RHP Nathan Eovaldi (vs. OAK) vs. RHP Kendall Graveman (vs. NYY)
The 25-year-old Graveman came over from the Blue Jays in that ridiculous Josh Donaldson trade two offseasons ago. It looked lopsided at the time and looks even worse now. Graveman is a serviceable big league pitcher, one who owns a 3.90 ERA (4.42 FIP) in 131.2 innings, almost all of which came last year. He's a ground ball (51.8%) and low walk guy (7.3%). Graveman doesn't miss many bats (15.6%) and he can be homer prone (1.09 HR/9), but he has had close to no platoon split during those 131.2 innings. He's essentially a low-90s sinker/upper-80s cutter/upper-70s curveball pitcher, which is an unusual combination. Very A's like, I'd say. Graveman will throw a few mid-80s changeups per start, and he has a straight low-90s four-seamer for get-me-over pitches. His two starts this season have been solid: two runs in 5.1 innings against the White Sox, one run in six innings against the Angels.
Thursday (7pm ET): RHP Luis Severino (vs. OAK) vs. LHP Rich Hill (vs. NYY)
Hill turned four dominant starts (1.55 ERA and 2.27 FIP!) with the Red Sox late last year into a one-year, $6M contract with the A's. Good for him. The 36-year-old has a 4.15 ERA (3.26 FIP) in 13 innings across three starts this year, and he's managed a 30.7% strikeout rate with a 52.9% grounder rate. His walk rate (8.1%) is about average. All throughout his career, even back in the day with the Cubs, Hill was always way more effective against lefties than righties. His pitching style is very unique. He throws his mid-70s curveball roughly 50% of the time, so more often than his low-90s four-seam fastball. Hill will drop down and throw his curve almost sidearm at times (GIF via Karl de Vries) …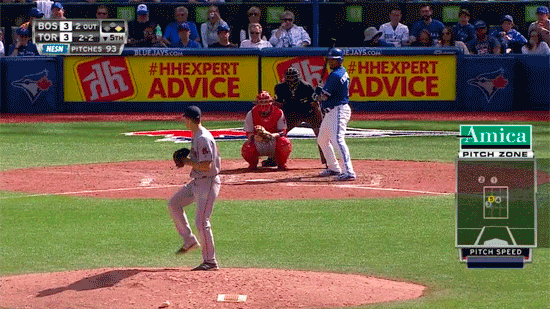 … and last year he led all pitchers in curveball zone percentage, so he throws it for strikes. That pitch is his bread and butter. Hill will mix in a few mid-80s changeups as well, but really, he's a curveball pitcher who throws some fastballs on occasion. Unusual. Not bad necessarily, just unusual.
Bullpen Status
The bullpen was a total disaster for the A's last season. Their 4.63 ERA and 4.36 FIP were the third and fourth worst in baseball, respectively. Only a bunch of rebuilding clubs got worse relief work. So, in an effort to improve the bullpen, the A's signed RHP Ryan Madson (three years, $22M) and RHP John Axford (two years, $10M), and traded stalwart swingman Jesse Chavez to the Blue Jays for setup man RHP Liam Hendriks. Here is the relief crew to date:
RHP Ryan Madson: 7 IP, 7 H, 3 R, 2 ER, 1 BB, 6 K, 0 HR
LHP Sean Doolittle: 5.2 IP, 7 H, 4 R, 4 ER, 2 BB, 5 K, 3 HR
RHP Liam Hendriks: 6 IP, 13 H, 7 R, 7 ER, 0 BB, 4 K, 0 HR
RHP John Axford: 7.2 IP, 7 H, 0 R, 0 ER, 0 BB, 3 K, 0 HR
RHP Ryan Dull: 7.1 IP, 0 H, 0 R, 0 ER, 0 BB, 9 K, 0 HR (!!!)
RHP Fernandez Rodriguez: 8 IP, 4 H, 1 R, 1 ER, 2 BB, 7 K, 0 HR
LHP Marc Rzepczynski: 4.1 IP, 3 H, 0 R, 0 ER, 1 BB, 3 K, 0 HR
Doolittle started the season as the closer, but then he started giving up dingers in bunches, so Madson has since stepped into the ninth inning. Hendriks and Dull have reversed roles with their performances; Dull's seeing late-inning work and Hendriks is getting low-leverage innings. Rzepczynski is the left-on-left matchup guy.
Like I said, the A's had an off-day yesterday, so their bullpen is coming in fresh. The Yankees were off yesterday too, so Joe Girardi's bullpen is in good shape. You should check out our Bullpen Workload page anyway.