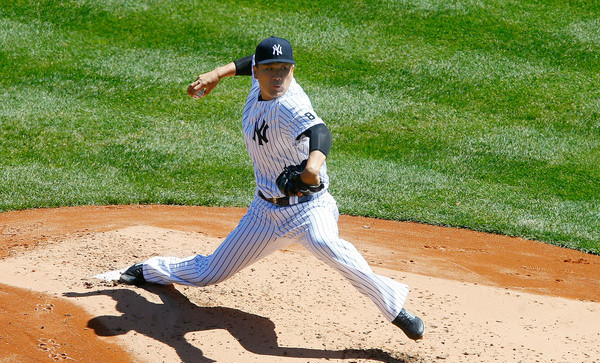 Through three starts, Masahiro Tanaka's season has been a microcosm of his entire Yankees' career: very good overall, occasionally great, rarely bad, and better than he seems to get credit for. Tanaka's sitting on a 3.06 ERA (3.08 FIP) with 16 strikeouts, five walks, and a career high 65.3% ground ball rate through 17.2 innings in 2016.
Yesterday's win was Tanaka's best outing of the season. He held the Mariners to three runs (two earned) in seven innings, and it could have been a) one or two runs if not for some defensive funny business, and b) eight innings if the Yankees did not have such a stupid good bullpen. A rock solid outing once again.
Tanaka had something Sunday he did not have in his first two starts: a fastball that averaged north of 90 mph. He's been pitching heavily off his sinker, perhaps in response to last summer's home run issues, and the pitch averaged 89.9 mph in his first start and 90.2 mph in his last second start. Yesterday it averaged 91.9 mph. The bump is noticeable (via Brooks Baseball):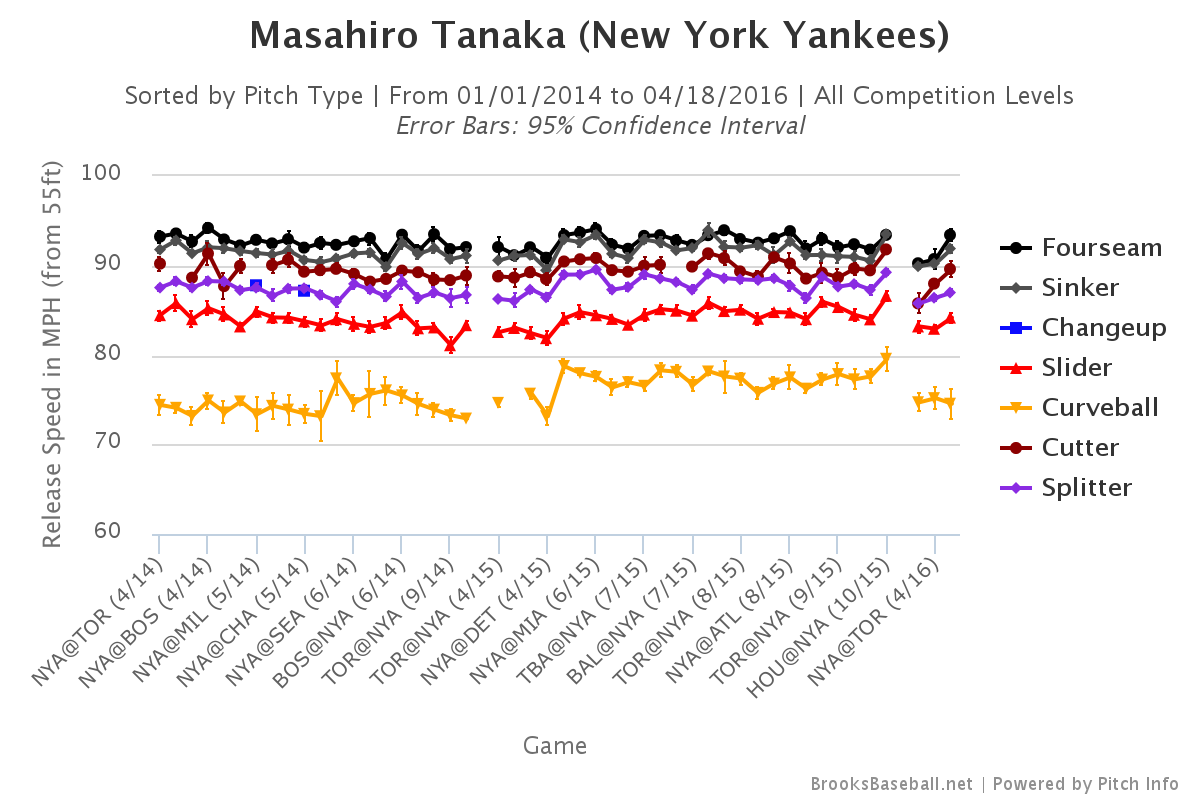 Tanaka jokingly credited the warm weather for the velocity bump following yesterday's game, but otherwise he chalked it up to building arm strength as he gets deeper into the season. That's pretty typical. Most pitchers add velocity as the season progresses, especially since so many teams are taking it easy in Spring Training. April has almost become Phase Two of Spring Training.
"I think his arm is getting stronger," said Joe Girardi to Chad Jennings yesterday. "Obviously the weather was pretty good today, but for the starters, you'd like to say you have them built up to where they're supposed to be by Game One, but I think you risk working them too hard in Spring Training. Understanding it's a long season, they sort of pace themselves."
The benefit of the added velocity showed up in Tanaka's performance yesterday, though you have to go beyond his overall numbers to see it. The extra oomph allows his trademark splitter to play up, making the pitch even more devastating. Look at his swing-and-miss totals so far this season:
April 5th vs. Astros: 29 splitters, five whiffs (17.2%)
April 12th vs. Blue Jays: 28 splitters, six whiffs (21.4%)
April 17th vs. Mariners: 44 splitters, 14 whiffs (31.8%)
Tanaka threw lots more splitters yesterday than in his first two starts because the Mariners are so left-handed — they had seven lefties and one switch-hitter in the starting lineup — and that's his go-to pitch against lefties. Last year he had a 20.6% whiff rate on his splitter. Back in 2014 it was 29.1%. (The MLB average is right around 15%.) He had eleven swings and misses on his splitter in his first two starts combined. Those 14 yesterday are a new career high.
Obviously there is more to getting swings and misses on the splitter than fastball velocity — command and arm action are the big ones — but it definitely helps. The fastball sets up the split. The hitter is supposed to read fastball in the zone out of the pitcher's hand and start his swing before the split dives into the dirt. More velocity means the hitter has even less time to react and discern between fastball and splitter.
"I think velocity is a big thing," said Brian McCann to Jennings yesterday. "When you're throwing 92, 94, and your best out pitch is a split, everything plays up. As a hitter, you have to make your decision quicker, and you're going to get a lot more swings and misses."
We saw exactly that yesterday. Tanaka had the extra velocity and the Mariners had trouble getting the bat on that splitter, at least compared to the Astros and Blue Jays last week. His splitter is so good that the pitch is effective even when he's living in the 88-90 mph range with his heater, but that little bit of extra velocity can be the difference between good and great.
I didn't expect Tanaka's fastball to jump almost two miles an hour from one start to the next, but it did yesterday. As the weather warms up and Tanaka continues to build arm strength, he should add even more velocity, which will only make him more formidable. Yesterday was a very positive development.
"Obviously the weather, that does play (into it) a little bit," added Tanaka. "But I think we're getting a little bit more deeper into the season, a couple of weeks, so I think the strength is coming together. It's starting to build up, so it's a positive."