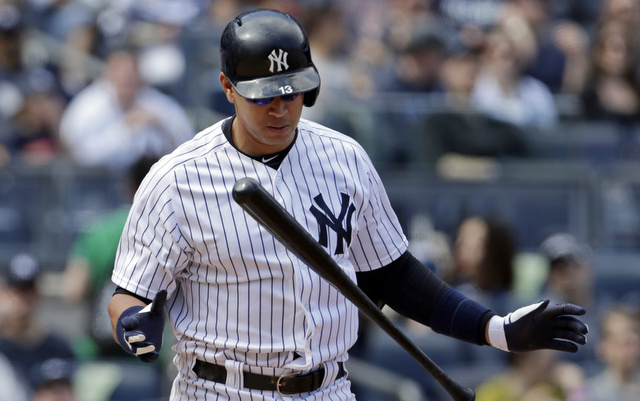 6:27pm: The MRI on A-Rod's oblique came back negative, the Yankees announced. I assume that means he doesn't have any kind of strain that will require a DL stint. The Yankees say no immediate roster move will be made, and Alex will travel with the team to Texas. They love him down there, you know.
3:42pm: Alex Rodriguez left this afternoon's game with an oblique injury, reports Jack Curry. The Yankees have since confirmed the news. A-Rod tweaked his side while taking swings in the batting cage between at-bats. There's no word on the severity just yet, though the Yankees say he's heading for an MRI.
The Yankees are currently without Aaron Hicks, who is nursing a shoulder injury and received a cortisone shot yesterday. Obliques can be very tricky and easy to re-aggravate. If A-Rod is going to be down for a few days, the Yankees are going to have to put someone on the DL and make a call-up. Can't play with a 23-man roster.
Dustin Ackley doesn't have much right field experience at all, so while putting him in right and Carlos Beltran at DH is possible, it might not be the best move with both Hicks and A-Rod out. Nick Swisher and Ben Gamel seem like the primary call-up candidates, though I'd be surprised if it's Swisher, especially if both Hicks and A-Rod are due back soon.
Rodriguez, 40, came into Sunday's game 7-for-53 (.132) on the season. He ripped a double off the wall this afternoon and had a home run knocked down by the wind yesterday. The Yankees won't miss his bat in the short-term, but he's not going to get out of his funk sitting on the DL either. Hopefully he comes back soon.