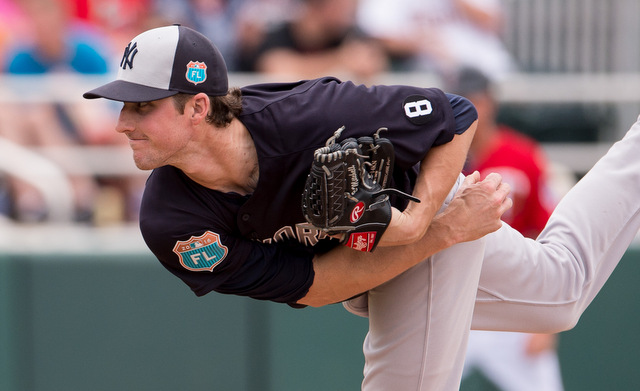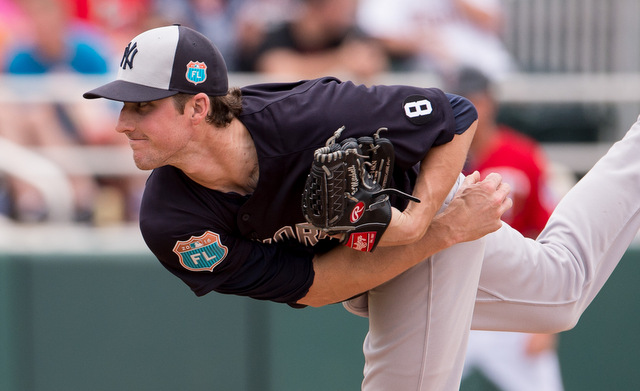 April 5th: Mitchell had surgery on his toe yesterday and will miss at least four months, Joe Girardi told reporters at Yankee Stadium today. Yikes. I'm not sure if that means four months until he's back on a big league mound, or four months until he can resume baseball activities. Either way, it seems the best case scenario for Mitchell's return is sometime in August.
March 31st: The Yankees are down another reliever. Earlier today the team announced Bryan Mitchell has suffered "Grade 3 turf toe on his left big toe and a fracture of the Sesamoid bone," which is fancy talk for a broken toe. They didn't give a timetable, but Jack Curry says Mitchell will miss a minimum of three months. He'll see a specialist tomorrow and may need surgery.
"I felt something but definitely didn't think it was this severe," said Mitchell to Erik Boland this morning. He is on crutches for the time being. Mitchell, who was named to the Opening Day roster earlier this week, hurt himself covering first base in yesterday's game. It was initially called a sprain, but apparently tests showed much more damage than expected. Rough.
The Yankees are already without Aroldis Chapman because of his suspension, and Andrew Miller suffered a chip fracture in his wrist in yesterday's game, so it's possible the team will be down three projected Opening Day relievers. Miller plans to pitch through his injury, but he has to see what the specialist says first. Chapman and Mitchell are definitely out for the start of the season.
Mitchell, 24, allowed one run on seven hits and three walk in 15.2 innings this spring. He struck out a dozen. The Yankees said they were holding a fifth starter competition, but apparently Mitchell was not included, because he would have won it with those numbers. He threw the ball very well in Grapefruit League play. Mitchell had a 6.37 ERA (4.75 FIP) in 29.2 big league innings last year, though he was very good before taking a line drive to the nose.
So, with Chapman and Mitchell out, the bullpen right now is Miller, Dellin Betances, Chasen Shreve, Ivan Nova, and three open spots. It would become four open spots if Miller can't go. The Yankees have only four bullpen candidates remaining in big league camp (Johnny Barbato, Luis Cessa, Anthony Swarzak, Kirby Yates) but they could always call someone up from the minors. They have a ton of young relievers in Triple-A.
The Mitchell injury not only hurts the bullpen, but he was also a piece of rotation depth. He may have been as high as seventh on the rotation depth chart. The injury is unfortunate for the Yankees and it really sucks for Mitchell. This season was going to be a great opportunity for him to carve out a big league role and make a name for himself. Now it all has to be put on hold.