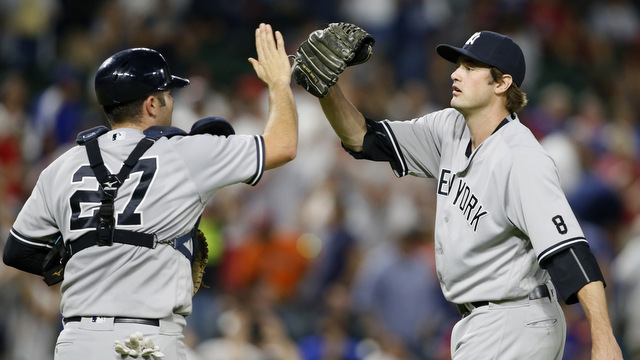 As Yankees fans, we've been privileged to watch some stellar bullpen work in our lifetimes. Older fans (no offense!) can go back to Sparky Lyle, Goose Gossage, and Dave Righetti. More recently you have Mariano Rivera, David Robertson, and, of course, Dellin Betances and Andrew Miller. In less than two weeks Aroldis Chapman will join that group.
Even with all those great bullpeners, I don't think we've ever seen two relievers — either at the same time or in different years — as overwhelmingly dominant as Betances and Miller are right now. Their numbers are truly video game-like: one earned run on nine hits and two walks in 19 innings. They've struck out 38. Thirty-eight! That's out of 67 base-runners, so 56.7% have stuck out. El oh el.
Betances and Miller have been unreal this season, and what has really impressed me is how efficient they've been while being so dominant. Miller has made nine appearances and only once has he thrown more than 13 pitches. Once! Betances, who is no stranger to long innings, has reached the 20-pitch mark just three times in ten outings. His last three appearances have checked in at 13 pitches or less.
Keep in mind these two are keeping their pitch counts low despite all those strikeouts. Last year Miller averaged 15.7 pitches per inning and he threw a strike 67% of the time. This year he's at 11.4 pitches per inning (!) and 79% strikes. That's bonkers. Betances has upped his strike rate slightly from 62% last year to 63% this year, though it's 66% since his two-walk appearance on Opening Day.
The quick outings are especially helpful right now because Joe Girardi has had to lean on Betances and Miller an awful lot so far this season. The Yankees have struggled to score consistently, so when they have had a lead, it's typically been one or two (maybe three) runs. In fact, Betances and Miller have each appeared in seven of the team's eight wins. The only one they avoided was the 16-6 blowout over the Astros.
Overall the Yankees have played 18 games; Betances has pitched in ten and Miller has pitched in nine. That's a lot but it sounds worse than it is. The Yankees had all those off-days early on, remember. Those 18 games have been played 21 calendar days. They've had two scheduled off-days plus a rainout. Don't get me wrong, Betances and Miller have pitched a lot, but not quite every other day.
Chapman will be back in two weeks and will inevitably help lighten the load on the back-end of the bullpen. Girardi has talked about using only two of his three big relievers per game in order to make sure one is always fresh and available the next day, which sounds great, though we'll see how it works in practice. This strikes me as one of those ideas that is much easier said than done.
For now, Betances and Miller have endured heavy workloads through the first 18 games, but they've been able to mitigate that workload with quick innings. They've been able to cut down on their pitches per inning while maintaining an absurdly high strikeout rate because they're simply throwing so many strikes. It's good to have stuff so crisp that hitters still can't touch it when you throw it over the plate.