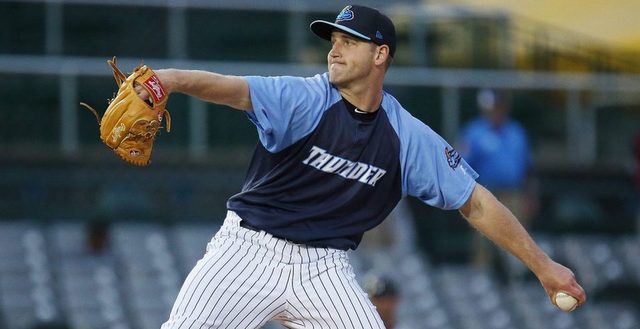 Over the last few seasons the Yankees have had some success turning late round draft picks into useful big league arms. Most notably, David Robertson went from 17th rounder to shutdown reliever. Others like David Phelps (14th), Chase Whitley (15th), and Shane Greene (15th) have proven to be valuable in different ways. Getting value from those late picks is pretty cool.
Back in 2012 the Yankees used their 19th round pick on Central Michigan southpaw Dietrich Enns, who, like Phelps and Whitley and Greene, was an unheralded college arm. Of course the Yankees liked his ability and believed there was something interesting there, that's true of every pick, but it was easy to overlook Enns and assume he was minor league fodder. Just a guy to soak up some innings, basically.
Enns, now 24, opened this season with Double-A Trenton, though his rise through the minors hit a bump in the road two years when he blew out his elbow and needed Tommy John surgery. Here's a really quick rundown of his career stats:
| | Level | G/GS | IP | ERA | FIP | K% | BB% | GB% |
| --- | --- | --- | --- | --- | --- | --- | --- | --- |
| 2012 | Short Season | 22/0 | 42.2 | 2.11 | 2.84 | 18.9% | 8.6% | not avail. |
| 2013 | Low-A, High-A | 28/8 | 82.2 | 2.94 | 2.74 | 32.7% | 10.2% | 40.3% |
| 2014 | High-A | 13/1 | 25.1 | 1.42 | 3.15 | 26.3% | 10.1% | 45.2% |
| 2015 | Rookie, High-A | 13/12 | 58.2 | 0.61 | 2.39 | 23.7% | 8.6% | 48.3% |
| 2016 | Double-A | 3/3 | 16.2 |  0.00 | 3.03 | 26.6% | 17.2% | 41.2% |
I've mentioned this stat before but it bears repeating: last season 1,902 pitchers threw at least 50 innings in the minors, and none had a lower ERA than Enns. Ryan Dull, who we just saw in the A's bullpen last week, was second with a 0.74 ERA. Pretty big gap between him and Enns.
As always, minor league stats come with a lot of caveats. First and foremost, the further away you get from the big leagues, the less they mean. There's just too much noise. In the low minors many hitters have no real plan at the plate and lots of pitchers are control challenged. Enns has only 16.2 career innings above Single-A, and Baseball Reference tells me he is 0.4 years older than the average Eastern League player this year. Context is important.
At the same time, a player like Enns is going to have to perform very well to get any attention. He was an unheralded late round pick — Baseball America didn't even have a pre-draft scouting report on Enns, and they seem to write up everyone — out of a school not really known for baseball. (Central Michigan has had four players drafted in the single digit rounds in the last 20 years, one of which was Yankees' 2014 fifth rounder Jordan Foley.)
Enns owns a 0.48 ERA (2.53 FIP) with a very good strikeout rate (24.3%) in 75.1 innings since Tommy John surgery, and in his most recent start, and he fanned a career high eleven in six innings. He did that with farm system head Gary Denbo and special advisor Gene Michael in attendance, as noted by Jon Mozes. The heavy hitters were there.
The scouting report is pretty basic and it's not something that will jump out at you. Enns lives in the 89-92 mph range as a starter — he's a tick above that when working in relief — and he backs his fastball up with a low-80s slider, a low-80s changeup, and rudimentary curveball. There are lots of those guys kicking around in the minors. That's why Enns has to perform so well to get noticed.
As good as his ERA and strikeout rate have been over the years, they do not paint a complete picture. Enns has consistently run high walk rates throughout the minors — surely the elbow reconstruction contributed to that somewhat — and his ground ball rates aren't any good. Almost all pitching prospects worth a damn have high ground ball rates because they overwhelm less talented hitters.
There's also this: Enns went unselected in the Rule 5 Draft last December. That's telling. Here you have a 24-year-old left-hander with unreal numbers and three pitches, yet no team took a shot at him. No one bothered to bring him to camp for an extended look or anything. Maybe they were scared away by the recent Tommy John surgery, but boy, any half-decent lefty tends to get scooped up in the Rule 5 Draft. No one felt he was ready.
If nothing else, Enns has put himself on the prospect map with his performance since last year. It's tough to ignore basically zero runs allowed with an above-average strikeout rate. Those numbers alone do not make Enns a prospect, but they do get people to pay attention. Enns is now in Double-A and performing well, and if he continues to do so, he'll soon find himself in Triple-A.
The Yankees are already down three key shuttle relievers (Branden Pinder, Nick Rumbelow, Jacob Lindgren) thanks to elbow problems, and they showed last year they're willing to dip deep into the farm system for bullpen help. That's how guys Joel De La Cruz and Matt Tracy wound up with affordable healthcare for life. Enns is cut from a similar cloth. He's that guy you don't necessarily expect to get called up who ends up getting called up, know what I mean?
On an individual level, Enns wants to put himself in position to either land a 40-man roster spot with the Yankees after the season, or be taken in the Rule 5 Draft. Continuing to perform this well at Double-A and maybe Triple-A figures to accomplish that goal. Enns is the classic example of a player who has done a lot with the small opportunity usually affording to late round picks. He's been really good since being drafted and especially so since elbow reconstruction.