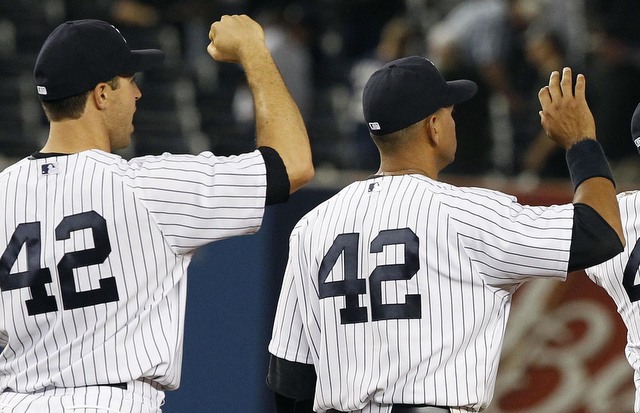 Sixty-nine years ago today, Jackie Robinson made his big league debut with the Dodgers. Tonight, every player in baseball will wear No. 42 in Robinson's honor, including ex-Yankee Robinson Cano, his namesake. Robbie and the Mariners are in town to begin a three-game weekend series this evening.
The Yankees dropped two of three to the Blue Jays earlier this week mostly because the offense hit a bump in the road. I mean, they held Toronto to 13 runs in three games, and four of the 13 came in that one inning against Ivan Nova. You'd like to win more than one of three when you keep the Jays in check like that. Anyway, here is the Mariners' lineup and here is the Yankees' lineup for tonight's opener:
CF Jacoby Ellsbury
LF Brett Gardner
1B Mark Teixeira
C Brian McCann
RF Carlos Beltran
DH Dustin Ackley
2B Starlin Castro
SS Didi Gregorius
3B Chase Headley
RHP Luis Severino
It's going to be a bit chilly tonight, but man, the weather in New York is damn near perfect right now. Bright blue skies, no clouds, just outstanding weather for a ballgame. Tonight's game will start a little after 7pm ET. You can watch on YES. Enjoy the game.
YES Update: Good news for you cord-cutters and folks stuck with Comcast: FOX regional sports affiliates, including YES, can now be streamed on Sling TV, according to Ahiza Garcia. It's $20 a month — there's a free seven-day trial — so it's not free, but it's not too pricey either. You will be able to stream Yankees games on YES, even if you're in-market and a Comcast customer. Here's the Sling TV link.