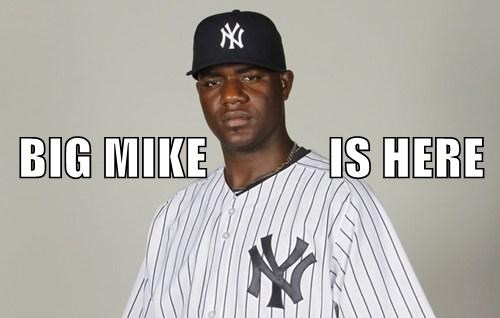 The Yankees picked up a big win — big by mid-April standards, anyway — in last night's series opener against the Blue Jays, and it was the kind of game they're built to win. The score was close, they scratched out the go-ahead run, then turned it over to the bullpen. They've already won a few high-scoring games this season. Last night was a grind-it-out win.
Michael Pineda is on the mound tonight, and he's going to have to do a much better job locating his slider tonight if he wants to navigate that devastating Toronto lineup. Big Mike gave up three home runs to the Astros last week and all three were on spinners right out over the plate. Can't do that. He needs to be better tonight. Six innings would be cool. Maybe even (gasp!) seven. Here is the Jays' lineup and here is the Yanks' lineup:
CF Jacoby Ellsbury
LF Aaron Hicks
DH Alex Rodriguez
1B Mark Teixeira
RF Carlos Beltran
2B Starlin Castro
3B Chase Headley
SS Ronald Torreyes
C Austin Romine
RHP Michael Pineda
It's another cold and cloudy day in Toronto, so expect the Rogers Centre roof to be closed again. Tonight's game will begin a touch after 7pm ET and can be seen on YES. Enjoy the game, nerds.
Injury Update: Brian McCann (toe) is still sore, but he is available to pinch-hit and catch in an emergency. He took a foul tip off the foot last night … Luis Cessa suffered some kind of allergic reaction yesterday and his right eye was swollen shut, according to Marly Rivera. He was available to pitch, but only in an emergency. Cessa is on medication and doing fine now. He's available tonight.
Chapman Update: Aroldis Chapman pitched in his first Extended Spring Training game this afternoon, according to Erik Boland and Bryan Hoch. He threw 15 pitches in a perfect inning, striking out two, and his fastball was up to 98 mph. OF Carlos Vidal, OF Jared Mitchell, and OF Estevan Florial were the unlucky minor leaguers who had to face him. Chapman is eligible to return May 9th.
Blue Jays Roster Update: Earlier today the Blue Jays called up ex-Yankees farmhand Pat Venditte, the switch-pitcher. Maybe we'll get to see him tonight or tomorrow. That should be fun. Righty Arnold Leon was designated for assignment to clear a roster spot.