Baseball is stupid and I hate it. The Yankees once again put a small army of runners on base Saturday afternoon — 16 in nine innings, to be exact — but were unable to cash in. The Mariners did all they could to give the Yankees the game the last two days. Instead, New York has now dropped four straight. Saturday's final score was 3-2 in favor of the Fightin' Canos.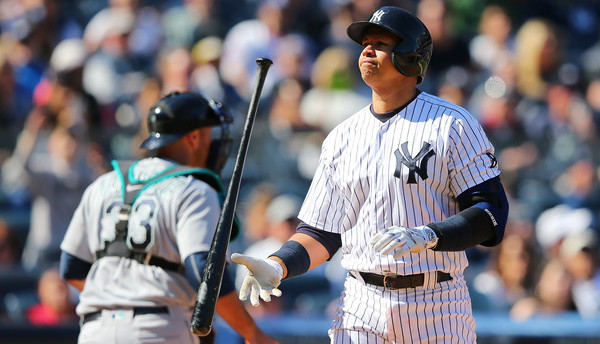 Oh This Again
The only thing more excruciating than leaving runners on base is not having runners on base in the first place. The Yankees had a ton of guys on base Saturday, just like they had a ton of guys on base Friday. Felix Hernandez, arguably the greatest pitcher of his generation, walked a career-high six in five innings. The Yankees put at least two runners on base in all five of his innings.
The result? One run. That came in the third inning, when Carlos Beltran drove in Mark Teixeira from first base (!) with a booming double to right-center field. That's what it takes to score a run right now. Teixeira chugging around from first on a double. Think about that. If not for that, Hernandez might have been able to navigate five scoreless innings even though he was far from his best. Far, far from his best.
In fact, like Nate Karns on Friday night, Felix leaned heavily on his offspeed stuff to pitch his way out of jams Saturday. PitchFX says he threw 20 fastballs out of 106 total pitches. Twenty! And that came after Mariners pitching coach Mel Stottlemyre Jr. told Shannon Drayer he wanted Felix to throw more fastballs going forward. Here is Hernandez's pitch selection Saturday, via Brooks Baseball: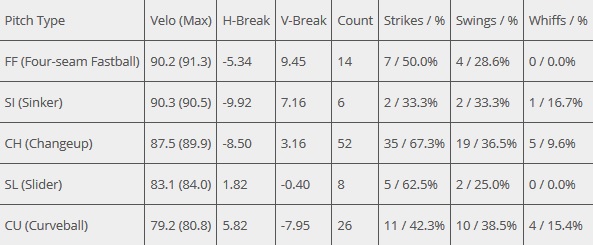 Karns threw 43% fastballs Friday and Felix threw 19% fastballs Saturday. I'd say Seattle's game plan is bury the Yankees with offspeed stuff, but Karns threw 51% fastballs in his only other start of the season, and Felix threw 44% fastballs in his first two starts. This is kinda who they are now, offspeed heavy pitchers. What they did against the Yankees isn't totally out of the ordinary.
Either way, the Yankees could not take advantage of all those base-runners. They even put men on base against the bullpen — Beltran took Nick Vincent deep in the seventh inning for the team's only other run — and the go-ahead run was on base in the ninth inning. M's closer Steve Cishek allowed singles to Beltran and Starlin Castro to put runners on the corners, but Chase Headley grounded out to end the game. So it goes.
Perhaps the biggest at-bat of the game aside from Headley's in the ninth was Austin Romine's in the second inning. The Yankees had runners on the corners with one out, and Romine popped up Felix's first pitch changeup to the shortstop. Felix was battling his control and I get wanting Romine to take a pitch or two, but the pitch was super hittable …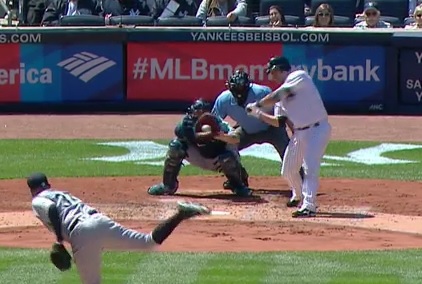 … and he just didn't hit it. I don't care who is on the mound and who is at the plate. You can't not swing at a pitch like that simply because you want to drive up a guy's pitch count. The Yankees aren't going to walk themselves out of this offensive slump. Romine got a good pitch to hit and just didn't hit it. That's baseball. It's a game of failure. Romine didn't get the run in, which he could have done with an out, and didn't get it done.
The total damage: two runs on ten hits and six walks in nine innings. The Yankees went 0-for-12 with runners in scoring position and eight of the nine players in the starting lineup batted at least once in those situations. Teixeira was the only starter who didn't see an at-bat with a runner(s) at second and/or third. The Yankees have put 29 men on base in their last 18 offensive innings. If they continue doing that, they're going to score runs. A lot of them. It's just not happening right now.
The One Bad Inning
For the second straight start, CC Sabathia looked like a competent big league pitcher Saturday. He did put a runner on base in each of his first four innings, but it was only one runner per inning, and Sabathia stranded them all. CC fanned four of the first eleven men he faced too. He was doing exactly what the Yankees want him to do at this point of his career: keep them in ballgames.
Things unraveled in the fifth inning and it would have been worse if not for some heads up defense by Didi Gregorius. Leonys Martin had already homered leading off the inning to tie the game, then Luis Sardinas made it to second base with one out on a single and a ground out. With Sardinas on second, Ketel Marte slapped a soft grounder to Gregorius, who threw to third to get Sardinas when he made too wide a turn at the bag. Marte is crazy fast and was going to beat out the infield single. Smart play by Didi to get the lead runner instead.
Immediately following that, Robinson Cano knocked a single back up the middle that, incredibly, allowed Marte to score all the way from first. Jacoby Ellsbury can take the blame for that one. Marte's aggressiveness caught him completely off guard in center field. Look at how he approached the ball, then hesitated before throwing home: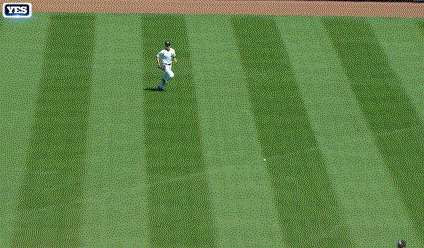 That is a man who expected the runner to stop at third. Ellsbury told Bryan Hoch he thinks he would have been able to throw Marte out at the plate had he not double clutched the throw, and maybe he's right, but Jacoby has not thrown a runner out at the plate since 2011, so you'll have to forgive me for being skeptical. Either way, Marte scored and the Mariners took a 2-1 lead.
Nelson Cruz, the next batter, drove in Cano with a double inside the third base bag and down the line into the left field corner. That gave Seattle a 3-1 lead and ended Sabathia's afternoon. I'm not sure why Sabathia was left in to face Cruz if his leash was that one batter. Righties hammered CC last season and Cruz hit 84 homers from 2014-15. Sabathia can face Cruz with the Yankees down one but not Franklin Gutierrez down two? I thought Cano should have been his last batter.
Sabathia's final pitching line looks worse than he pitched, I feel: 4.2 IP, 7 H, 3 R, 3 ER, 1 BB, 5 K. His first four innings were solid and I think we'd all take that version of Sabathia all season long. Things fell apart in the fifth — thanks in part to Ellsbury — so the one bad inning bug bit CC again. Every starter has seemed prone to that the first two times through the rotation.
Leftovers
The bullpen was spectacular. Johnny Barbato got four outs while Chasen Shreve, Dellin Betances, and Andrew Miller tossed a scoreless inning each. Those four combined to allow three hits and strike out eight. Betances and Miller each struck out the side. Miller did so on ten pitches. He looked razor sharp. As dominant as he's looked at any point as a Yankee. It was silly.
Brett Gardner had two hits, Castro had three hits, and Beltran had four hits. Carlos homered and doubled twice. He's been the team's most consistent hitter in the super early going. Alex Rodriguez went 0-for-5 with three strikeouts and is down to .103/.235/.207 (32 wRC+) on the season. He's in the middle of an 0-for-19 slump. I will be pretty surprised if Beltran and A-Rod do not flip lineup spots Sunday.
The Yankees stole three bases overall. Two by Castro and one by Headley. Headley has three steals he already. He stole zero bags last season. Headley also committed his first throwing error, airmailing first base on a routine grounder. It was bound to happen at some point. His throwing has looked way better this season overall.
And finally, for some reason Ellsbury stayed glued to first base after reaching on an error with two outs in the eighth. The Yankees were down one and Gardner saw five pitches, yet Ellsbury never tried to steal. I do not understand.
Box Score, WPA Graph & Standings
Here are the box score and video highlights for the game. Now here are the updated standings, if scoreboard watching in April is your thing. Also make sure you check out our Bullpen Workload and Announcer Standings pages. Here is the ol' WPA graph:

Source: FanGraphs
Up Next
The Yankees will try to salvage this mess of a three-game series Sunday afternoon. Masahiro Tanaka and Hisashi Iwakuma will be on the mound. Those two were teammates with the Rakuten Golden Eagles from 2007-11, you know. Pretty cool. RAB Tickets can get you into the ballpark for that game or any of the other six games remaining on the homestand.