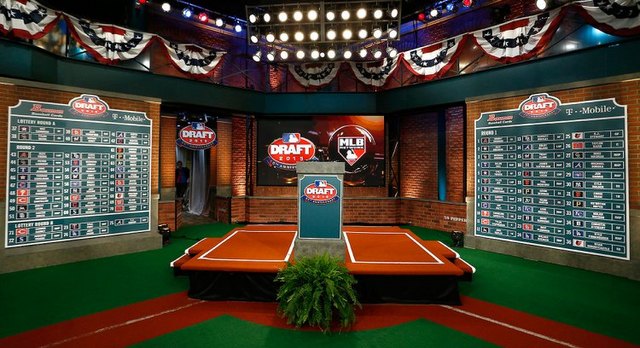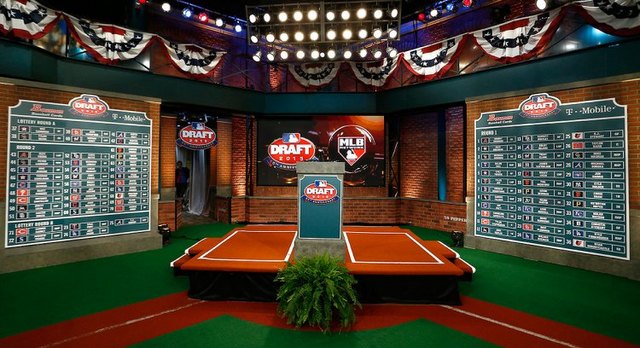 Under the current Collective Bargaining Agreement, teams are limited to a set bonus pool when acquiring amateur talent through the draft and international free agency each year. Teams can exceed their pools, but the penalties are harsh. Within those pools are slot values, which are important to the draft and international free agency for different reasons.
Hudson Belinsky and Ben Badler recently got their hands on the 2016 draft and 2016-17 international slot values, respectively. Both articles are free. They're not behind the Baseball America paywall. Let's dive in and see what the slot values mean for the Yankees.
2016 Draft Slot Values
The Yankees have a $5,768,400 bonus pool for the draft this year. That's the eighth smallest bonus pool in baseball. The Yankees didn't add (or subtract) and draft picks through free agency this past offseason, so all they have is their natural picks in rounds 1-40. Here are the slot values:
First Round (No. 18 overall): $2,441,600
Second Round (No. 62): $1,040,800
Third Round (No. 98): $608,200
Fourth Round (No. 128): $455,400
Fifth Round (No. 158): $341,000
Sixth Round (No. 188): $255,300
Seventh Round (No. 218): $191,500
Eighth Round (No. 248): $176,200
Ninth Round (No. 278): $164,600
Tenth Round (No. 308): $156,600
Slot value for every pick after the tenth round is $100,000. Any amount spent over $100,000 on one of those picks counts against the draft pool. If you sign a player for less than the slot value within the first ten rounds, you can redirect the pool savings to other picks. If you do not sign a player, you lose the slot money associated with that pick. Got it? It's easy enough.
The Yankees — and all teams, really — have been gaming the system by taking cheap college seniors, usually in rounds 5-10, to save draft pool space so they can spend it on other players. College seniors have no leverage, so they usually sign for five figures. Sometimes even less. Do that a few times and you up with a nice chunk of leftover cash to use on other picks.
To me, it looks like the best place to really save pool space is with that second round pick. You don't see many top prospects fall to the second round these days. Talent has come off the board more linearly since the spending pool system was put in place. The Yankees could take a good prospect with that second rounder, sign him below slot, and save hundreds of thousands of dollars in pool space.
This is exactly what the Yanks did last year. They took LHP Jeff Degano with their second round pick and signed him for $650,000. Slot for his pick was $1,074,400. The Yankees got a talented player and still saved over $400,000 with that pick, most of which went to third rounder RHP Drew Finley. Depending on what the draft board looks like in June, going this route with the second round pick could make an awful lot of sense.
2016-17 International Slot Values
The Yankees have a $2,177,100 bonus pool for the 2016-17 international signing period, which ninth lowest among the 30 clubs. The international pools are based on the reverse order of the standings. The Yankees are still subject to the penalties stemming from the 2014-15 international signing spree for one more year, so they can't sign any player to a bonus of more than $300,000 in the coming signing period.
Here are the team's 2016-17 international slot values. I'll explain what these mean in a second.
Slot No. 22: $609,800
Slot No. 52: $411,800
Slot No. 82: $278,100
Slot No. 112: $177,400
Each team gets $700,000 in "base" money, so add that and the four slots together and you get the club's total international bonus pool. Once upon a time teams also had six $50,000 bonus exemptions each year, both those are gone. Nowadays the only exemptions are players who sign for $10,000. Teams can hand out as many bonuses of $10,000 or less as they want, and they don't count towards the bonus pool.
The international slot values are used for trading. You can sign a player to a bonus of any size, it doesn't have to match a slot number. But, if you trade bonus pool money, you have to trade the specific slot. HOWEVA, teams are only allowed to acquire an additional 50% of their original draft pool. That's an extra $1,088,500 for the Yankees. It doesn't make any sense for the Yankees to acquire international bonus pool money because of the $300,000 penalty though. It makes more sense to trade away pool space.
Unfortunately, international bonus slots don't seem to have much trade value. Last year Matt Eddy recapped trades involving bonus slots, and for the most part slots were traded for middling prospects or fringe MLB players. In some instances they were thrown in as the third or fourth piece in a trade package. Is it worth trading, say, that No. 22 slot for another up-and-down reliever or infielder? Maybe it is. Depends on what kind of talent is available internationally this summer.