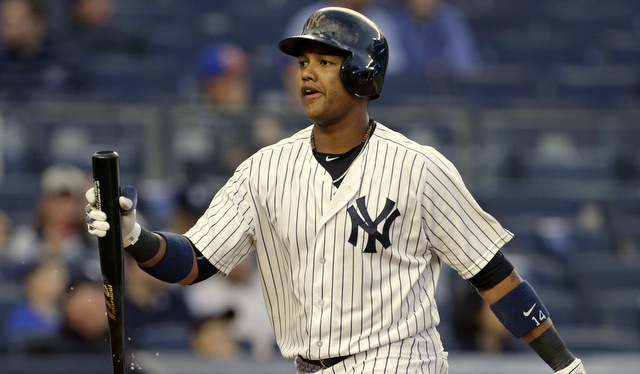 The Yankees lost for the sixth time in seven games last night, and in all six losses, the team scored no more than two runs. They again blew scoring opportunities and went 1-for-whatever with runners in scoring position Wednesday night. The Yankees are struggling in a bad way right now. It would be easy to go on a bumbling tirade against the offense — I've done my fair share of that over the years — but let's not do that. Let's talk about this offensive malaise in a calm and rational way, because we're adults. (Well, most of you are.)
1. Joe Girardi is the type of manager who stands up for his players through thick and thin, but even he had to call out Didi Gregorius for his base-running blunder in the seventh inning last night. It was that egregious. "It's bad base-running. You've got to understand what your run means … That's a blunder we have to take care of," said Girardi after the game. Gregorius had the entire play in front of him and he still didn't stop to make sure he wasn't tagged out. That's Baseball 101. Every team is going to go into an offensive funk at some point(s) throughout the season, that's just the way the games goes. But when you start adding bad mental mistakes on top of it, things get ugly. That was a bad, bad play by Gregorius. It's the kind of play that earns someone a spot on the bench for a day or two.
2. Given the way the Yankees are built — and the way every team is built, really — their offense starts at the top of the lineup, and right now Jacoby Ellsbury is hurting the club. He did have the double and yet another catcher's interference last night, but through 51 plate appearances this season, Ellsbury is hitting .220/.264/.320 (63 wRC+) with three walks. He's currently in a 1-for-15 slump. The Yankees are going to give Ellsbury an awfully long leash thanks to his contract, so I don't expect him to be moved down in the lineup anytime soon. Maybe Ellsbury and Brett Gardner will flip flop and in the one-two spots or something, but hitting Ellsbury seventh or eighth? Not happening. Ellsbury has a history of getting hurt and staying hurt in a way that impacts his performance for weeks or months — that's exactly what happened with last year's knee injury — so I can't help but think back to that pitch he took to the wrist in Spring Training. Either way, Ellsbury is part of the problem right now. A big part of it.
3. This to me is the is the single biggest reason the offense has sputtered so much recently. Here are numbers since the start of the homestand:
Mark Teixeira: 1-for-15 (.067)
Brian McCann: 1-for-16 (.063)
Teixeira's slump actually dates back to the Detroit series (3-for-30), though, to be fair, he is still drawing a ton of walks and providing value that way. Teixeira and McCann are not high average hitters, but they do hit the ball out of the park, and right now they're not doing that. They're not hitting much of anything. Gardner and Carlos Beltran are the Yankees' two hottest hitters — they have a combined .463 OBP on the homestand — so they're putting the team in position to score. The two guys hitting behind them are slumping bad and those opportunities created by Gardner and Beltran are being wasted. That's why those two have scored six total runs on the homestand despite that .463 OBP, and three of those six runs have come on their own home runs. Getting Teixeira and McCann going is Priority No. 1 in my opinion. They are the keys to turning this mess around.
4. The Aaron Hicks Hate Train seems to be up and running already. The guy has 21 plate appearances in 13 games and eight of them have come the last two nights. The Yankees took a player who is used to playing every day and made him into a bench player, and that can be a tough adjustment. It looks to me like Hicks is pressing and trying to do anything he can to impress during his limited playing time. He saw four pitches in three at-bats last night. This is a guy with a 10.0% walk rate in the big leagues and a 14.4% career walk rate in the minors. Hicks is making more of an effort to be aggressive and swing at pitches in the strike zone, but I doubt he wants to be this aggressive. He's jumping at everything. That's not his game. The Yankees are going to see a lot of left-handed starters over the next week — my guess is either Gardner sits against Rich Hill tonight if his neck is still stiff, or Alex Rodriguez sits and Beltran slots in at DH — and hopefully that allows Hicks to settle in and feel more comfortable. He has a new role with a new team in a new city. No wonder why he's started slow.
5. The bottom of the lineup has been pretty abysmal of late. Chase Headley has had a rotten start to the season with the bat — he's one of only five players with at least 40 plate appearances and zero extra base hits — and his only saving grace right now is his batting eye. He's drawn eight walks and has a .333 OBP — he didn't draw his eighth walk until Game 32 last year — which is fourth highest on the team, believe it or not. But still, walking only gets you so far. Eventually Headley is going to have to do something more than push a ground ball single through the infield. Gregorius had two hits including a homer last night to snap a 3-for-25 (.150) slide and Starlin Castro has quietly gone 7-for-38 (.184) since the end of the Astros series. That's not a lot of production from the bottom of the lineup. No one expects those guys to carry the team offensively, but they do have to provide support, and it's hasn't happened of late. When your fourth and fifth hitters slump like Teixeira and McCann have, you look for others to pick up the slack, and the bottom third of the lineup ain't doing it.
6. I don't see any potential quick fix for the offense. I suppose Girardi could shake up the lineup, but even if he does that, what lineup should he use? Bat Gardner and Beltran first and second, then make them go up to the plate in the three through nine spots wearing everyone else's jersey? The Yankees are not a true talent .189 hitting team with runners in scoring position because I don't think any lineup in baseball history is a true talent .189 hitting team in any situation. At some point Ellsbury will go on one of his insane hot streaks, and at some point Teixeira and McCann will hit a baseball out of the park. It's going to happen. How soon? Soon, hopefully. Right now the best (only?) thing the Yankees can do is stay the course, clean up the sloppy mistakes like Didi's base-running blunder last night, and wait for their good at baseball players to start being good at baseball again.