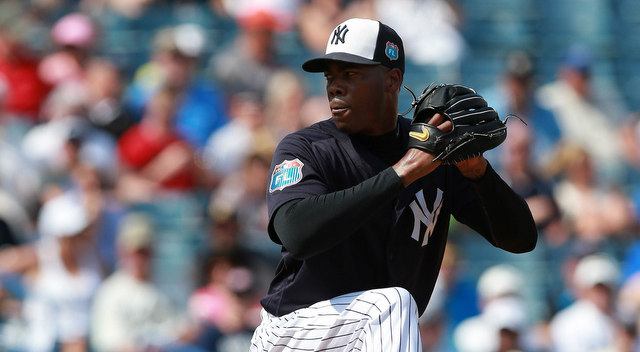 I've seen some confusion about this and figured it was worth clearing up: Sunday's postponed game does not mean Aroldis Chapman will have to wait one extra day to return from his suspension. He is eligible to return on May 9th regardless of how many Yankees games are postponed between now and then. Both Jayson Stark and Bryan Hoch have confirmed it.
Chapman was suspended 30 games following an October domestic dispute incident at his home, but apparently the suspension covers 30 regularly scheduled games, not 30 games played. Don't ask me why. That's the way the league's domestic violence policy is written. Chapman will still lose the same salary ($1.85M or so) and service time as a result of the suspension, however.
There has been no official announcement yet, but Sunday's game is tentatively scheduled to be made up on July 28th, well after Chapman's suspension is due to end. He will now effectively serve a 29-game ban and be eligible to play in the other 133 regular season games. Having Chapman available that one extra game could very well end up having a huge impact on the final standings.
So remember: May 9th. That's the date Chapman will be eligible to return — the Yankees have said they plan to make sure Chapman is MLB ready that day, because duh — no matter what the weather does to the team's schedule.