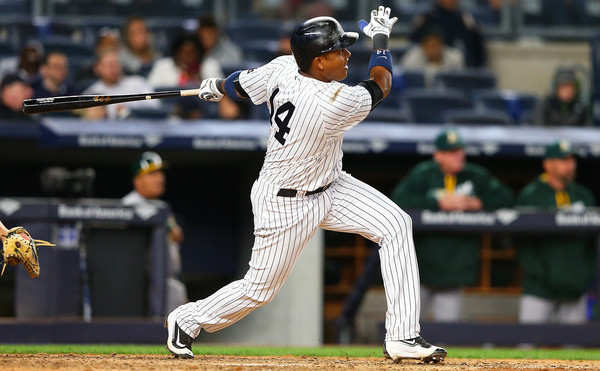 Late last season, when the Yankees were struggling to get much going offensively, they were shut down by left-handed starters seemingly every other night. As a team they hit .248/.320/.345 with only eight homers in 470 plate appearances against southpaws last September. They dropped nine of 13 games when the opposing starter was a lefty in that final month.
"I think we struggled against left-handers," said Joe Girardi after the wildcard game loss to Dallas Keuchel and the Astros. "We lost a big bat (in Mark Teixeira), and he was one of the guys we counted on to do a lot of damage to left-handers. And Greg Bird had one of our hits tonight and had a tremendous season for us, but we struggled against left-handers."
So far this season the Yankees are 0-3 when facing an left-handed starter. They replaced Chris Young with Aaron Hicks and the lefty hitting Stephen Drew with the righty hitting Starlin Castro (you could argue Castro replaced the righty hitting Rob Refsnyder), but so far the team owns a .226/.320/.321 (86 OPS+) batting line against southpaws. The struggles of late 2015 have carried over into early 2016.
Of course, we're talking about a sample of three games here, so you can't make too much of this. The Yankees are about to begin a stretch that will tell us much more about their ability to hit southpaws though. Based on the upcoming schedule and pitching probables, the club has just started a stretch in which they will face six left-handed opposing starters in nine games. Here's the list:
Tuesday, April 19th: LHP Eric Surkamp (loss)
Wednesday, April 20th: RHP Kendall Graveman
Thursday, April 21st: LHP Rich Hill
Friday, April 22nd: RHP Erasmo Ramirez
Saturday, April 23rd: LHP Matt Moore
Sunday, April 24th: LHP Drew Smyly
Monday, April 25th: LHP Cole Hamels
Tuesday, April 26th: RHP A.J. Griffin
Wednesday, April 27th: LHP Martin Perez
Obvious caveat: the upcoming starters may change for a variety of reasons. The further out you go, the more likely it is the opposing starter changes. We're looking at a nine-day span here — we're on day two already — so we aren't looking that far ahead, but yeah, things can change. As always, pitching probables are just that. Probables.
With five lefties coming in the next eight games, Hicks is going to see a lot of playing time and for good reason. He's a career .258/.347/.425 (139 OPS+) hitter against lefties. Hitting lefties is why the Yankees went out and got him. Well, that's not true. The Yankees hope he develops into an everyday player at some point. At a bare minimum, they want Hicks to mash southpaws. They'll be able to get him in the lineup consistently this next week or so, something they've been unable to do yet this year.
"We're going to see a lot of lefties in the next nine or ten days," said Girardi to Chad Jennings prior to last night's game. "So Hicksie's probably going to get a lot of at-bats because he's been so good against left-handers in his career. It's a day to keep those guys fresh and to keep him involved. I think he's important to this team, especially against the left-handers."
Castro didn't hit lefties much last year (80 OPS+) — he didn't hit anyone last year — but he is 3-for-11 (.273) with three doubles against southpaws in the early going. Even if he was 0-for-11, he would still be in the starting lineup every time the Yankees face a lefty this season. He batting second last night, after all. I supposed we could see the right-handed hitting Ronald Torreyes at some point, maybe to give Didi Gregorius a breather, but that's about as far as lineup changes go.
More than anything, the Yankees need the regulars to step up and produce if they want to right the ship against left-handers. Jacoby Ellsbury, Carlos Beltran, Alex Rodriguez, Teixeira … those guys. They have to carry the offense regardless of whether there's a righty or lefty on the mound. It hasn't happened these last six games overall but that doesn't mean it won't happen going forward.
These next nine games will be a good litmus test for the offense's ability to handle left-handed pitchers. They can't be as vulnerable against southpaws as they were late last year. Not if they want to stay in the race and possibly return to the postseason. Castro and Hicks figure to help to some extent. Bottom line, it's up to the regulars to lead the way.