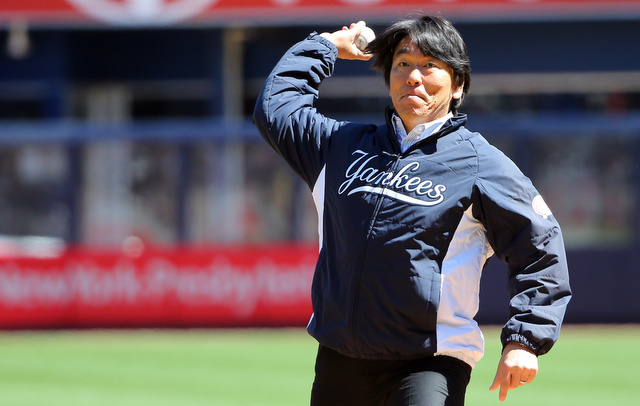 We had to wait one extra day, but the 2016 season has finally begun. The Yankees lost to the Astros yesterday for their fifth straight Opening Day loss. That's annoying. The last time they won on Opening Day, Curtis Granderson hit a home run off Phil Coke and Joba Chamberlain threw a perfect seventh inning. Here's the box score. That feels like a lifetime ago. Anyway, I have thoughts.
1. This is bugging me so I might as well start with this: what was up with those baseline introductions yesterday? The Yankees introduced the starting lineup, then they had the rest of the team come out of the dugout together and join them for the National Anthem (video). Doesn't everyone usually get introduced on Opening Day? I mean, the Marlins introduced the clubhouse attendants before their Opening Day game last night. I'm not joking. I dunno, just seemed weird to me. I was expecting a full set of introductions, the coaches and bench players and bullpeners and everything. I couldn't have been the only one who wanted to see Dellin Betances and Andrew Miller and Luis Severino and CC Sabathia be introduced before the game, right? Maybe the postponement screwed this up somehow. Hopefully it's a one-year blip.
UPDATE: The Yankees and Astros agreed to the abbreviated baseline introductions because of the cold, reports Jim Baumbach. Only the managers and starting lineups were introduced because they want everyone unnecessarily standing in the cold. Disregard thought No. 1!
2. Masahiro Tanaka's two-seam fastball was moving a ton yesterday. So much so that PitchFX appears to have misclassified a bunch of fastballs as splitters. I don't remember Tanaka's two-seamer ever moving that much. Here is the two-seamer he threw to Jose Altuve for the first out of the game. Altuve rolled over on the pitch and grounded out to short: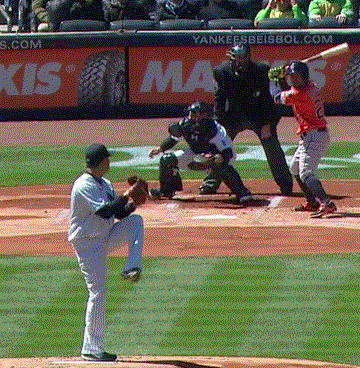 The location is not great, Tanaka did miss his spot up — he was doing that all spring, seems like his command has not come all the way back following his elbow surgery — but the point is that pitch really moved. I went back and watched some 2014 and 2015 highlights really quick and I didn't see anything that moved that much. I wonder if Tanaka is using a new grip or something. Or maybe he's just going with more two-seamers in an effort to get more quick outs because the Yankees don't let him pitch deep into games. That really stood out to me yesterday. Tanaka's heater was running all over the place.
3. Under-the-radar bright spot yesterday: Johnny Barbato. His first pitch as a big leaguer hit a dude in the wrist, so that sucked, but Barbato also struck out three of five batters faced. He threw 18 pitches and Astros batters swung and missed six times. That's pretty great. Given the way the bullpen is constructed, it's entirely possible there is nothing Barbato can do to avoid being sent down as part of the shuttle early in the season. He pitched very well in Spring Training though, and he's got bat-missing stuff, so it looks like he has a chance to stick around long-term. With no Bryan Mitchell and no Aroldis Chapman, there's an opportunity for Barbato to step up and assume some important innings. Assuming, of course, the Yankees don't ship him to Triple-A for a fresh arm at some point.
4. Speaking of Mitchell, man does his injury suck. Both for the Yankees and Mitchell himself. The Yankees lost at worst a power-armed reliever and at best a piece of rotation depth. That hurts. The Yankees aren't exactly loaded with rotation options at the moment. As for Mitchell, this season was a huge opportunity for him to establish himself at the big league level and in the team's long-term plans. I really like him as a reliever — I'm not sure he can hack it as a starter without significantly improved command and/or changeup — and thought he had a chance to emerge as a trusted late-inning guy this summer. Replacing Adam Warren as the Swiss Army Reliever did not seem far-fetched at all. Injuries are part of baseball, but that's too bad. Hopefully Mitchell can return in August and shove for eight weeks.
5. The Didi Gregorius home run got me irrationally excited. He hit it against a big time pitcher — that was only the fourth homer Ken Giles has allowed in 116.2 career innings — and it was the kind of pitch you expect hitters to punish. Look at the location: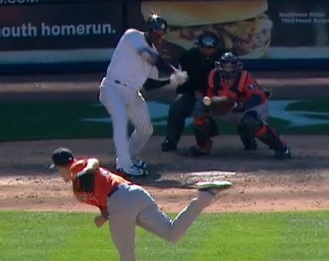 Every player sees a bunch of mistake pitches out over the plate like that each season. That's baseball. Last year Gregorius was missing those pitches — maybe not missing, but he wasn't doing major damage — and letting pitchers get away with mistakes. He didn't hit his first home run of 2015 until his 61st game, remember. Didi hit .294/.345/.417 (109 wRC+) in the second half last season. He looked like a different hitter after the All-Star break and we're all hoping it carries over to 2016. Gregorius is still only 26, you know. A young 26 too. (February birthday.) I think there's still some untapped offensive potential in there.
6. I didn't love the decision to sit Brett Gardner yesterday from a baseball perspective but I get it. Someone was going to sit in favor of Aaron Hicks — if it was Game 101 instead of Game 1, no one would think twice about it — and Gardner was the pick. It just seems like the decision was based 10% on what gave the team the best chance to win, and 90% on avoiding any sort of headache that would stem from sitting Jacoby Ellsbury again. That would be a big deal after the wildcard game. Sitting a high-profile player in a winner-take-all playoff game and then again on Opening Day would create a firestorm. That's just the way the media is these days. I hate seeing stuff like that impact decisions, but it happens all the time, so the Yankees are hardly alone. Hopefully everyone hits this year and we can argue which outfielder should sit each game. You don't want these decisions to be obvious.
7. Starlin Castro's movements and body language are very Robinson Cano like, are they not? Especially in the field. The way he scooped grounders and sidearmed the throw over to first base looked very much like Cano to me. Robbie had a smooth style of play and he made things look very easy on a baseball field. (As a result, lots of people called him lazy because he didn't seem to be trying hard. Whatevs.) Castro is the same way. I'm not saying Starlin will be as good as Robbie one day, it's unfair to hang that on the kid, but watching him at second base yesterday had a very familiar feel to it. It feel like Cano was back out there for a bit. I'm a weirdo, sorry.