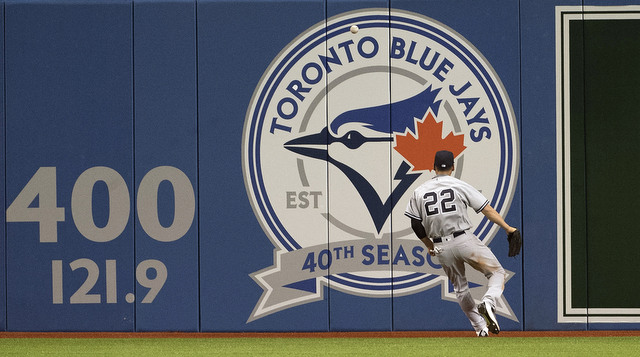 The 2016 season is only eleven games old, but we've already seen several defensive miscues by center fielder Jacoby Ellsbury. Ellsbury, who has played every inning of every game so far, has specifically made four misplays that stand out in the early going. Mistakes happen. That's baseball. But four mistakes in eleven games? That's unusual.
Ellsbury's four misplays have all led to runs, which is partly bad luck — not every miscue should result in runs, Yankees — and partly a result of outfielder misplays often leading to extra bases, making it that much easier to score. Let's look at these four miscues and try to figure out exactly what the hell happened, and whether it was simply one of those things or a sign of declining skills.
Play No. 1: J.D. Martinez single in Detroit
They say the toughest play for an outfielder is the line drive hit right at you, and that line drive was hit pretty much right at Ellsbury. He knew off the bat he had to retreat, so he had the correct jump, but the ball was closer to left field than he seemed to realize, so it feel in for a base hit.
"It kind of just died out," said Ellsbury to Erik Boland after the game. "It just went straight down. Unfortunately, I didn't have enough time to recover on it. I got a great jump on it."
It appears Ellsbury simply misread this ball in terms of its location left to right. He got the right jump and broke back, but he was about ten feet too far to the right. The fact that this was a line drive hit at him makes me think the ball knuckled unexpectedly. Ellsbury was there, but not there there. Know what I mean?
Play No. 2: Jose Bautista double in Toronto
This one Ellsbury clearly misread off the bat. His first step was in! Look: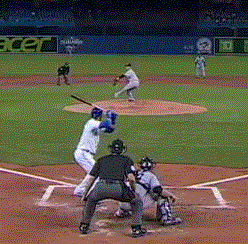 Ellsbury took a few steps in, then had to stop and retreat to right-center field. Those few wasted steps coming in put him behind the play and allowed Bautista's double to drop in. Ellsbury almost caught it because he's still really fast, but ultimately he couldn't recover from that bad first step.
Also, look where the Yankees had Ellsbury positioned. He was shaded heavily towards left field for Bautista, who is an extreme pull hitter. Check out his 2014-15 spray chart, via Baseball Savant: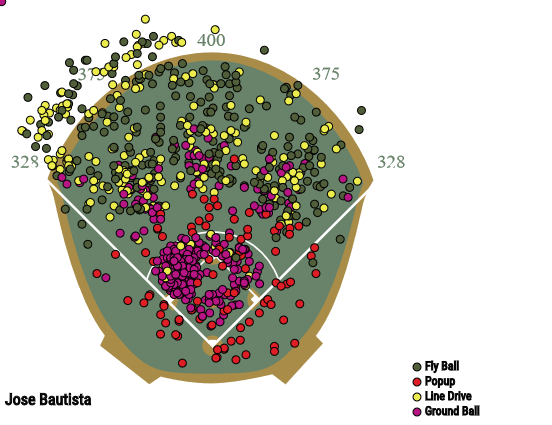 So yeah, Bautista is a big time pull hitter. The Yankees had Ellsbury positioned in the right place — he should be shading him towards left field — but Bautista had to go and be good at baseball and hit the ball to right-center. That didn't help matters. Bottom line though, Ellsbury's first step was in when it should have been back. That cost him a chance to make the play. This one is on Jake.
Play No. 3: Robinson Cano's single on Saturday
The speedy Ketel Marte managed to score all the way from first on that play, which just can't happen. Marte and Mariners third base coach Manny Acta deserve credit for their aggressiveness and willingness to push the envelope, so let's not take anything away from them. They caught Ellsbury napping. Look at his reaction: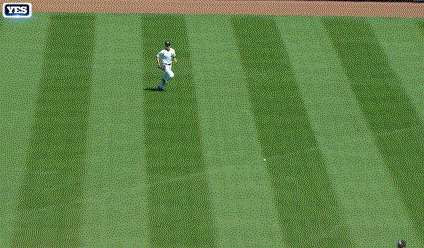 It sure looks like Ellsbury assumed Marte was going to stop at third base. He was caught off guard. While this play sucked and you hate to see players take seemingly routine plays for granted, I have a hard time dinging Ellsbury too much for this one. Marte and Acta were very aggressive. They were aggressively aggressive.
"It was the first time I think I've given up a single and the guy scored from first. First time for everything," said CC Sabathia, who gave up the hit, to George King after the game.
As best I can tell, only 12 runners scored from first on a single last season. This is something that happens like 99.99% of the time. Ellsbury got caught off guard not because he's lazy or anything like that, but because this is a play that basically never happens. Marte and Acta deserve more credit than Ellsbury deserves blame, I think.
Play 4: Nori Aoki triple on Sunday
This play is much different than I remembered when I wrote
Sunday's game recap
. Ellsbury was in a full sprint and attempted the dive, and just missed. Looking at it again, I don't think he could have pulled up to play the ball on the hop. His options were a) attempt a diving catch, or b) retreat into the gap to chase after the rolling ball, in which case it's at least a double and maybe still a triple.
Also, let's once again look at where the Yankees had Ellsbury positioned: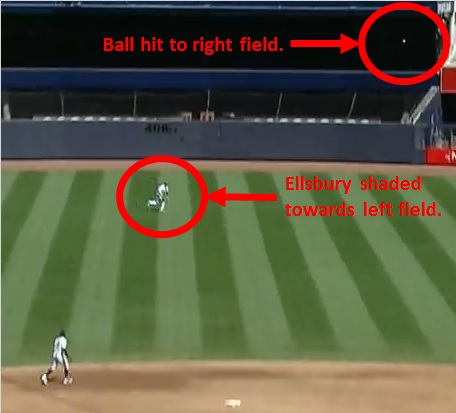 The Yankees again had Ellsbury shaded towards left field. Why? Because Aoki is an extreme opposite field hitter. Here is his spray chart for the 2014-15 seasons, via Baseball Savant: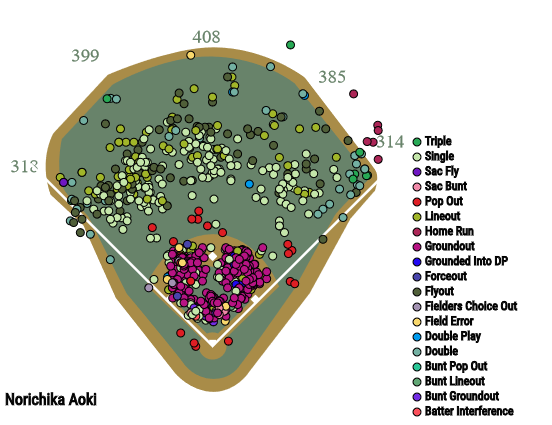 The Yankees had Ellsbury positioned in the proper spot for the opposite field left-handed hitter, but Aoki hooked it to the right side of center field. So it goes.
"It's a triple for him anyway," said Ellsbury to Chad Jennings after the game. "So you just try to cut the ball off and if you're not going to catch it, try to block it."
Now that I've had more time to watch this play, this isn't really a defensive miscue on Ellsbury's part. That ball was ticketed for extra-bases anyway. Ellsbury could have played it conservatively and retreated to the wall, or he could have played it aggressively and tried to make the catch. He did the latter and it didn't work out.
* * *
Looking over these four defensive plays, I see two legitimate miscues (Bautista and Martinez), one aggressive play gone wrong (Aoki), and one surprise play that I'm not sure any center fielder would have expected (Cano/Marte). You can blame Ellsbury for two plays for sure, maybe three.
Ellsbury has not hit much in the early going and he didn't hit at all last year after coming back from his knee injury, but he still provided value with his glove. He's had two notable misreads in the early going and two other plays that have made his usually strong defense look rough. Bunching the four plays together in eleven games hasn't helped matters either.
Unless injury is involved, nothing you see in eleven games should change your opinion about a player too much. Ellsbury is 32, so a defensive decline would not be unprecedented, but it's far too early to say that with any certainty. His defense has not been good so far. Right now I still think it's a blip more than something more serious.