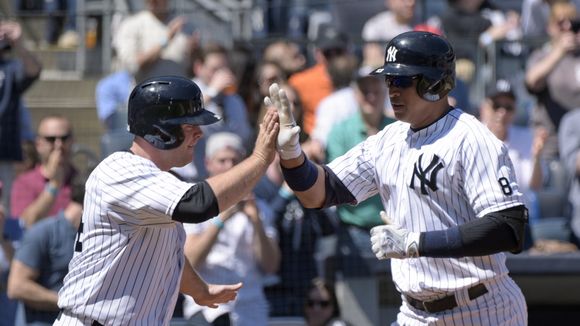 It's not what you want, Part I
The good news is that the Yankees created a ton of scoring chances on Friday night. The bad news is that they failed miserably in cashing in on those opportunities – and the result was a frustrating 7-1 loss to the Mariners in the series opener.
The Yankees put 13 guys on base overall and just one of them touched home plate – a solo homer by Brett Gardner in the first inning. It marked the first time they left 12-or-more men on base and scored only one run in a game since May 29, 2012 against the Angels.
They had at least one baserunner in seven of the nine innings and multiple guys on in the fourth, fifth and sixth frames. Yet, they couldn't come up with the Big Hit ® as they went hitless in 12 at-bats with runners in scoring position.
Jacoby Ellsbury was the only Yankee starter that didn't reach base, going 0-for-5 with two strikeouts. It was his 15th game in pinstripes with at least five at bats and zero hits, the most such games of any player on the team since his debut in 2014.
It's not what you want, Part II
Another day, another three-plus hours of futility at the plate for the Yankees, who left a small navy of runners on base and lost 3-2 to the Mariners on Saturday afternoon.
They somehow managed to set a new level of offensive ineptitude for 2016, surpassing Friday's debacle by going hitless in 12 at-bats with runners in scoring position again and this time stranding a whopping 14 baserunners.
It's the first time in more than three decades that the Yankees have lost back-to-back nine-inning games while leaving at least 12 runners on base in each contest. The last time it happened was June 5-6, 1984 against the Red Sox.
Per the Elias Sports Bureau, the last major-league team to go 0-for-12 or worse with RISP in consecutive games was the Orioles in 1993.
CC Sabathia made his 200th start with the Yankees but it was a forgettable one. He was pulled in the fifth inning after allowing three runs on seven hits and with his pitch count at 95. Still, the milestone is a significant one for Sabathia, who also surpassed the 200-start mark with the Indians.
He is just the sixth pitcher in major-league history – and the second lefty – to have at least 200 starts and 1,000 strikeouts with two different franchises. The others in this club are Mike Mussina, Randy Johnson (the lone southpaw), Greg Maddux, Nolan Ryan and Jim Bunning.
Carlos Beltran did his best to spark the Yankees offense, driving in two runs while going 4-for-5 with two doubles and a homer. At the age of 38 and 358 days, he is the oldest player in franchise history to have a four-hit game that included at least three extra-base hits. He surpassed Babe Ruth, who was 38 years and 175 days old when he went 4-of-5 with two doubles and a triple against the Senators in 1933.
Do you believe in miracles?
Yes!
Brett Gardner's RBI double in the third inning, which scored Jacoby Ellsbury from second base, snapped an ugly 0-for-30 streak with runners in scoring position by the Yankees that dated back to the Blue Jays series (Of course, that was their only hit in 11 at-bats with RISP during the game. But one hit is progress!)
The Yankees also broke their four-game losing streak, avoided the dreaded sweep against the Mariners, and had their best offensive output (four runs) since April 9 in Detroit.
A-Rod also joined the streak-breaking party in the second inning when he smoked the first pitch he saw into the left field stands for career homer No. 689. That ended a 19 at-bat hitless streak, which was two shy of the longest in his career (2002 and 2007). He entered the game with a .100 batting average this year, his worst mark through eight games played in any season during his career.
The Yankees got seven strong innings from Masahiro Tanaka, who is now 4-0 with a 2.70 ERA in four starts against Seattle. He kept the Mariners lineup off-balance all afternoon with his nasty splitter, which netted him five of his six strikeouts and 14 swinging strikes, the most he's ever had in a game with that pitch. Thanks to his sinker-heavy approach, Tanaka generated a ton of soft contact and his 12 ground ball outs also were a career-high.
Dellin Betances and Andrew Miller sealed the win with another pair of ridiculously dominant performances as they each struck out the side in the eighth and ninth innings on 26 total pitches. The pair has recorded 33 outs this season, and 27 of them have been strikeouts.
Of the last 15 batters that Betances has retired, 14 have been via strike three. He's now had four outings in a row with at least three strikeouts and no more than 1⅓ innings pitched. Betances is the only pitcher in major-league history to put together a streak like that — and it's not even the first time he's done it. He had a similar stretch May 26-June 1 last year.