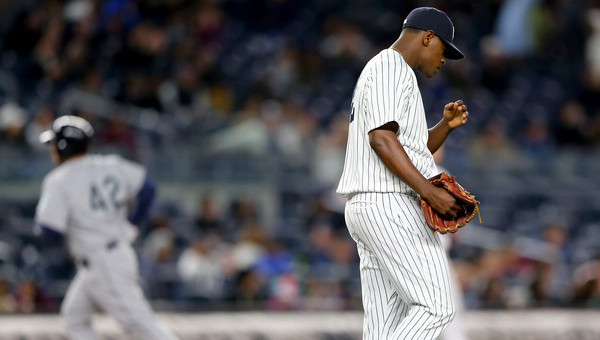 When a team struggles offensively, especially as much as the Yankees have struggled of late, it's almost like nothing else matters. The bats have been comically bad these last few games, and there's nothing in baseball more frustrating than not scoring runs. I'd rather watch a good offense/bad pitching team over a bad offense/good pitching team any day of the week.
As the offense has struggled, it's been easy to overlook the way the rotation has started to turn the corner. The Yankees have had their starter complete six full innings — a very modest goal, of course — five times in the last seven games, and during that time the rotation has gone from a 5.97 ERA to a 5.01 ERA. Don't get me wrong, that's still not great, but it's progress. They're moving the right direction.
Young Luis Severino will make his third start of the season tonight, and the first two weren't all that good. He allowed three runs on ten hits and no walks in five innings against the Tigers first time out, and last week the Mariners tagged him for four runs on eight hits and a walk in 5.2 innings. Two starts is two starts. Every pitcher is going to struggle at some point or another. It's not a big deal yet.
Severino is a 22-year-old kid who came into the season with some clear developmental goals, most notably commanding his offspeed stuff a little better. He tends to leave his slider up in the zone more than anything. Here is the location of every slider Severino threw in his first two starts, via Baseball Savant: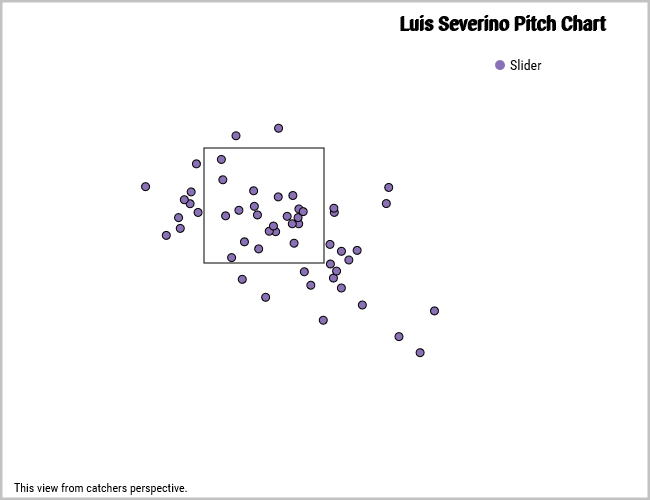 Through two starts Severino has thrown 57 sliders, and opponents have more hits (nine) than swings and misses (five) against the pitch. Eight of the nine hits are singles (the other is a double), but still. That is: bad. Slider location is an obvious flaw Severino and pitching coach Larry Rothschild have to correct, and Severino is well aware of it.
"I think I'm trying too much. I'm pulling (my slider), not just throwing it, like I was in Spring Training," said Severino to Brendan Kuty earlier this week. "I'm missing spots. I'm missing pitches. I'm not commanding my top stuff, and that's the difference … I've been battling myself over there. I have to be better."
Severino's potential is so obvious when you watch him on the mound. He has true front of the rotation ability, but like any kid his age, he still has some things to work on. Unlike most kids his age, Severino has to work on them while pitching for the New York Yankees and being hyped up as the next great thing. That can be daunting, though I've been impressed by Severino's poise in his 13 big league starts, and I think we can make those adjustments on the fly.
The story of tonight's series finale against the Athletics is the offense. The Yankees need to get their bats going, if for no other reason than my sanity. Not scoring runs is just the worst. Severino's start is a huge sidebar though. He's struggled his first two times out and we all want to see that frontline ability we saw last year. Severino's not just some kid they're breaking in. He's an important part of the team, and the Yankees need him to be successful.