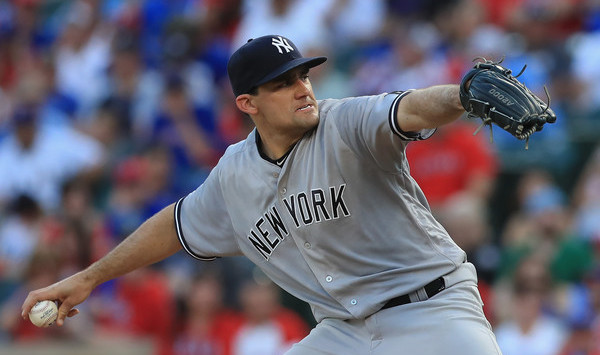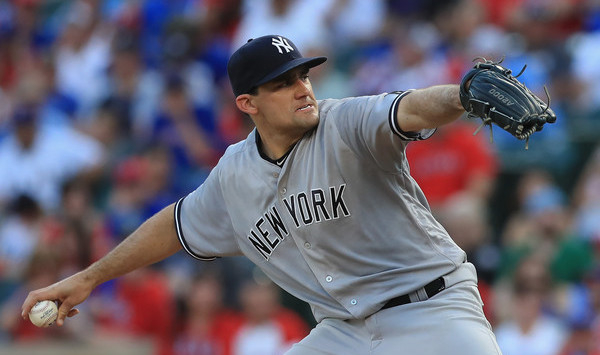 According to Julie DiCaro, the Cubs are focusing on Nathan Eovaldi — among other pitchers — as a possible trade target before the deadline. Nothing is imminent and it's unclear if the two teams have even talked about a deal at this point. Chicago could be interested in Eovaldi the same way the other 28 teams would be interested in Eovaldi.
Rotation help doesn't seem like a priority for the Cubs — their starters have the lowest ERA (2.60) and second lowest FIP (3.33) in baseball — but they lack depth and seem to be concerned about the way Kyle Hendricks and Jason Hammel wore down late last season. Hammel left yesterday's start with a hamstring injury too. Adam Warren is their sixth starter and there's not much behind him at all. Here are some thoughts about Eovaldi and the Cubs.
1. The Yankees match up very well with the Cubs. The Cubs are baseball's best team by almost every objective measure. They have the best record (35-14) and run differential (+133) in the game, and they seem to do everything well. Hit, pitch, defend, run the bases, you name it. They're as good as any team we've seen since the 1998 Yankees. No doubt about it.
The Cubbies are not perfect though. No team ever is. They lack rotation depth as I mentioned. They're also short a shutdown left-handed reliever, someone who can neutralize Bryce Harper or Adrian Gonzalez or Brandon Belt in the postseason. They could use a left fielder too with Kyle Schwarber hurt and Jorge Soler not doing a whole lot. (They've played Kris Bryant in left and Tommy La Stella at third on occasion.)
The Yankees can offer the Cubs rotation depth (Eovaldi, Ivan Nova, Michael Pineda), a shutdown lefty reliever (Andrew Miller, Aroldis Chapman), and a replacement left fielder (Brett Gardner). Heck, the Cubbies need a center fielder going forward with Dexter Fowler set to become a free agent again, so Gardner would fit in long-term. The Cubs have some needs and the Yankees have some pretty nice options to address those needs.
2. Do the Cubs match up with the Yankees? Here's where it gets tricky. The Yankees have what the Cubs need, but what can the Cubs offer in return? Their farm system isn't all that great at the moment — Baseball America ranked their system 20th before the season — and I doubt they'll be willing to tear up their big league roster. They want to add to their roster, not subtract from it.
Javier Baez, the former top prospect, isn't hitting much again (72 wRC+) as the club's backup infielder. He's extremely talented but remains a high risk project. I'm certain the Cubs will be willing to deal current top prospect Gleyber Torres, a 19-year-old shortstop having a nice season in High Class-A (110 wRC+), but probably not No. 2 prospect Willson Contreras, a catcher. They're set at short long-term with Addison Russell but not behind the plate.
Here is MLB.com's top 30 Cubs prospects list. Double-A third baseman Jeimer Candelario, Triple-A righties Pierce Johnson and Ryan Williams, and Triple-A first baseman/DH Dan Vogelbach stand out to me as possible trade fits for New York. Then again, when it comes to trading someone like Eovaldi (or Miller or Gardner, etc.), the goal should be acquiring the best possible talent regardless of position. Not filling specific needs.
3. Eovaldi seems like a keeper, doesn't he? The Yankees are kinda sorta rebuilding. They don't seem to want to admit it, but they're in a holding pattern until most of the big money contracts come off the books the next two years, so in the meantime they've been trying to add youth wherever possible. That is the Yankees version of a rebuild, like it or not.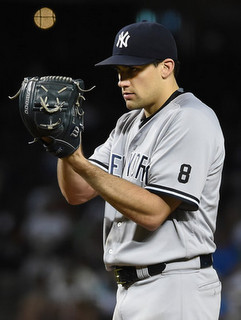 Eovaldi is one of the young pieces the Yankees have added and he's made legitimate improvement since the start of last season. The splitter has been a total game-changer. He's got an out pitch now and it has helped his fastball play up too. From Opening Day 2014 through June 20th of last season, the last game before he switched from the forkball grip to the splitter grip, opponents hit .320 with a .138 ISO against Eovaldi's heater. It's .255 and .089 since.
The Eovaldi the Yankees have right now looks totally different than the Eovaldi they acquired last year. He's got a new and highly effective offspeed pitch, he's giving up way fewer hits — remember how he led the NL in hits allowed in 2014? he's allowed only 56 hits in 60.2 innings this year in the tougher league — and he seems to be pitching with much more confidence too. How can you not be impressed with the improvement he's made with the Yankees?
You're welcome to disagree, but Eovaldi strikes me as the type of player the Yankees should keep and build around. He's only 26, he throws 100 mph on the regular, and the splitter is a tangible explanation for his improvement. It's no wonder the Cubs have interest in him, right? The Yankees should look into signing Eovaldi to a long-term extension before considering trading him. He's a potential building block for a team short on controllable pitching.
4. It doesn't hurt to listen. Obvious caveat is obvious. There's no reason not to listen to offers for Eovaldi from the Cubs or any other team. Someone just might make an offer that is too good to pass up. The upcoming free agent pitching class is really awful. The trade market is going to be a seller's market, and the Yankees might be able to benefit from that.
The Yankees know Eovaldi better than anyone, and it could be they don't like something they see in his medicals. Or maybe they've already approached his agent about an extension and found their demands outrageous. Who knows? Brian Cashman is no idiot. He's going to listen to offers. Eovaldi is part of the solution, not part of the problem, so the asking price should be high.