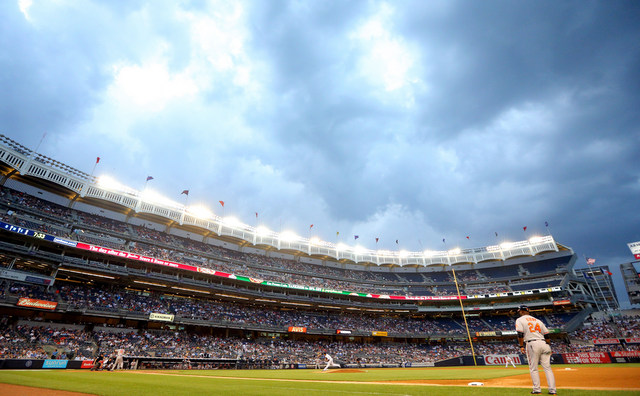 The Yankees are back home from their seven-game West Coast trip but they're not going to be here for long. They play three games against the Blue Jays at Yankee Stadium this week, then they'll head right back out on a ten-game, four-city road trip. Blah. They're in the middle of a stretch with 17 of 20 games on the road. Not ideal, but what can you do.
Anyway, hey, the Yankees are on a five-game winning streak! How about that? They hadn't won as many as three games in a row this season before this five-game winning streak. The Blue Jays may be in last place, but that doesn't matter to me. These games are always tough. If the Yankees are going to extend this winning streak to six games, they'll have to earn it tonight. Here is the Blue Jays' lineup and here is the Yankees' lineup:
CF Jacoby Ellsbury
LF Brett Gardner
1B Mark Teixeira
DH Carlos Beltran
RF Dustin Ackley
2B Starlin Castro
3B Chase Headley
SS Didi Gregorius
C Austin Romine
RHP Nathan Eovaldi
Not the best weather in New York today. It was raining when I woke up and it's been cloudy all day. There's a tiny little bit of rain in the forecast tonight, though nothing heavy or prolonged. They might have to play through some rain drops for an inning or two. We'll see. Tonight's game is scheduled to begin at 7:05pm ET and you can watch on YES. Enjoy.
Injury Updates: In case you missed it earlier, Alex Rodriguez (hamstring) is starting a rehab assignment with Double-A Trenton tonight. Joe Girardi seemed to indicate the plan is to give A-Rod two more rehab games, then activate him this weekend when the Yankees go to Tampa … Luis Severino (triceps) will make a rehab start for High-A Tampa on Sunday. Girardi said when he's healthy, the Yankees could use him to give the other starters an extra day of rest during this upcoming stretch of 20 games in 20 days.
Blue Jays Rotation Update: The Blue Jays have changed their rotation for the series. They're pushing Aaron Sanchez back a few days to give him extra rest, so he won't start Thursday's series finale. It'll be lefty J.A. Happ instead. He's been really good this year. Tough break for the Yankees.