You done messed up that baseball A-A-Ron! I hope some of you get that. (Those who didn't: watch this.) The Yankees actually won a game Friday night — weird, I know — beating the Red Sox 3-2 thanks to a late home run by Aaron Hicks. Andrew Miller, with some help from home plate umpire Ron Kulpa, made it stand up in the ninth inning. That was a fun game, yes? Yes. Yes it was.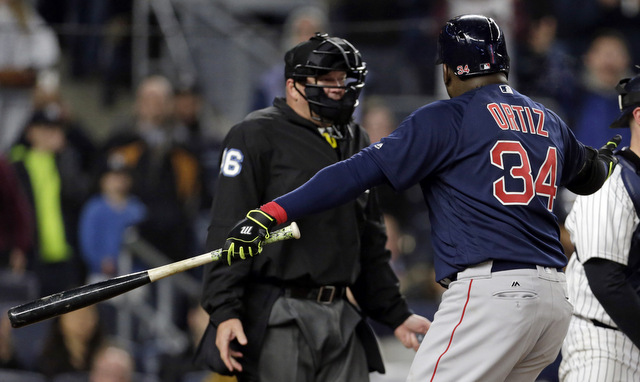 Nail-Biting Time In The Ninth
Let's recap this game backwards and start with the ninth inning. The Yankees were nursing a 3-2 lead and Joe Girardi wanted this game so badly he used Dellin Betances for the third consecutive day. Dellin threw six pitches Wednesday and ten pitches Thursday, so it's not like he pitched a lot the last few days, but Girardi usually doesn't use his relievers three days in a row. In fact, this is the first time he's done it since September 2014 (David Robertson).
Betances allowed a single and got two outs in the eighth inning, and it was pretty clear Girardi had him on a pitch count. He was lifted after 15 pitches and Miller came in for the four-out save. Miller struck out Jackie Bradley Jr. to end the inning, then came back out for the ninth. And gosh, what a ninth inning. It's never easy, is it? The Red Sox loaded the bases with one out on an infield single, a legitimate single, and a dropped pop-up in the triangle. Yuck.
The Yankees still led 3-2 but now the BoSox had the bases loaded with David Ortiz at the plate, which is pretty much everyone's worst nightmare. Miller fell behind in the count 3-1 and we were all waiting to see how the Yankees would blow the lead. Here's the 3-1 slider that I'm pretty sure every single one of us thought was ball four: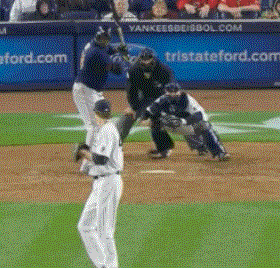 Good gravy is that a bad aesthetic. McCann got crossed up — he was expecting a fastball and got a slider — and he caught it funny, which made the pitch look a lot worse than it really was. It was a strike though. Absolutely. It caught the corner according to PitchFX. David Ortiz and manager John Farrell didn't want to hear it though. They both argued and Farrell was tossed. Not Ortiz though. He continued the at-bat.
Miller went back to the slider for the 3-2 payoff pitch and he got a favorable call from Kulpa for strike three. Ortiz walked the dugout before running back out to give Kupla the business. To be honest, I don't blame him. Umpires are known to hold grudges, and after Ortiz and Farrell gave him lip after the 3-1 pitch, it seemed like Kupla gave the favorable call to Miller on the 3-2 pitch. Here's the video of the 3-2 pitch and Ortiz's tirade:
Miller struck out Hanley Ramirez with the bases loaded to end the game after putting Ortiz away. That almost felt inevitable. I felt like once the Yankees got away with that 3-2 pitch to Ortiz, they were going to win. The call was too favorable to not win, you know?
For the sake of being thorough, here is the strike zone plot of the Ortiz at-bat, per Brooks Baseball: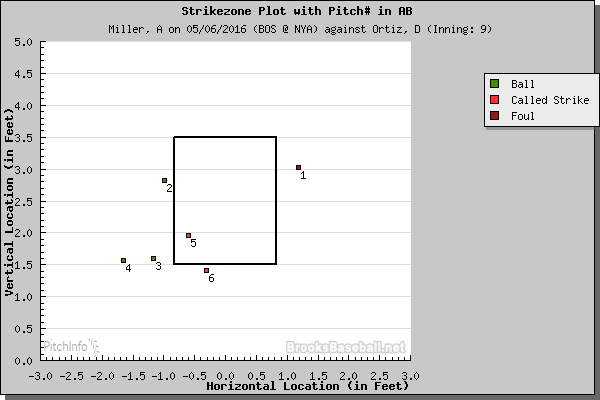 The 3-1 pitch was in the strike zone. It just looked really bad because McCann got crossed up. The 3-2 pitch was down below the zone though and a robot umpire would have ruled it ball four. Luckily the #humanelement still exists and Kulpa called what should have been ball four strike three. Hey, I ain't complaining.
An A-A-Bomb For A-A-Ron
Hicks' tenure with the Yankees has not started well. (John Ryan Murphy was sent to Triple-A on Friday, so neither side is getting what they want from the trade right now.) He came into Friday's game with three hits in 33 at-bats (.091), which is obviously terrible. Alex Rodriguez's injury means Hicks is probably going to play everyday for the next two weeks however, so this is a chance for him to show what he can do.
In the sixth inning Hicks' usually excellent defense let the Yankees and Michael Pineda down. He let two soft fly balls drop in front of him for base hits and both probably should have been caught. The second one definitely should have been caught. The first one kinda died in the air and dropped quick. It would have been a tough play. But still, you want your defensive wiz to make those plays. Pineda put his hands up and showed up Hicks on both plays, which is total crap. Pineda finally had his first decent start of the year and he's showing up teammates? Get real.
Anyway, Pineda got Bradley to bang into a double play to end that sixth inning and keep the game tied 2-2. Two innings later, in the bottom of the seventh, Hicks laid into a first pitch changeup from Rick Porcello that was right out over the plate. I mean, look at this thing: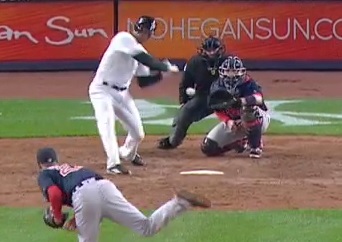 That's an 86 mph center cut changeup. It's a batting practice fastball, basically. Hicks hit it over the bullpen and into the first row of the right field bleachers, so he got all of it. In fact, at 446 feet (per Statcast), it was the longest home run by the Yankees this season.
And boy, did Hicks need that. Hicks and the Yankees needed it. He needed something to feel good about following his rocky start, and the Yankees just needed a damn run. When Girardi gets ejected trying to get a balk call to force in a run like he did Thursday, you know the team is desperate for runs. Hicks delivered a big one Friday.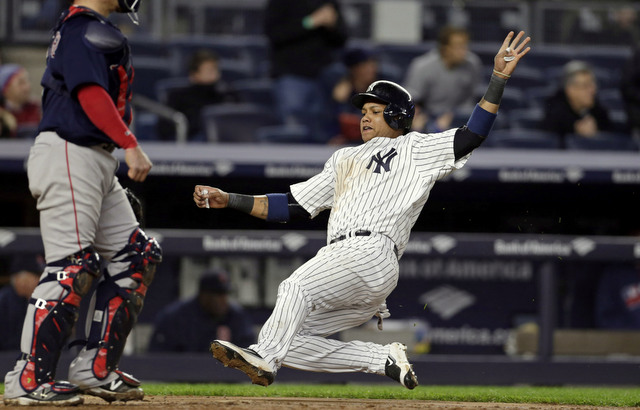 The Battle Back
The Yankees quickly fell behind 2-0 in the first inning, and it was easy to think the game was over. They're not scoring and the Red Sox probably were not going to stop at two runs. Instead, the Yankees battled back to tie the game at 2-2, scoring one run in the first and another in the second.
Jacoby Ellsbury led off the first with a four-pitch walk, then stole second and third against Christian Vazquez, who I'm told is the fourth Molina brother. McCann cashed the run in with a two-out, two-strike double to right field. Ellsbury, by the way, got hurt in the inning. He tweaked his hip on the steal of third and was pulled from the game. An MRI showed a strained hip muscle and he is day-to-day.
McCann cut Boston's lead in half, then, in the bottom of the second, the Yankees manufactured a run with an infield single and a sacrifice bunt. Starlin Castro beat out the single and Hicks laid down the bunt. He was trying to bunt for a hit, which is a smart play in the rain with the wet grass, but Porcello made a very nice play to get him at first. Dustin Ackley, who replaced Ellsbury, stroked a two-out single to center to score Castro and the tied the game.
The inning actually ended on that play. Ronald Torreyes drew a walk and was on first base when Ackley singled, and he was cut down at third base on the single. Bradley's throw from center was so bad that Dustin Pedroia cut if off and threw Torreyes out at third. The ball had to have slipped out of Bradley's hand. I'm not sure how else he fired a two-hopper to the cutoff man.
Anyway, how about that? Hicks and Ackley (Hickley or Ackicks? Did we pick one?) contributing to the offense. Good times.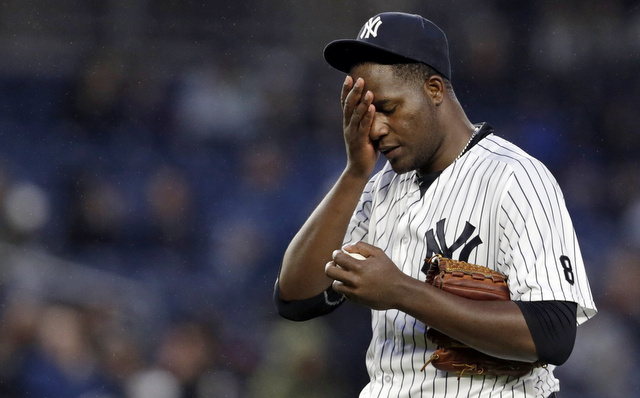 Two Outs Mike
The Red Sox put eight runners on base against Pineda — six hits and two walks — and wouldn't you know it, six of the eight came with two outs in the inning. Coming into the game opponents had a .509 OBP (!) with two outs in the inning against Pineda. It was .239 OBP with zero or one out. He's struggled to finish innings all season.
Boston scored both their runs in the first inning. Pineda got two quick outs (of course), then allowed a two-out double to Xander Bogaerts (of course) and a two-run home run to Ortiz (of course). Hanley and Travis Shaw followed with two-out singles for good measure. It felt like another one of those games for the pitcher former known as Big Mike. He looked great after two batters then it came apart.
To Pineda's credit, he settled down very nicely after that first inning. He retired 12 of 14 batters from the second through fifth innings before the Red Sox put some runners on base in the sixth. Hicks' misplays in center were to blame there. Pineda finished the night with just the two runs allowed on six hits and two walks in six innings. He fanned five. The first inning was frustrating, but Pineda did settle down, so hooray for that. That's three good to great starts in a row for the rotation.
Leftovers
Disturbing stat about the offense: they saw 32 pitches in the final four innings. Total. They saw seven pitches in the fifth, ten in the sixth, five in the seventh, and ten in the eighth. That is: bad. I am in favor of swinging early in the count, but geez, not that much. Starting working some counts, fellas.
Chasen Shreve and Kirby Yates tag-teamed the seventh inning. Shreve allowed a leadoff double to Vazquez, then got a gift when Mookie Betts popped up a bunt. Why he was bunting, I'll never know. Yates then came in and got a liner to short from Pedroia and a strikeout of Bogaerts. Bogaerts did not like the strike three call: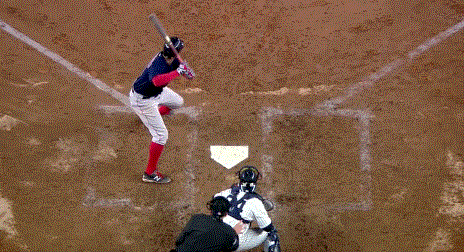 Kulpa bad a big strike zone, I get it, but boy do the Red Sox complain about a lot of calls. They're like the Rasheed Wallace of baseball teams.
The Yankees only had six hits and three walks offensively. Ackley, McCann, Castro, Hicks, Brett Gardner, and Didi Gregorius had the base hits. Ellsbury, Gardner, and Torreyes drew the walks. Mark Teixeira and Carlos Beltran went a combined 0-for-7 with two strikeouts. Yuck. The Yankees really need those two to get going.
And finally, Ben Gamel made his big league debut as a defensive replacement for Ackley in right field in the eighth inning. Naturally, the very first ball was hit his way. Congrats to Gamel. He's come a long way since being a tenth round pick in 2010.
Box Score, WPA Graph & Standings
Here are the box score and video highlights for the game. Here are the updated standings and our Bullpen Workload and Announcer Standings pages. Now here's the win probably graph:

Source: FanGraphs
Up Next
The Yankees and Red Sox will continue the series Saturday afternoon. It'll be Nathan Eovaldi against David Price, a rematch of last Sunday's game. Hopefully this one goes a little better. RAB Tickets can get you in the door if you want to catch game or any of the other eight games left on the homestand live.