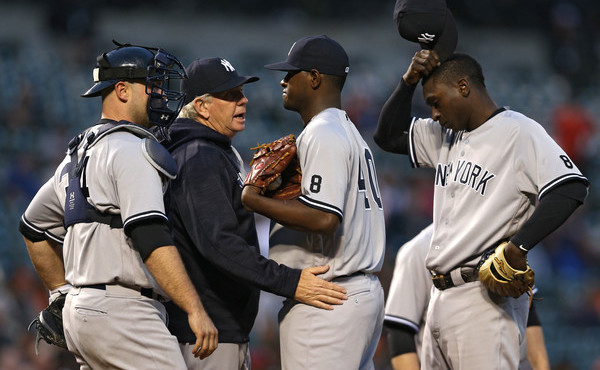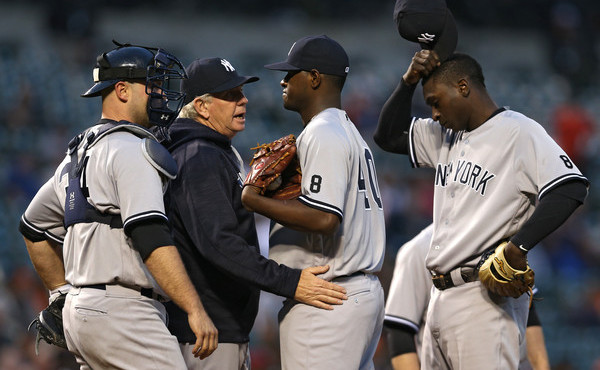 This Sunday right-hander Luis Severino will make his first minor league rehab start as he works his way back from a mild triceps strain. He'll be back on the mound only 16 days after suffering the injury, so it was indeed a mild strain. The Yankees weren't downplaying it. Assuming all goes well Sunday, Severino could rejoin the rotation as soon as next week.
Of course, Severino was not all that good before getting hurt. He has a 7.46 ERA (5.43 ERA) with too few strikeouts (16.8%) in seven starts and 35 innings. There was talk of sending Severino to the minors before the injury, and at the moment, the only other starter you would even consider removing from the rotation is Michael Pineda, and Pineda just had a pretty good start against the A's last time out.
There is no shortage of possible reasons why Severino struggled so much before getting hurt. And really, it's probably not one specific thing. It's likely a combination of several things. Bad mechanics, no confidence, bad tempo, who knows what else? One thing we haven't talked about much is the possibility of Severino having too much velocity. It sounds silly, but it could definitely be true.
Severino hasn't been in the big leagues all that long, so the available PitchFX data is limited. This graph still seems pretty telling though. Check out his month-by-month average velocity, via Brooks Baseball: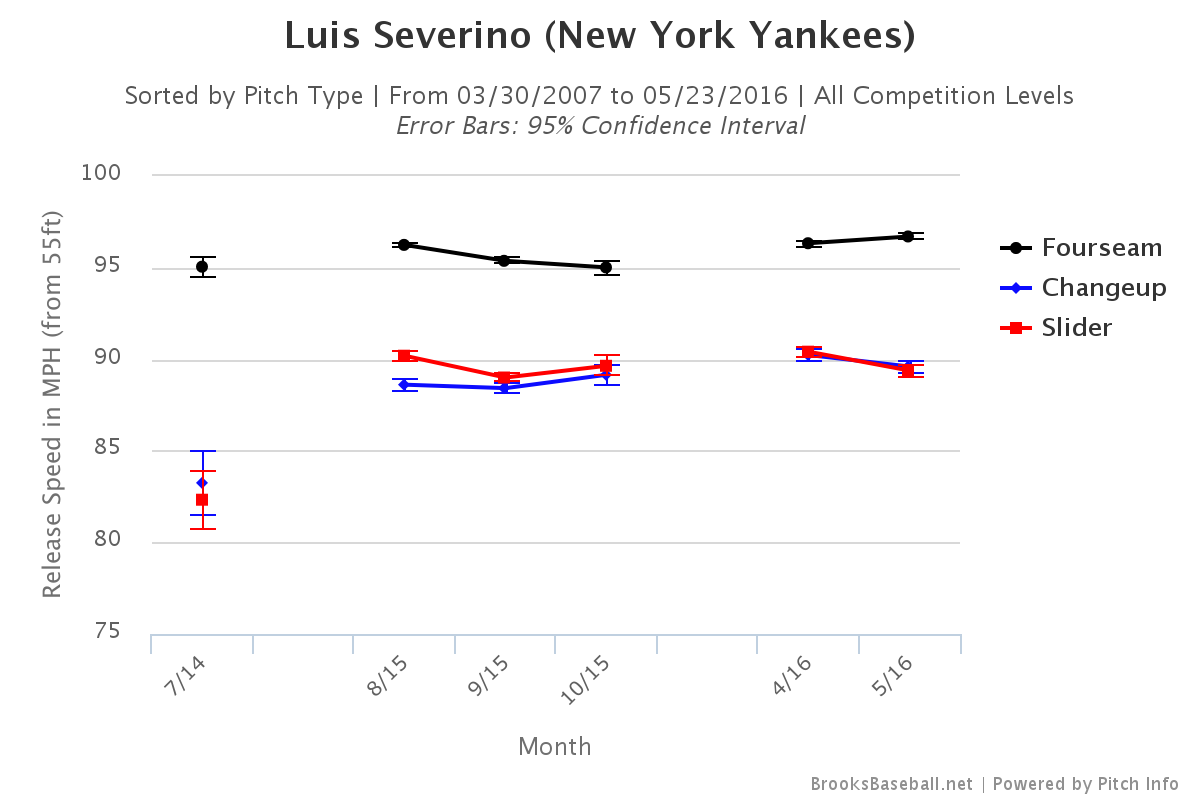 You see the data for July 2014? That's the Futures Game in Target Field. Severino allowed a hit and struck out one in a scoreless inning in that game, back when he was still in High-A ball. That seems like a long time ago now even though it was less than 24 months ago.
Here's the video of Severino's inning in the Futures Game. You can't help but notice how different 2014 Severino looks compared to 2016 Severino:
That's a very limited look (12 pitches!) but holy moly, that doesn't look a whole lot like the current version of Severino, does it? The offspeed pitches in particular. His slider averaged 82.3 mph in the 2014 Futures Game while his changeup averaged 83.3 mph. This year Severino's slider and changeup have averaged 89.4 mph and 89.6 mph, respectively. Huge difference!
Having watched Severino this season, I feel comfortable saying his problems are more a result of poor location than poor stuff. That said, I do think it's fair to wonder if Severino is being hurt by a lack of velocity separation. Hitters know everything he throws is going to be hard, up around 90 mph and above. They don't have to worry about that low-80s pitch with a wrinkle in it.
We hear it all the time: pitching is about disrupting a hitter's timing, and when you throw everything at a similar velocity, it gives the hitter a better chance to time it. Movement and location aren't always enough to compensate. Right now, hitters can focus on hard stuff with Severino, giving them that much better of a chance to square him up. A little less velocity on the slider and changeup could equal more whiffs and more weak contact.
I have no idea what happened to Severino between the 2014 Futures Game and now. He's a young man, remember. Severino turned 22 in February, meaning he was only 20 during the Futures Game. He was still maturing physically and he could have added arm strength between now and then. It could be he tweaked his mechanics and unlocked some velocity. Maybe he was holding back at the Futures Game because his schedule had been thrown out of whack. Who knows?
If I had my pick, I would probably take sliders and changeups in the upper-80s rather than the low-80s, but what the hell do I know. Severino's secondary pitches have not been particularly effective this season and I wonder if scaling back and subtracting some velocity to create more separation with the fastball would help. That theoretically would help his fastball play up too. It's not often throwing hard is a problem. When it comes to Severino's slider and changeup, it just might be.