This to me was one of those "sometimes you just get beat" games. Every team is going to win 60 games and lose 60 games each year, and this was one of those 60 losses. That's baseball. The final score was 7-3 Royals. The Yankees have still won five of eight and they still have a chance to clinch the four-game series win Thursday.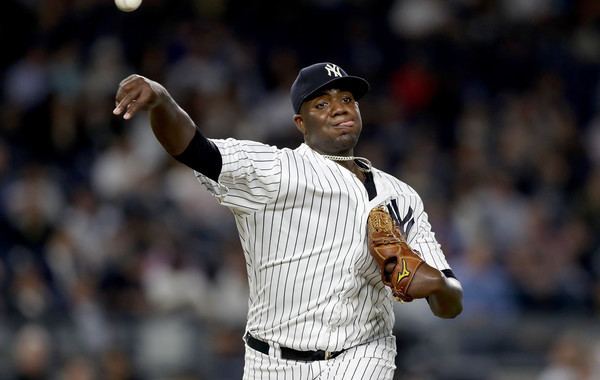 Yet Another Bad First Inning
Coming into Wednesday's game, Michael Pineda owned a 12.00 ERA and a .455/.486/.970 batting line against in the first inning this season. Following Wednesday's game, Pineda now has a 15.43 ERA and a .500/.535/1.026 batting line against in the first inning. The Royals tagged him for four runs on four hits, a walk, and a hit batsman in that first inning Wednesday. He faced eight batters in the inning and only actually retired six (Brian McCann threw a runner out stealing second).
It's possible if not likely the Royals would have been held scoreless in the first inning had Mark Teixeira been playing first and not Dustin Ackley. Ackley let Eric Hosmer's hard hit grounder go through him to put runners on the corners with one out. It was the kind of ball we've seen Teixeira turn into a 3-6-3 double play countless times over the years. At the very least, Ackley has to get one out, and he didn't do that. A big league first baseman has to make that play.
That said, the softest contact Pineda allowed that inning was Alcides Escobar's leadoff flare. Hosmer hit a rocket through Ackley, Alex Gordon hit a sacrifice fly to the warning track, and Salvador Perez smashed a three-run home run on the hanging-est slider that ever hanged. Look at this thing: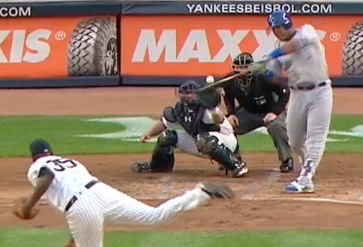 A tee. That pitch is on the damn tee. An 86 mph cement mixer slider right out over the plate. That's as bad a pitch a Major Leaguer can throw. Good gravy. I can't get over how bad that pitch was. How soon after he released it do you think Pineda knew it was going to be hit out of the park? Instantly, right? Brutal.
To Pineda's credit, he did settle down and follow that ugly first inning with four scoreless innings. This wasn't the first time this season he struggled in the first inning then got into a groove. Joe Girardi tried to steal a few more outs from Pineda in the sixth inning and that backfired. The inning went walk, double play, walk, single, hit batsman, two-run single, ground out. Nick Goody replaced Pineda after the second walk and retired neither batter he faced. It was Goody's chance to earn a spot in the Circle of Trust™. Nope.
Pineda finished the night with six runs allowed on six hits, four walks, and two hit batsman in 5.2 innings. His control has been a problem all year. Lots more walks and hit batters. Pineda is now sitting on a 6.28 ERA (5.24 FIP) in 38.2 innings this season. Does Pineda keep his rotation spot when CC Sabathia comes back, or does Ivan Nova automatically go back to the bullpen? It's fair to ask at this point.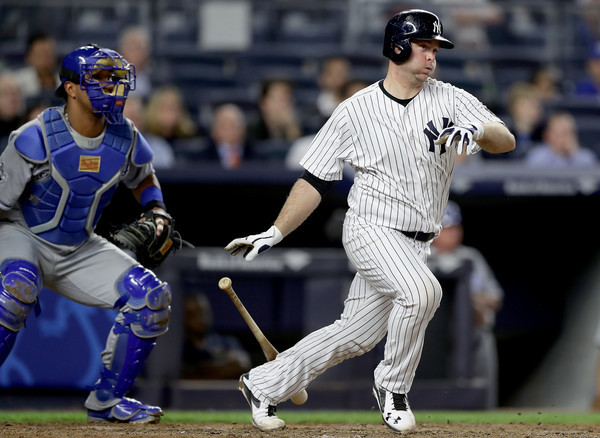 Trying To Claw Back
The Yankees were down 4-0 before they even had a chance to bat Wednesday. That stinks. They did at least cut the deficit to 4-3 at one point. Carlos Beltran hit a solo homer in the second inning, then Chase Headley singled in Aaron Hicks later in that inning to make it 4-3. McCann drove in a run with a ground out in the fifth inning. Just like that, they were back in the game.
Unfortunately, the tying run never came. Not that the Yankees didn't have chances, of course. They went 1-for-13 with runners in scoring position overall, and three different times they had a runner on third with one out and failed to get the run home. Headley and Beltran grounded out to first base in the fourth and fifth innings, respectively, so the runner at third had to hold. The game is very different if either Headley or Beltran gets a run home there. Alas.
The offense was basically two players: Beltran and Hicks. Beltran went 2-for-4 with a homer and Hicks went 3-for-4. The other seven hitters went a combined 2-for-26. Brett Gardner did draw two walks and reach base a third time on a hit-by-pitch. That was clearly intentional too. It was payback for Pineda hitting Lorenzo Cain in the first. Wade Davis plunked Gardner in the back with two outs and the bases empty in the ninth. Textbook retaliation plunking at the perfect time.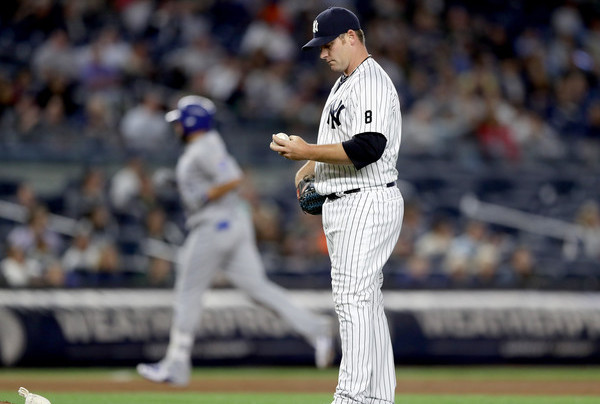 Leftovers
The "only when losing" relievers let the game slip away in the sixth and seventh innings. Goody allowed the two runners he inherited from Pineda to score, then Phil Coke allowed a solo homer to Kendrys Morales in the seventh to make it 7-3 Royals. At least Coke soaked up some innings. He threw 52 pitches in 3.1 innings. Coke was working as a starter in an independent league when the Yankees signed him two weeks ago, so he's stretched out.
Ackley had himself a really bad night. In addition to not getting an out on Hosmer's first inning grounder, he muffed a scoop later in the game that cost Didi Gregorius a highlight reel play, plus he went 0-for-4 at the plate. Not great. Gregorius went 0-for-4 and saw nine total pitches. He's still swinging at everything.
Box Score, WPA Graph & Standings
The box score and updated standings are at ESPN while MLB.com is the place to go for the video highlights. Also make sure you check out our Bullpen Workload and Announcer Standings pages. Here's the win probability graph:

Source: FanGraphs
Up Next
The Yankees will try again to win the series Thursday night. Current Yankees hotshot youngster Luis Severino Nathan Eovaldi will take on former Yankees hotshot youngster Ian Kennedy. RAB Tickets is the place to go if you want to catch the game.