For the first time since they were 4-4 on April 14th, the Yankees are a .500 ballclub. Tuesday night's series-opening win over the Blue Jays got New York to 22-22 on the season and extended their winning streak to six games. The final score was 6-0 good guys.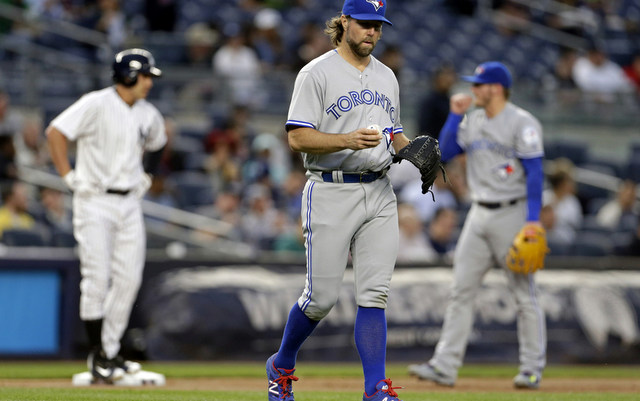 Two Early Runs
Well, I guess it was really one early run and one middle run. The Yankees scored their first run thanks in large part to an ill-advised Jose Bautista dive in the first inning. He should have pulled up and played Jacoby Ellsbury's line drive on a hop and held him to a single, but he dove and missed, so the ball rolled to the wall for a stand-up triple. Carlos Beltran's fielder's choice — it was damn near an inning-ending double play — drove in the run later in the inning.
The team's second run was again courtesy of Beltran. That one was a fourth inning solo homer into the second deck in right field. R.A. Dickey's knuckleball didn't knuckle. It happens. Knuckleballers have historically been very home run prone. Beltran's blast gave the Yankees a 2-0 lead. It's worth noting that between Ellsbury's triple and Beltran's homer, Dickey retired nine of eleven batters, so he wasn't exactly hittable. He pitched well.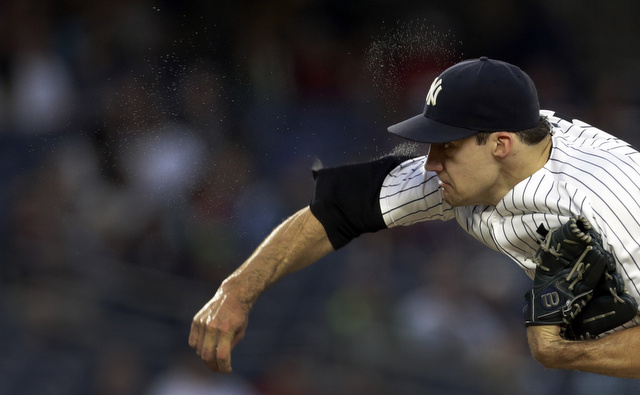 Nathan F. Eovaldi
Early on it looked like this game would be a real grind for Nathan Eovaldi. He was behind in the count an awful lot — he threw a first pitch strike to only three of the first nine hitters — and the Blue Jays put men in scoring position in the second and third innings. Even with Toronto struggling offensively this season, I still don't feel comfortable against that lineup.
Josh Donaldson did Eovaldi and the Yankees a big favor by bunting with runners on first and second with no outs in the third. I know he was bunting for a hit with Chase Headley back — Donaldson bunted it too hard and it turned into a sacrifice — but man, the reigning AL MVP bunting with two on and no outs in Yankee Stadium? That seems like the perfect time to swing away, but what do I know. I'm just a schmuck with a blog. Eovaldi escaped the inning with a strikeout and a pop-up.
Following that bunt, Eovaldi retired the next eleven batters he faced and allowed just one ball to be hit out of the infield. Joe Girardi gave his starter an opportunity to start the seventh inning with a 2-0 lead and that didn't work; Eovaldi walked the leadoff man to end his night. He finished with five strikeouts, two singles, and three walks in six scoreless innings (plus one batter). That's now two runs or less in four of his last six starts.
This game really showed how huge the splitter has become for Eovaldi. The second and third innings were a battle, and the difference was being able to keep the Blue Jays off his heater with the split. Five of the six outs those two innings came on the splitter — Donaldson's bunt came on a heater — so it bailed Eovaldi out and gave him a chance to settle down. Before he would have had to try to wiggle out of that jam with his fastball and his fastball alone. The split has been a game-changer for Nate.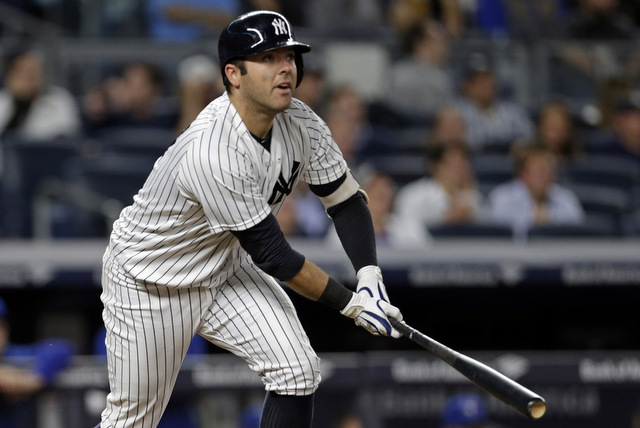 Tack-On Runs
Dellin Betances bailed Eovaldi out in the seventh with two strikeouts and a long fly ball, and even though the Yankees were all set up with Andrew Miller and Aroldis Chapman for the final six outs, scoring some insurance runs was very appreciated. They were able to tack on two runs with two-out hits in the bottom of the seventh and then two more runs in the eighth.
The play-by-play says that seventh inning rally started with a Dustin Ackley infield single to the shortstop, and while that is true, it doesn't tell the whole story. It was a ground ball pulled by the first baseman that shortstop Ryan Goins, who was playing shallow right field as part of the shift, fielded and fired to first base. Ackley beat Dickey to the bag. Dickey took an awkward step, fell to his knees, and missed the base. It wasn't pretty.
Two ground outs advanced Ackley to third, then Didi Gregorius drew a walk to put men on the corners. No. 9 hitter Austin Romine came through with a two-out ground rule double to right field that hopped over the side wall, preventing Didi from scoring from first. It still got Ackley in. Ellsbury then followed with an infield single into the shortstop hole to get Gregorius in and give the Yankees a crisp 4-0 lead.
Then, in the eighth, the Yankees loaded the bases with no outs on a single and two walks. Headley got one run in with a sacrifice fly and Gregorius drove in another with a single against a lefty. Well, switch-pitcher. Pat Venditte was in. The Yankees were up 6-0. Girardi was able to take his foot off the bullpen gas thanks to the insurance runs. Kirby Yates tossed the eighth and Luis Cessa tossed the ninth. Neither made it interesting. Perfect.
Leftovers
Mark Teixeira had a hit! He slapped an opposite field single over the shortstop to lead off that eighth inning. Teixeira will take all the hits he can get right now. Ellsbury and Romine each had a pair of hits while Beltran and Gregorius each had a hit and a walk. Pretty good night all around for the offense.
I'm not sure what else to include here, so I'll close with this: the six-game winning streak is the team's longest since a seven-gamer last June. You have to go back to July 2013 for their last six-game winning streak before that. Feels good, don't it?
Box Score, WPA Graph & Standings
Go to ESPN for the box score, MLB.com for the video highlights, then back to ESPN for the updated standings. Also don't miss our Bullpen Workload and Announcer Standings pages. Here's the win probability graph:

Source: FanGraphs
Up Next
Same two teams Wednesday night, in the middle game of this three-game series. Ivan Nova and Marco Estrada are the scheduled starters. RAB Tickets can get you in the door if you want to attend that game or Thursday's series finale. The Yankees don't come back home until June 6th after that.